Thornsett Blog
(Check-out the posts back to December 2010 - we have achieved so much!)
Sports Day Preparation
We would like to say a huge thank you to all of the parents and helpers who came to our emergency aid to clear the whole school field of grass cuttings this morning. This was a massive undertaking, and we couldn't have done it without them. Thank you to: Mr Lever, Mrs Turner, Mr Kendall, Mrs Kelly, Miss Andrew, PC Crosby, Mrs Tinker and Emily's Granddad. Now we can run around 'til our hearts' content!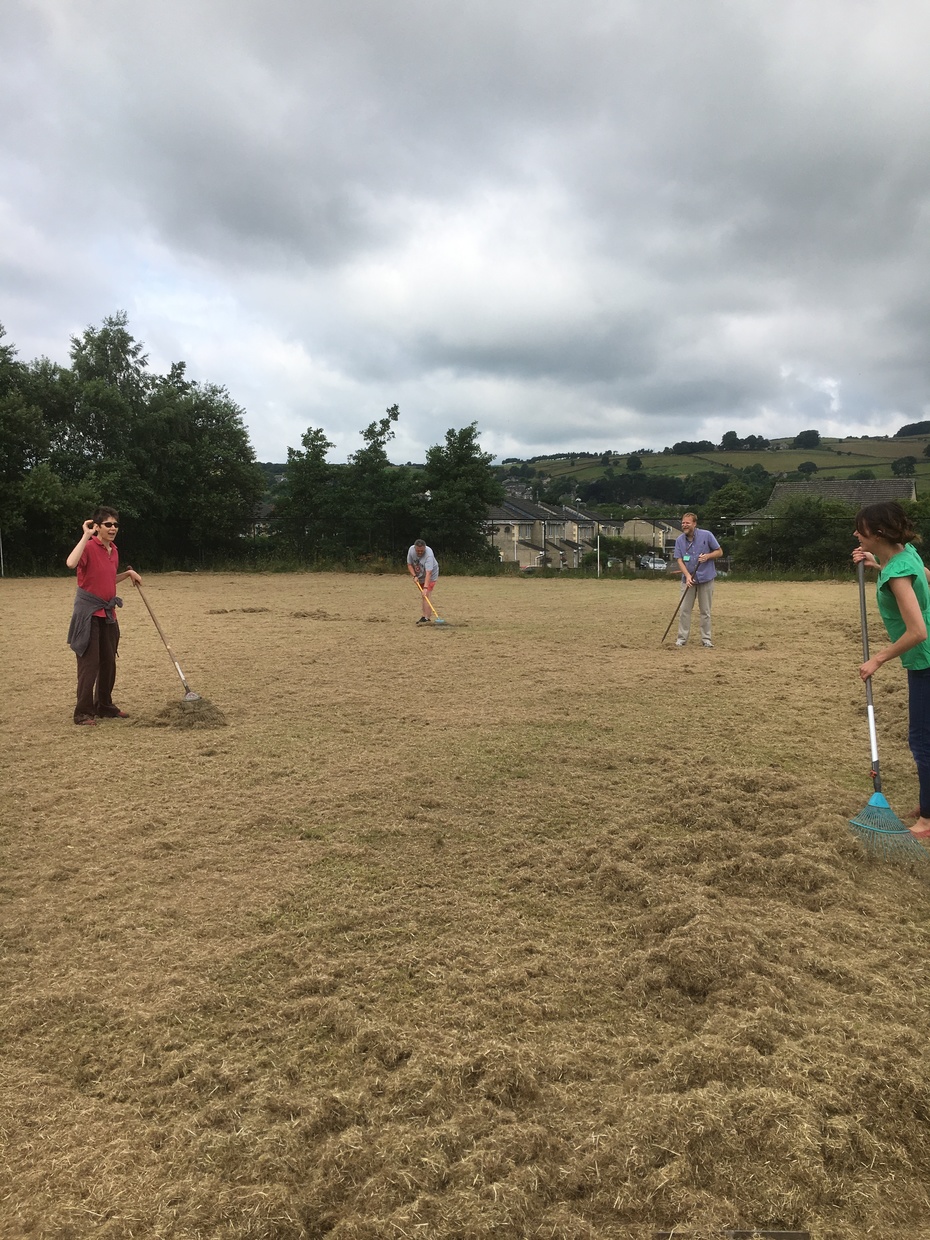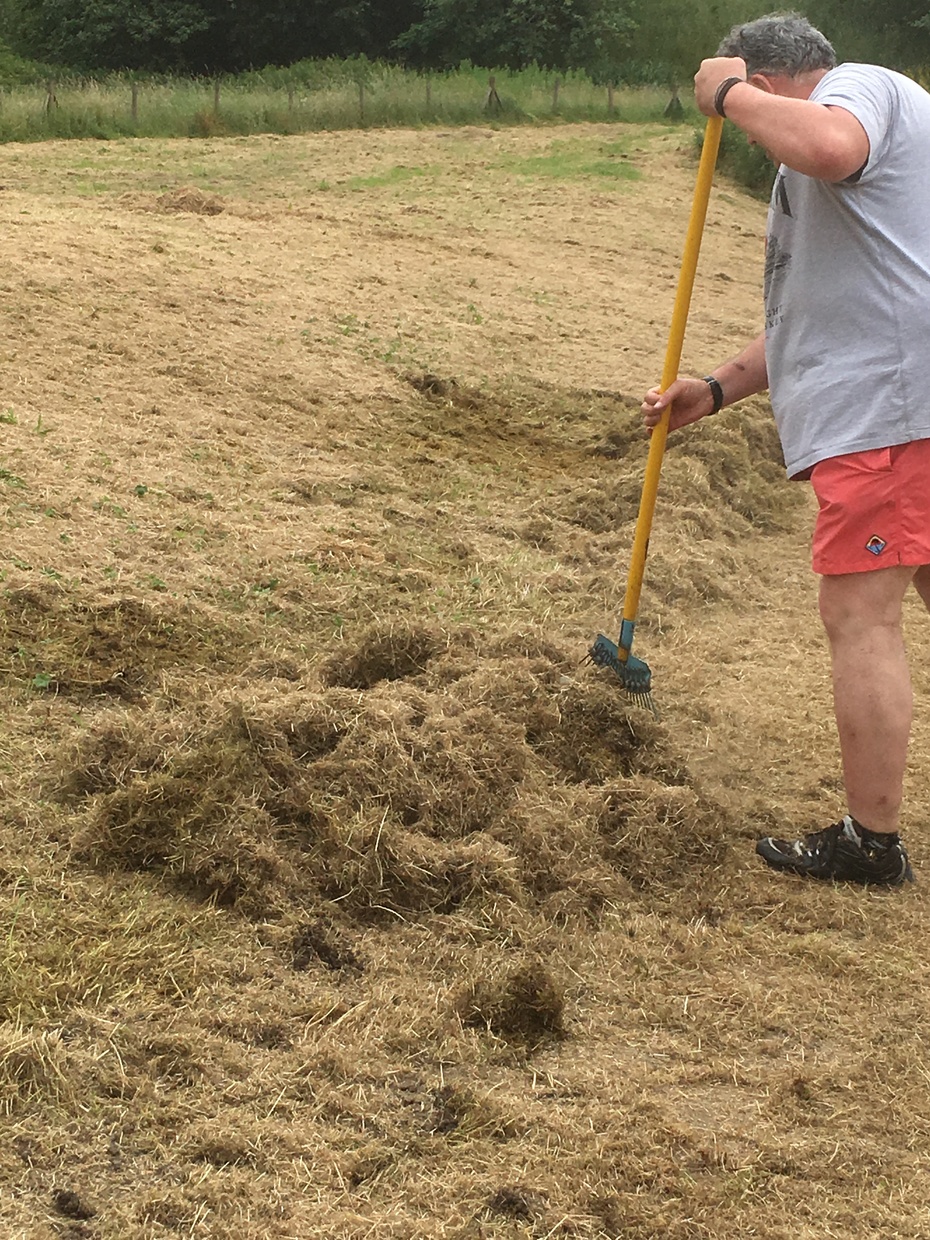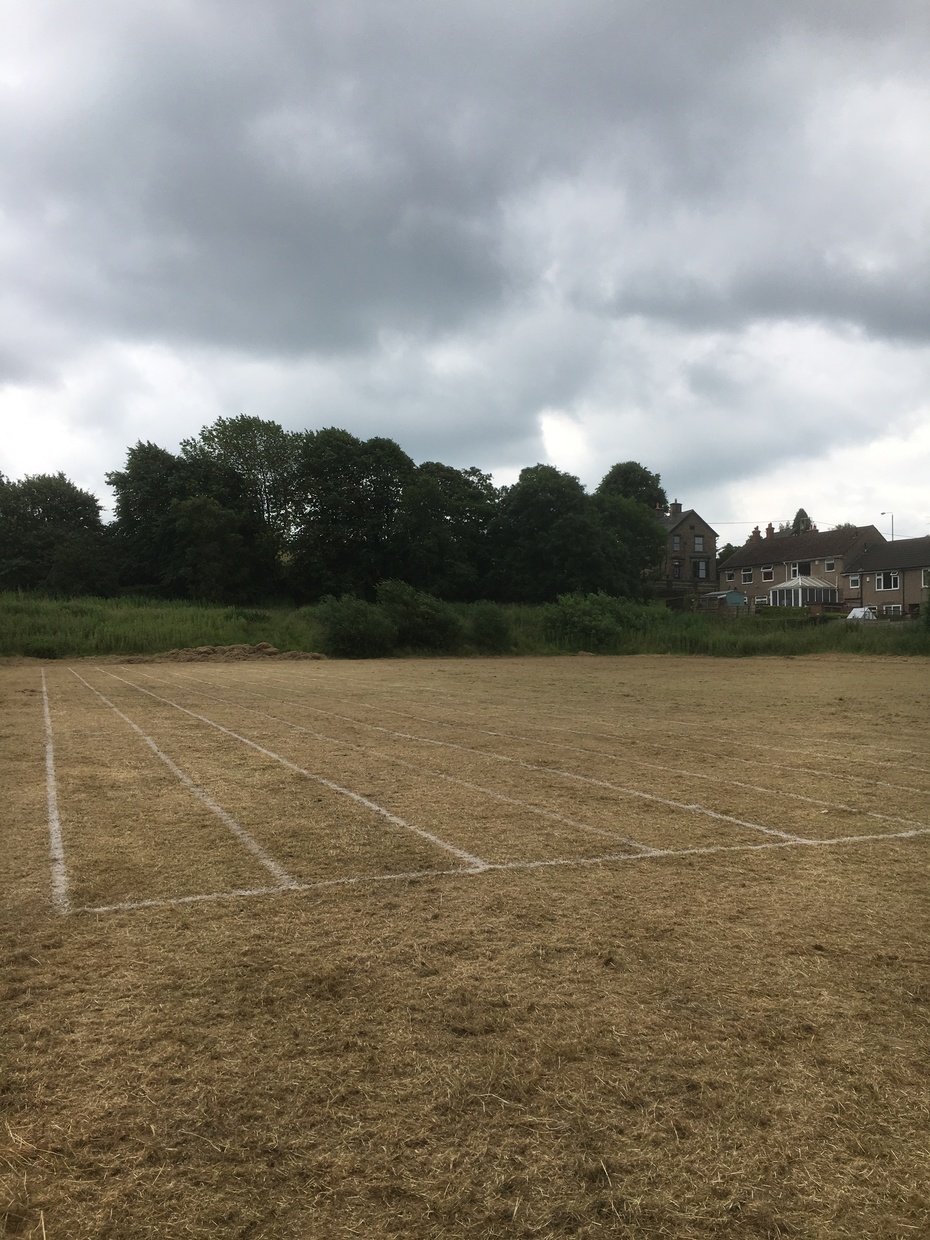 2016 -2017
Thanks to all those who supported our 'Cakes and Construction' afternoon in support of Macmillan.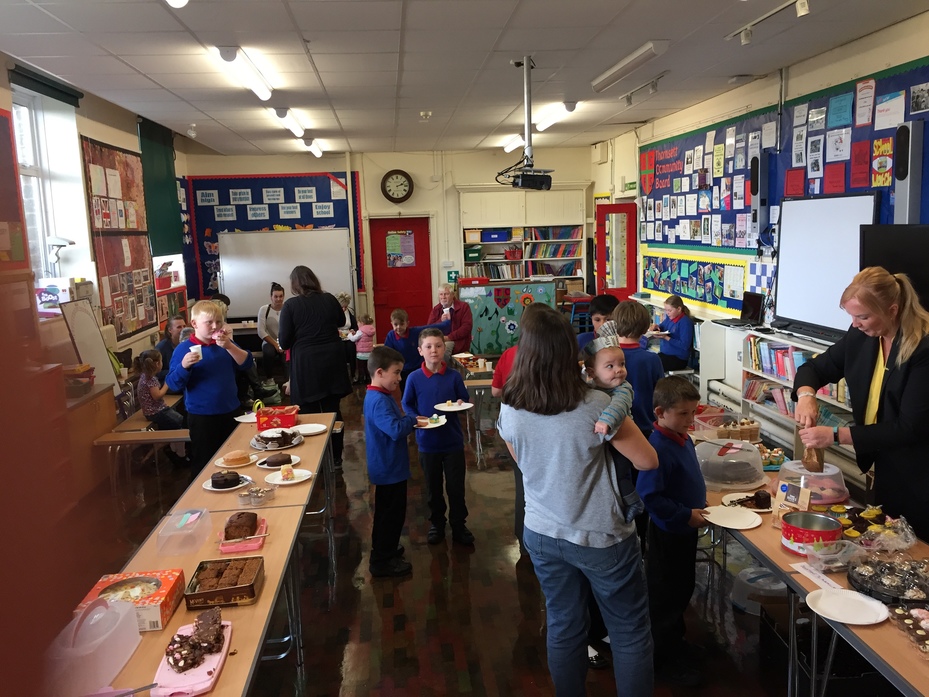 Three classes, but eight differentiated Maths groups!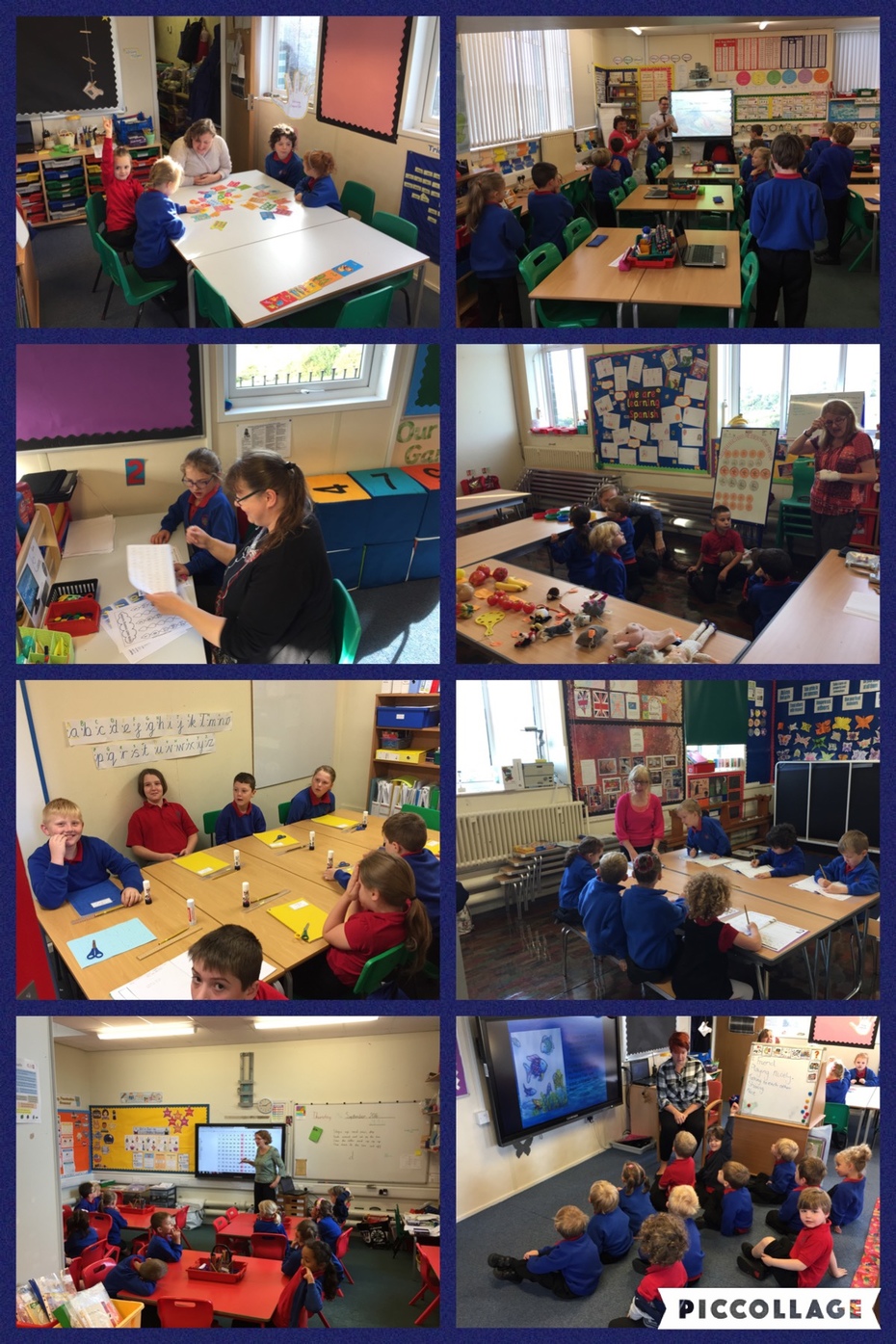 Some brilliant construction ideas throughout the school.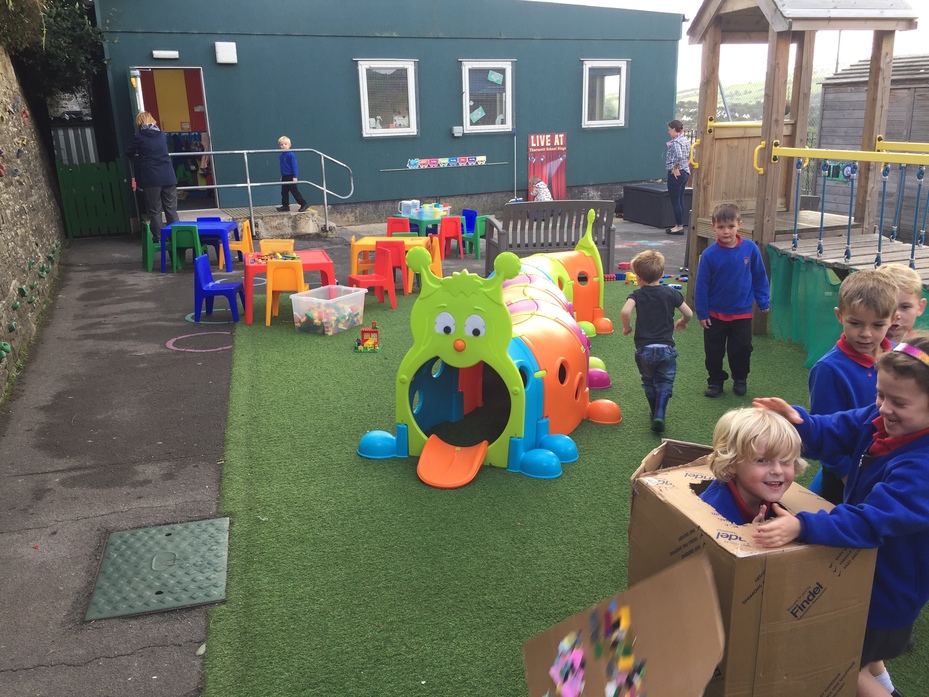 Our Hot-Air Balloon lantern looked fantastic.
2015-2016
The children in Mersey Class made programmes for their guests who came to watch 'The Amazing Adventures of Superstar' performance.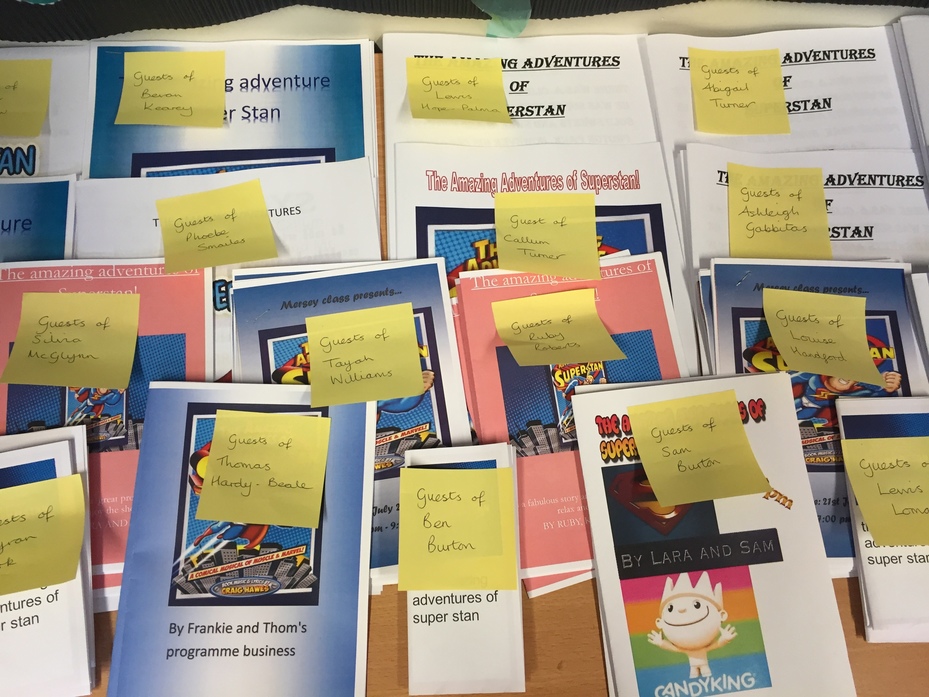 The Minions - Pow and Ouch.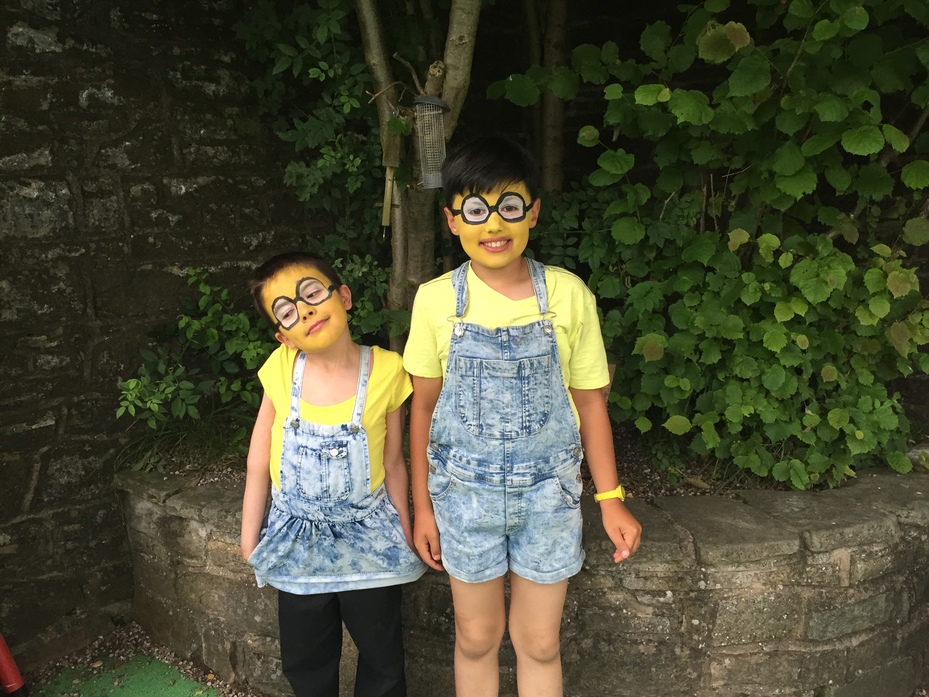 Will Dan Deadline ever get his story?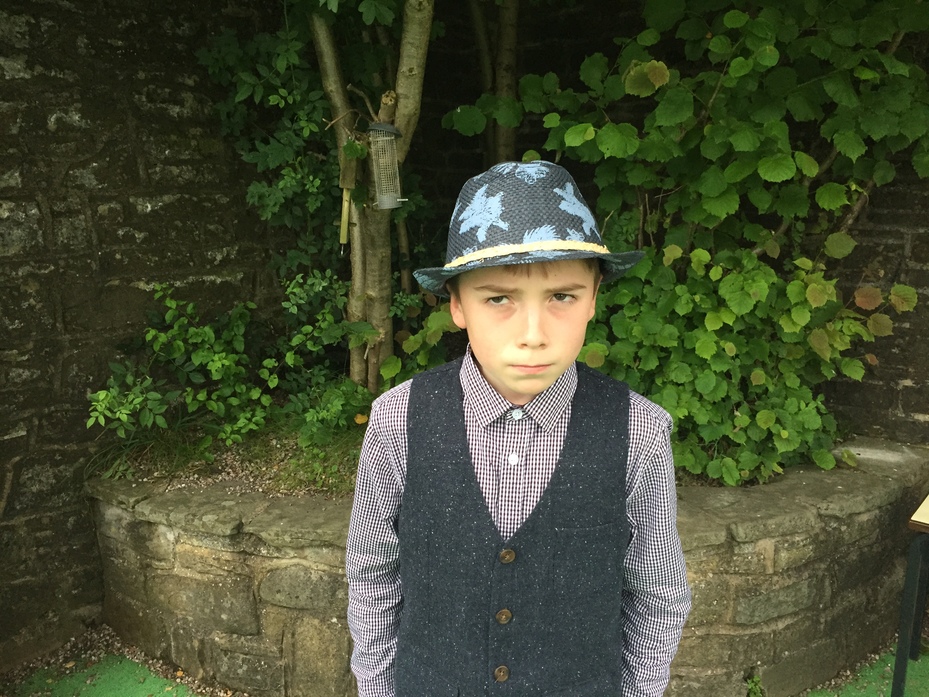 Thornton, Mayor Doughnut and Cadbury.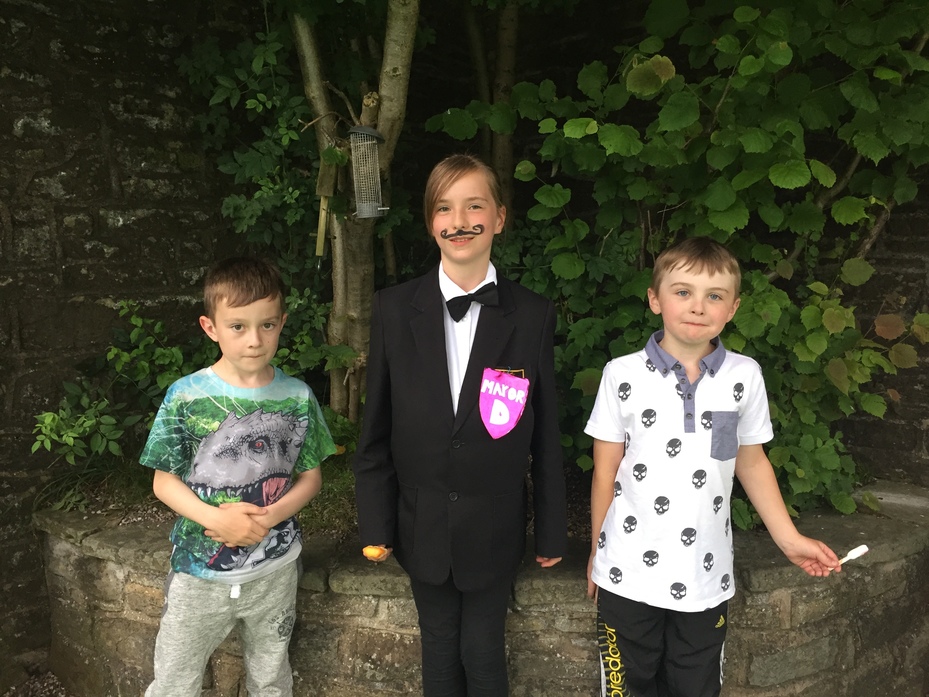 Stanley Marvel (aka Superstan) and DC.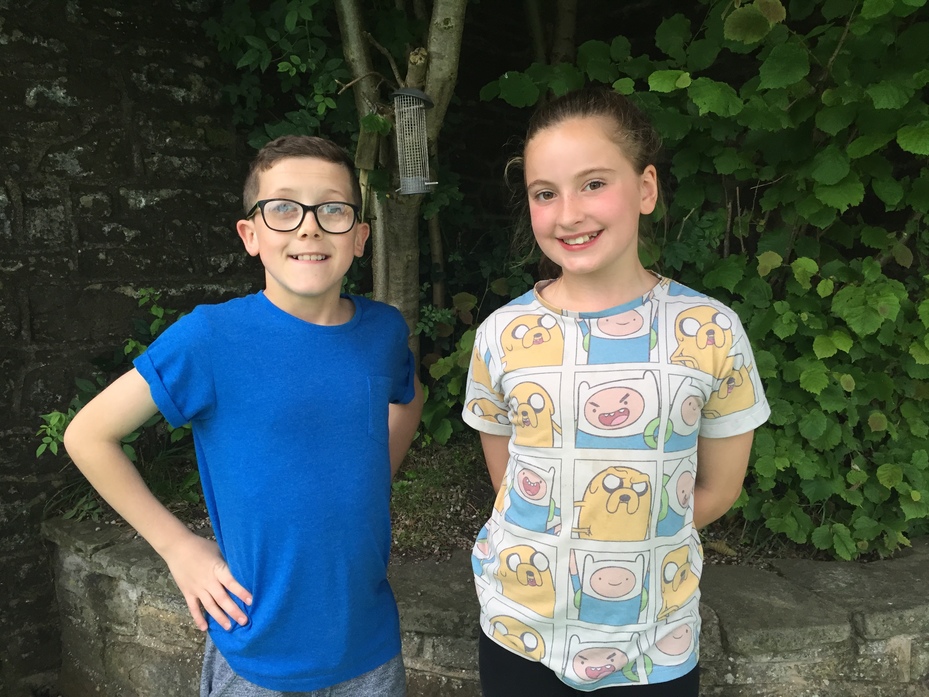 Dr. When, the Candy King and Dr. What.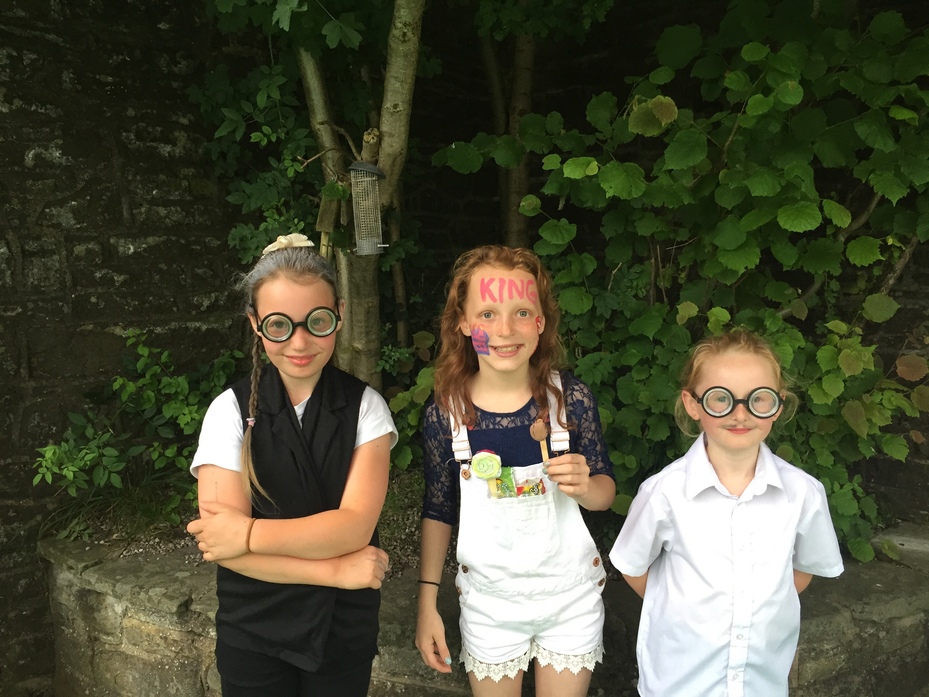 The wonderful 'Crumblies gang'.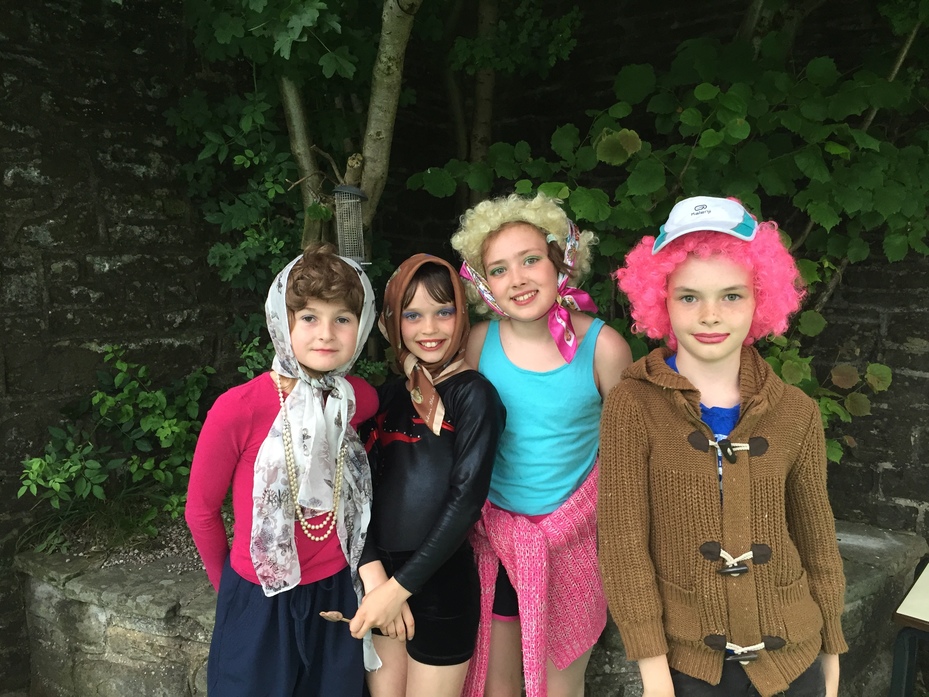 Private Matters, Major Commotion and Private Keep-out.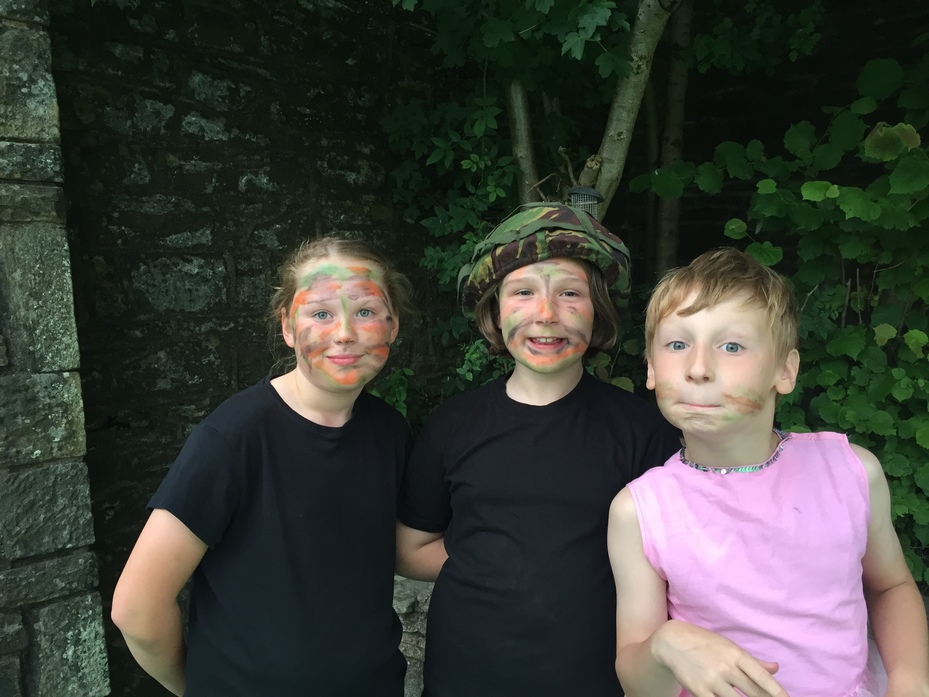 Our news reporters - Max Volume and Sunny Day.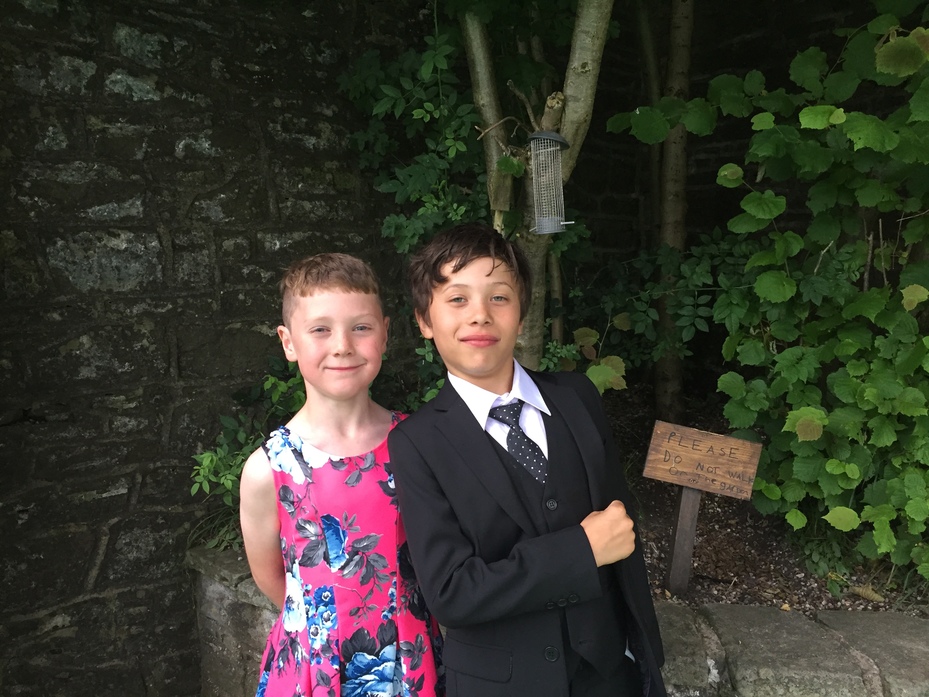 Our rent-a-villains - Curly and Wurly.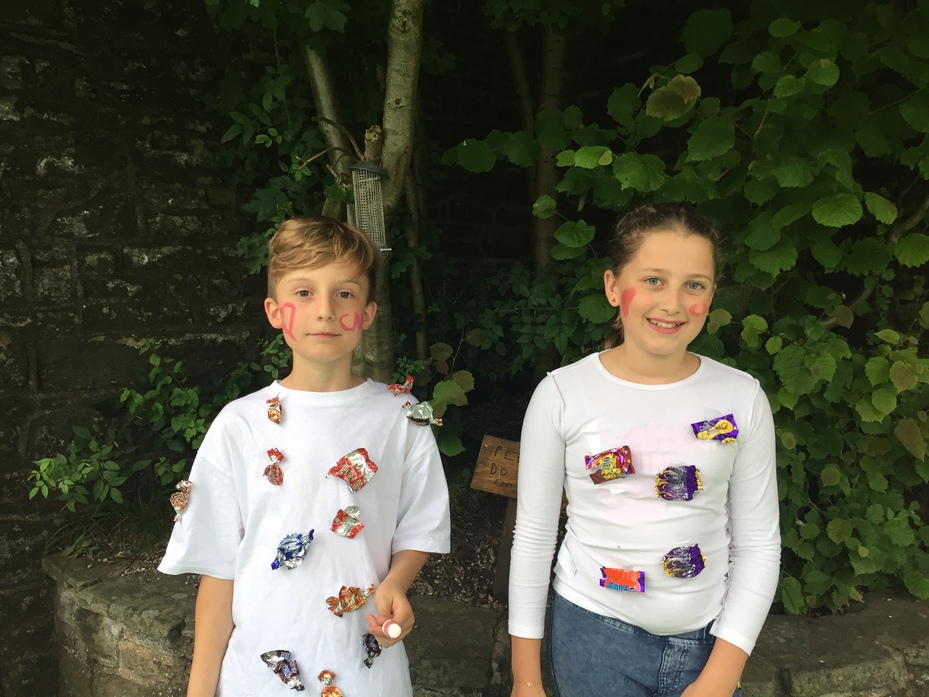 The end of year Generate Drama club awards.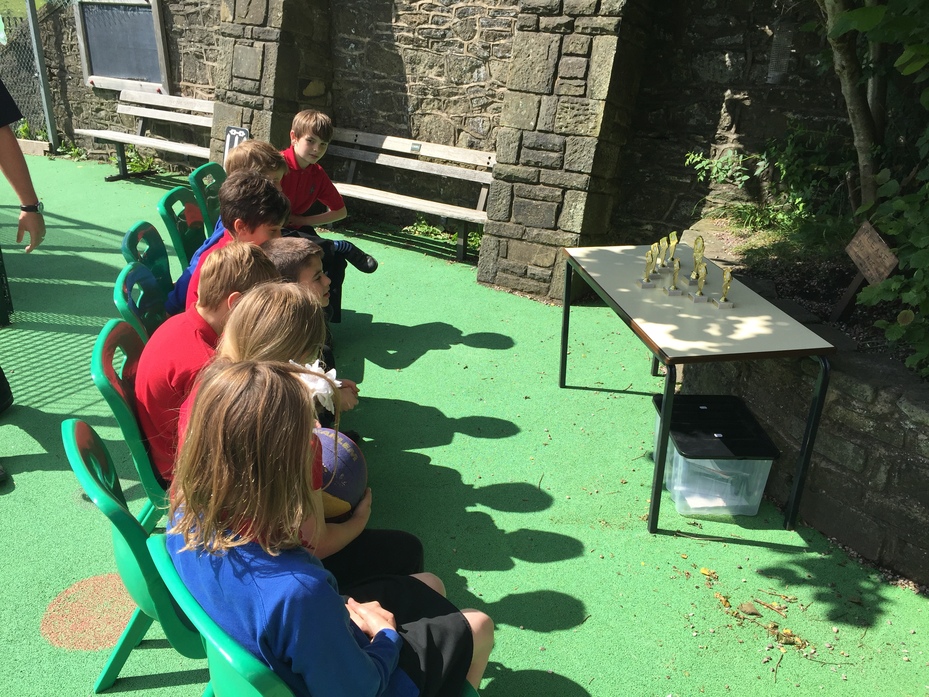 Sport day activities get under way (in spite of the weather trying its best to stop us).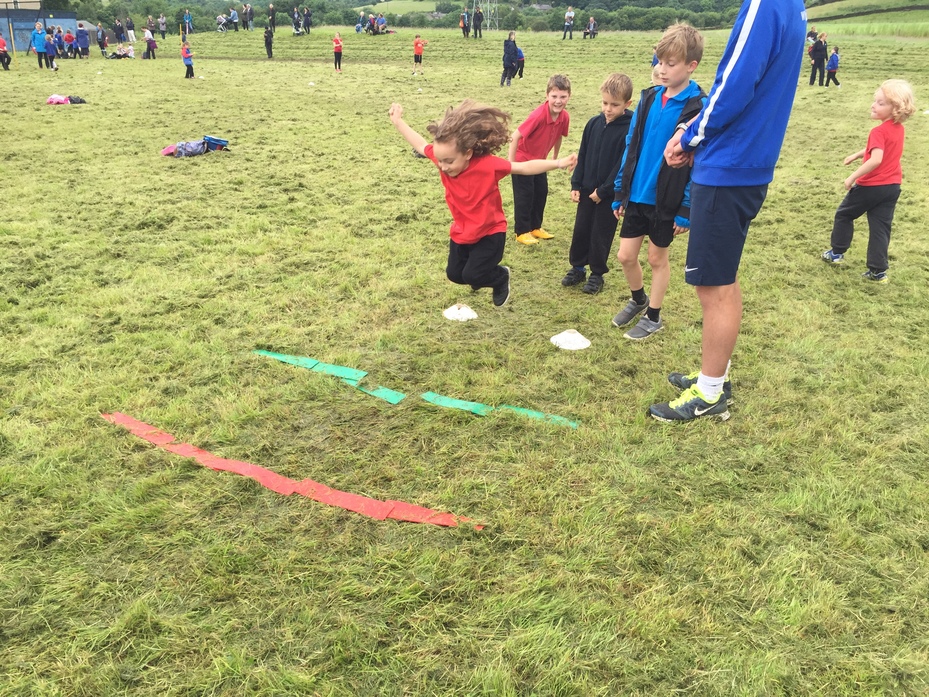 It's school sports day relay time.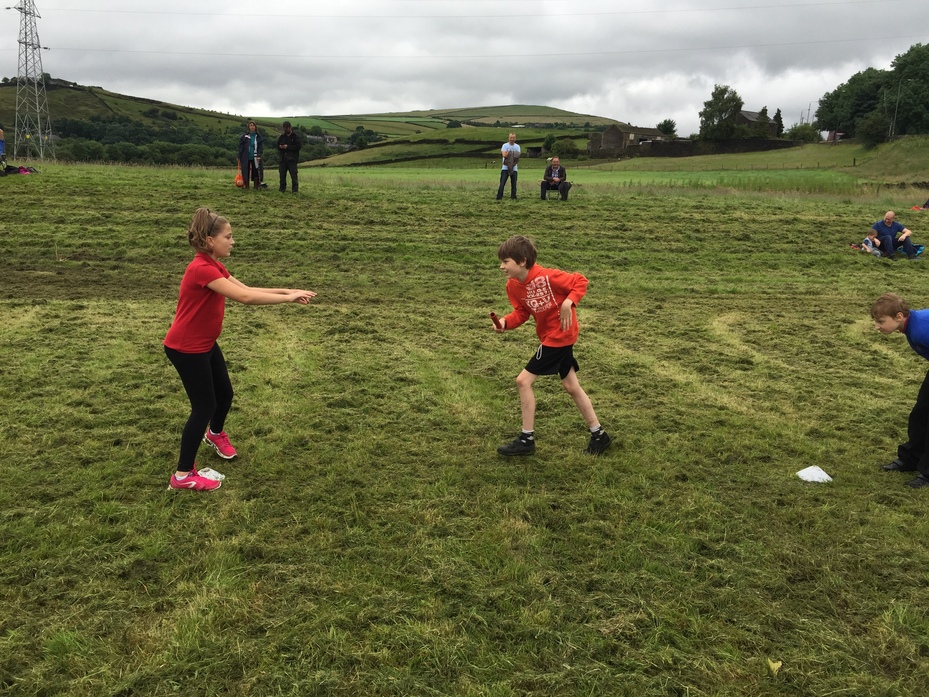 The school hall was busy with lots of stalls.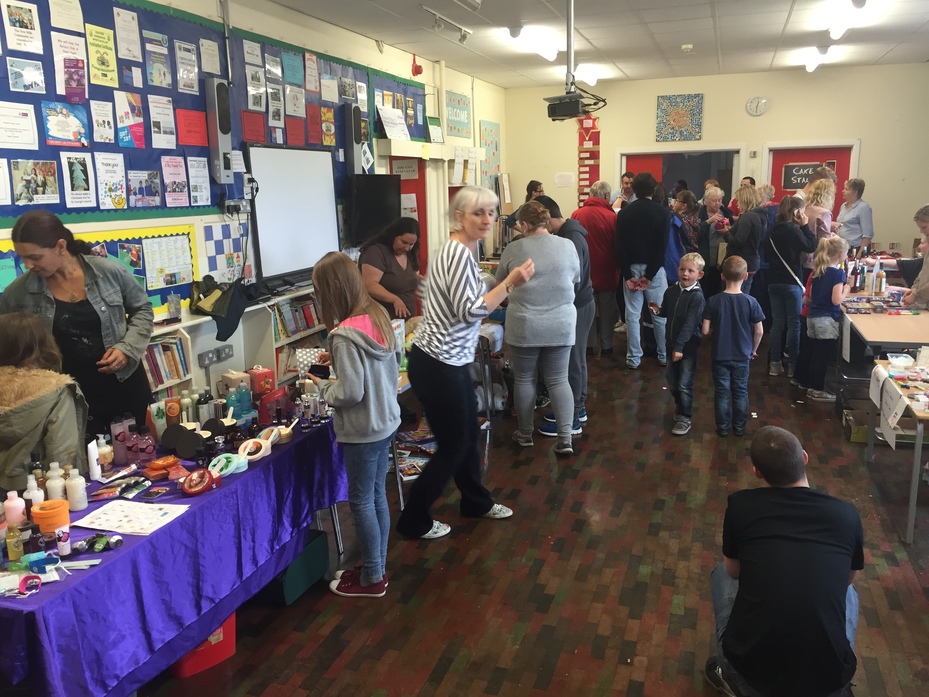 If the weather is grotty, you can always fit a Disco Dome in Mersey Class.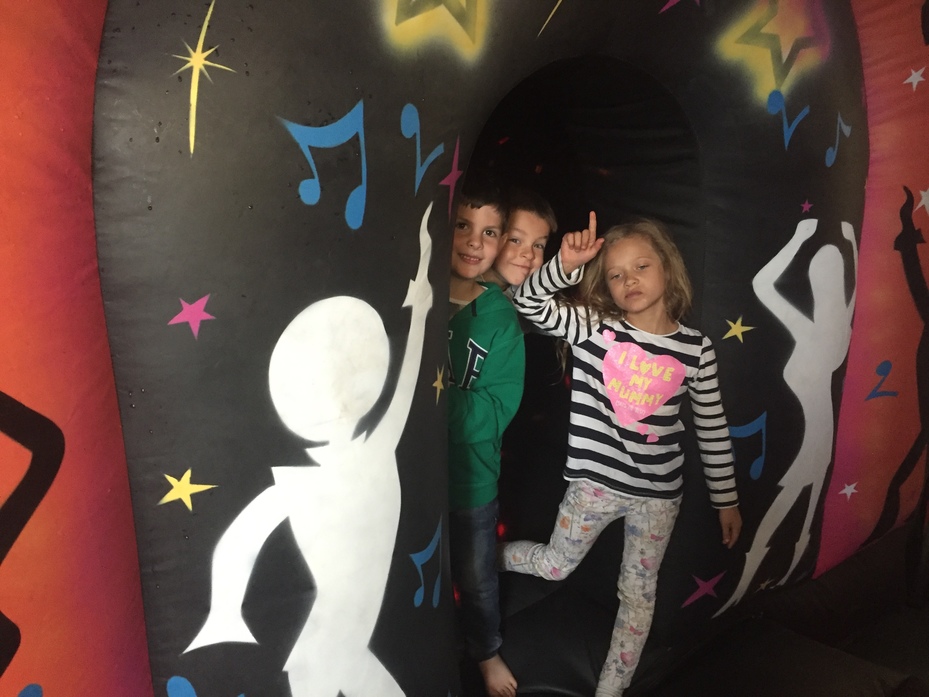 The Face Painting was fantastic.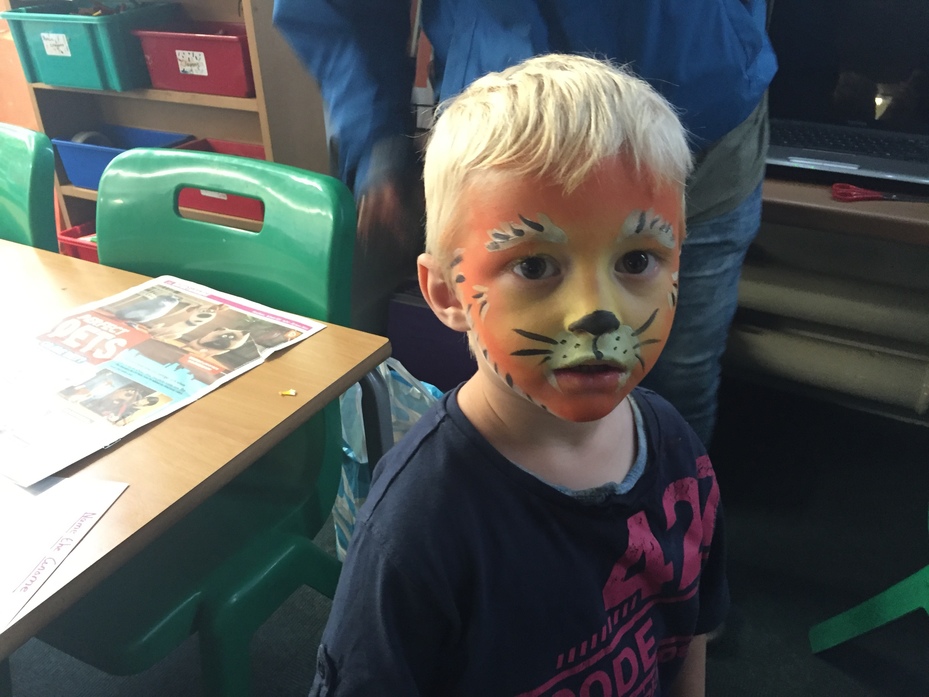 A great afternoon for the children who went to Cycle-Cross at Buxworth - the collection of medals were well deserved.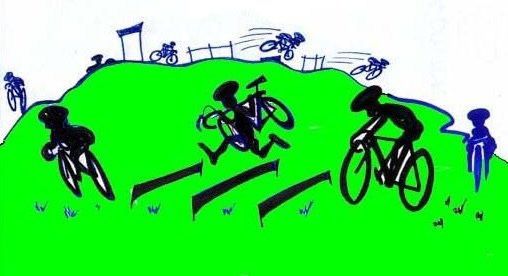 Well done to Goyt Class - thank you for a super Assembly today.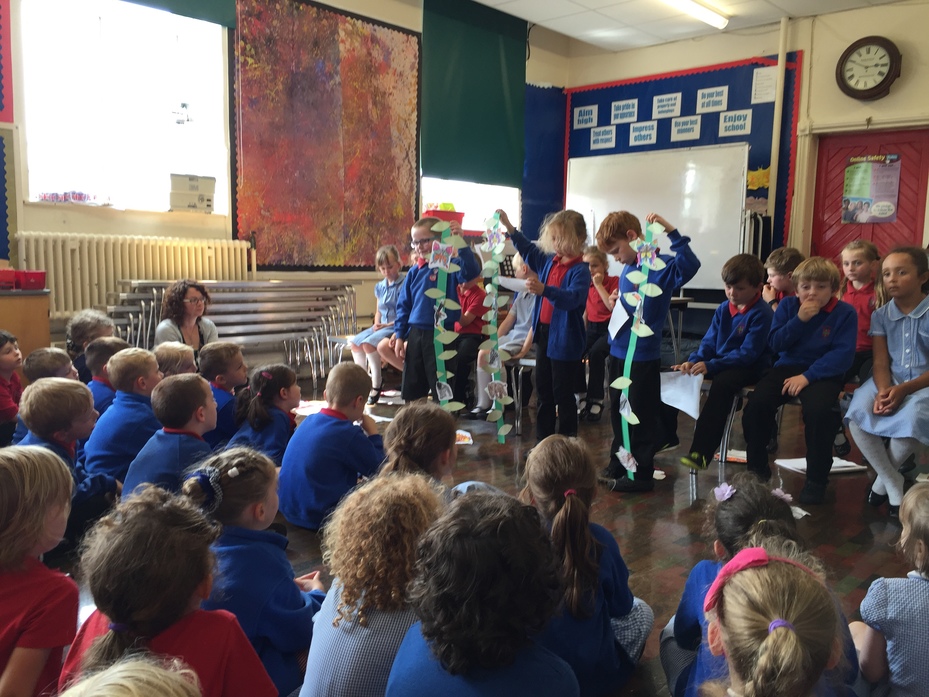 Over half of the school were involved with the New Mills Carnival - thank you to all those who helped to prepare the float and by joining us on the day.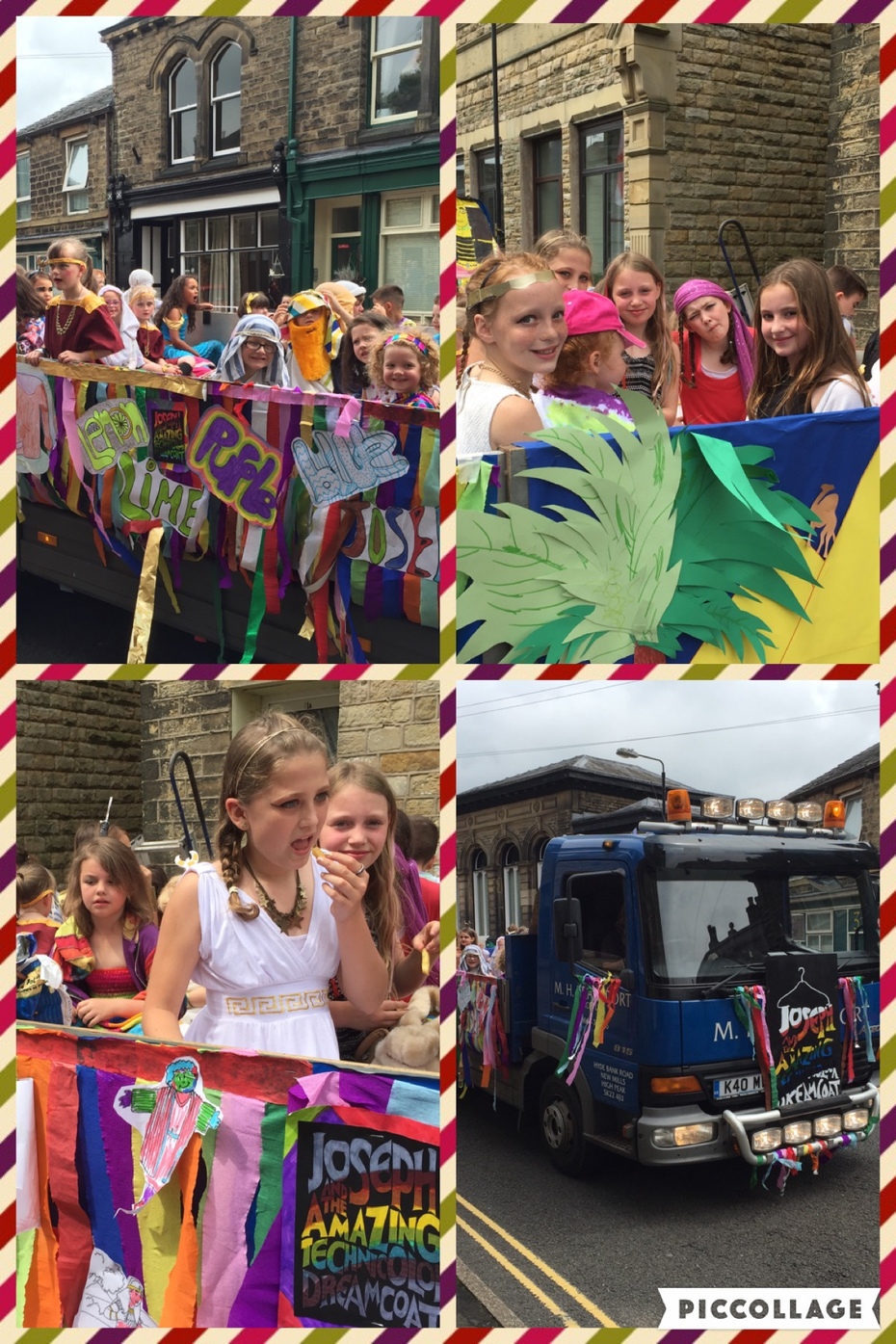 Well done to our Quadkids athletes - 3rd place was a great result.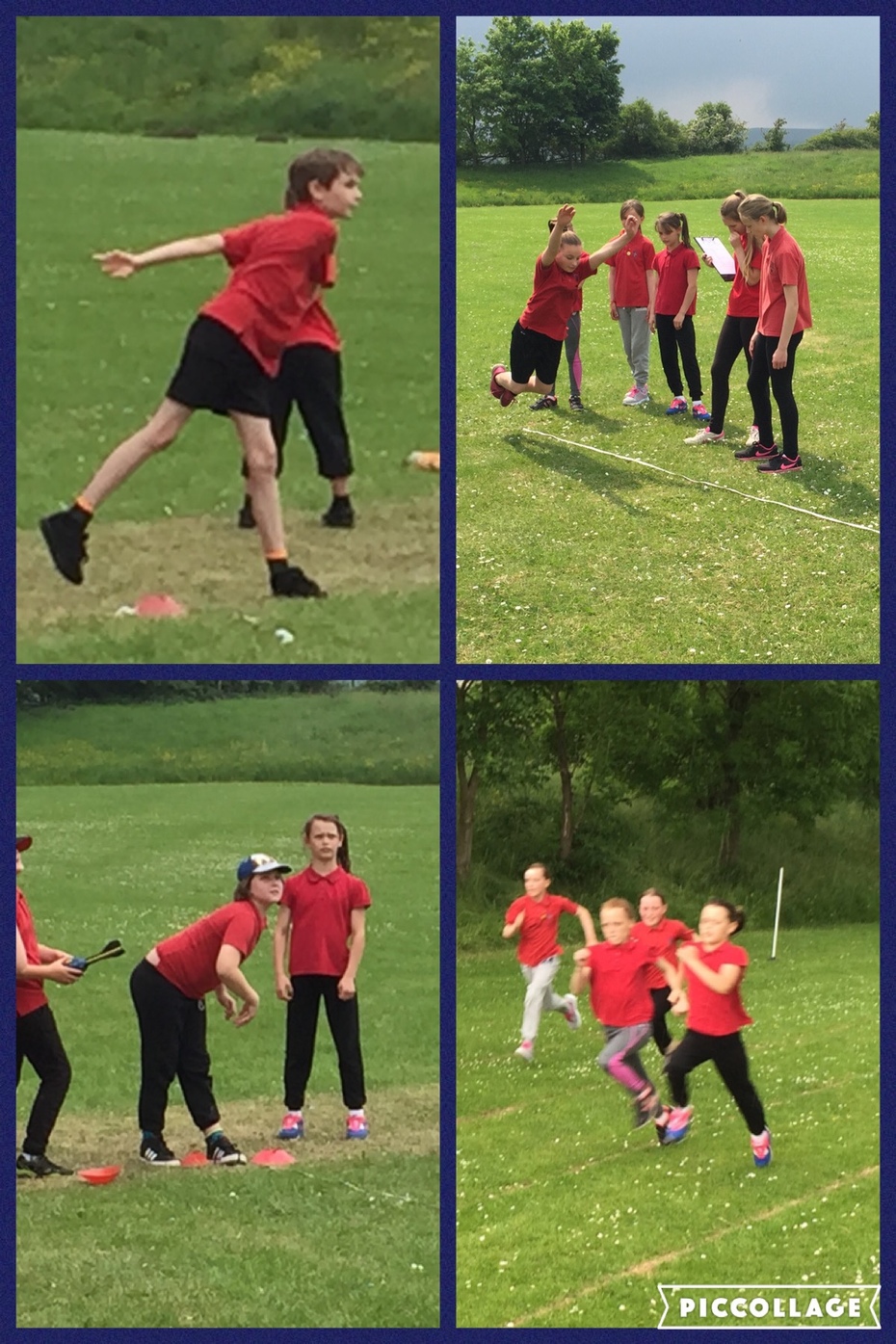 The recent bank holiday PTA fundraiser was a huge success.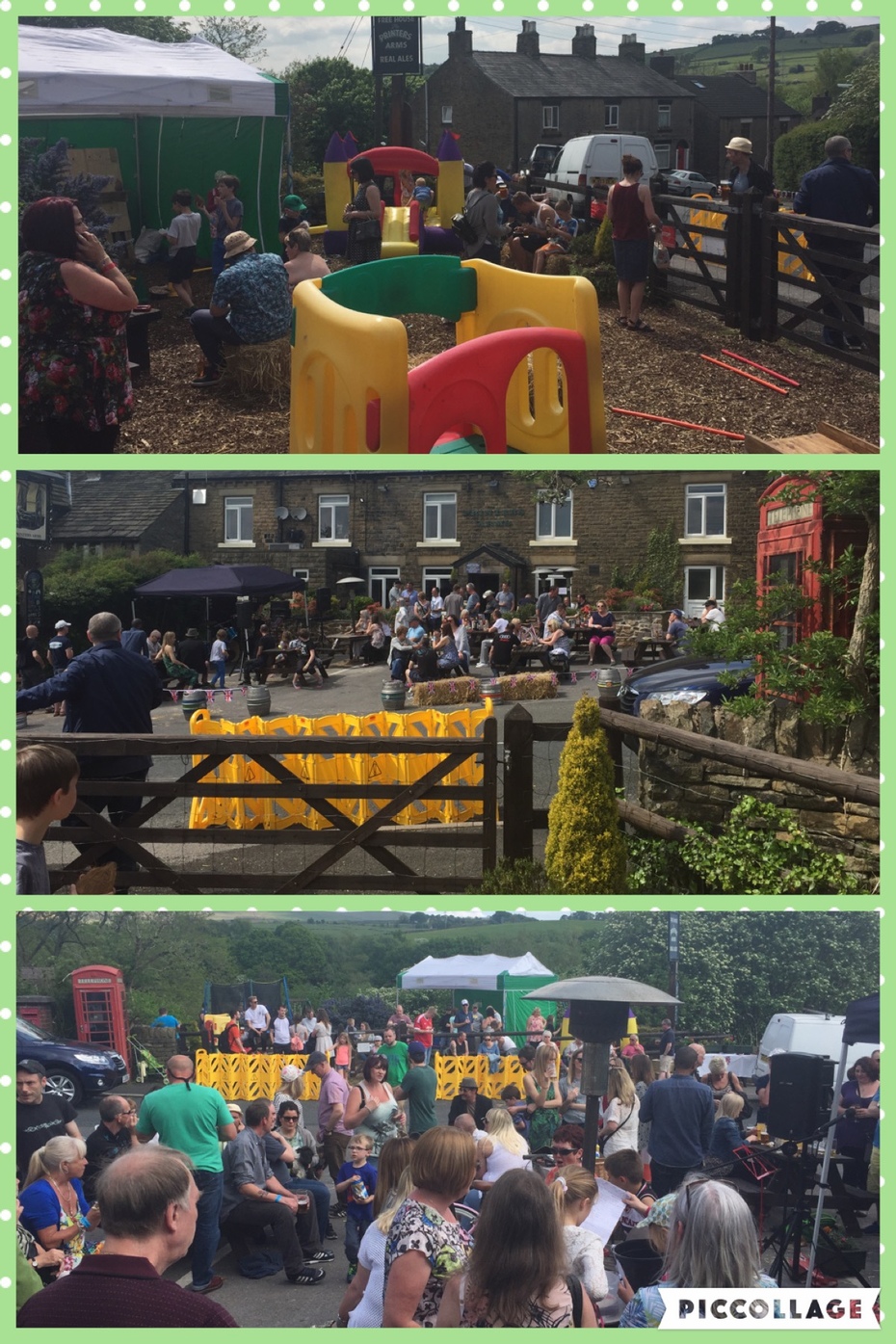 A brilliant whole school visit to the National Mining Museum - Y5/6 trying out some mining occupations.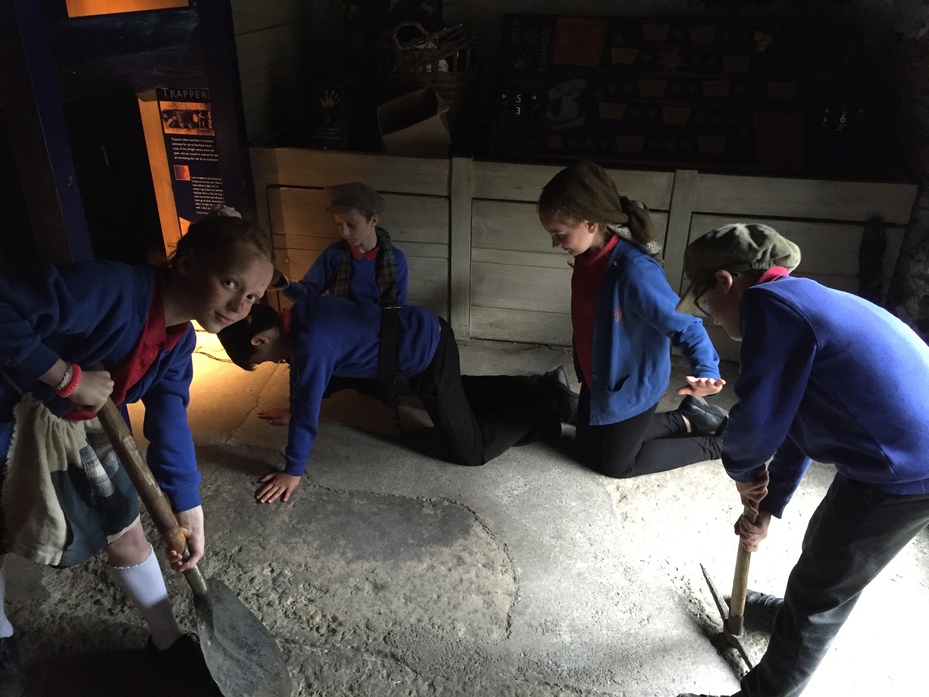 Goyt Class 'Holi Festival' inspired art work.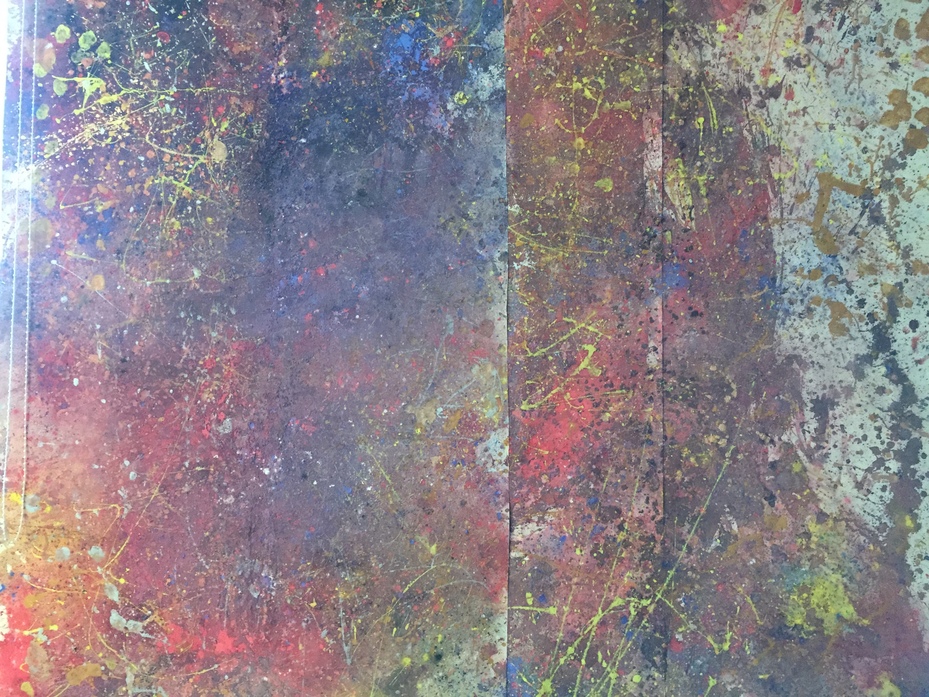 Year Six children from all the local Primary Schools meet up at High Lea Park - enjoying the water balloon trebuchet!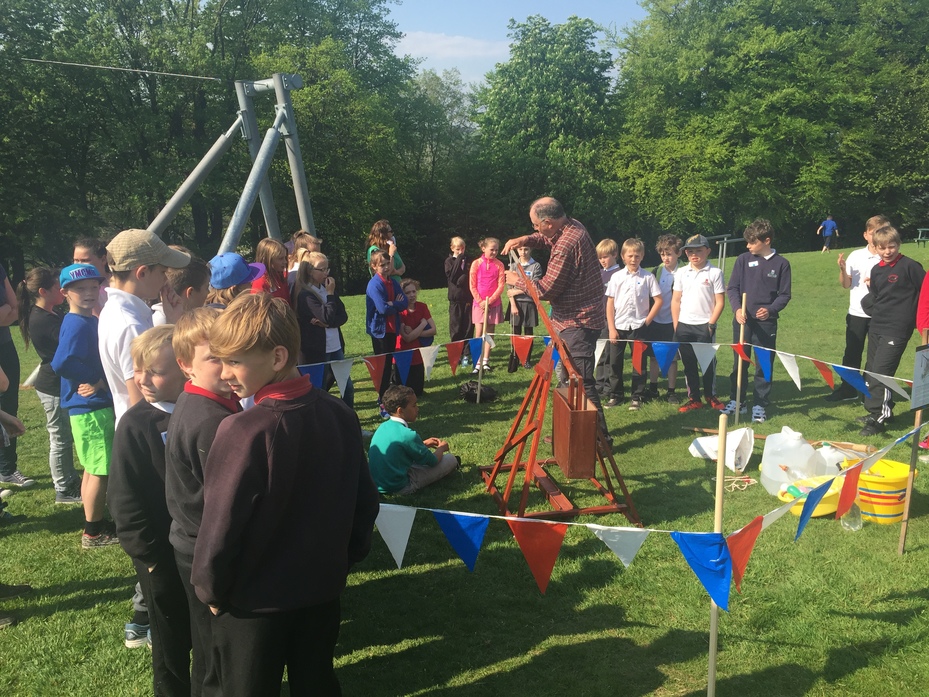 Goyt Class reproduce the Titanic as it impacts the iceberg.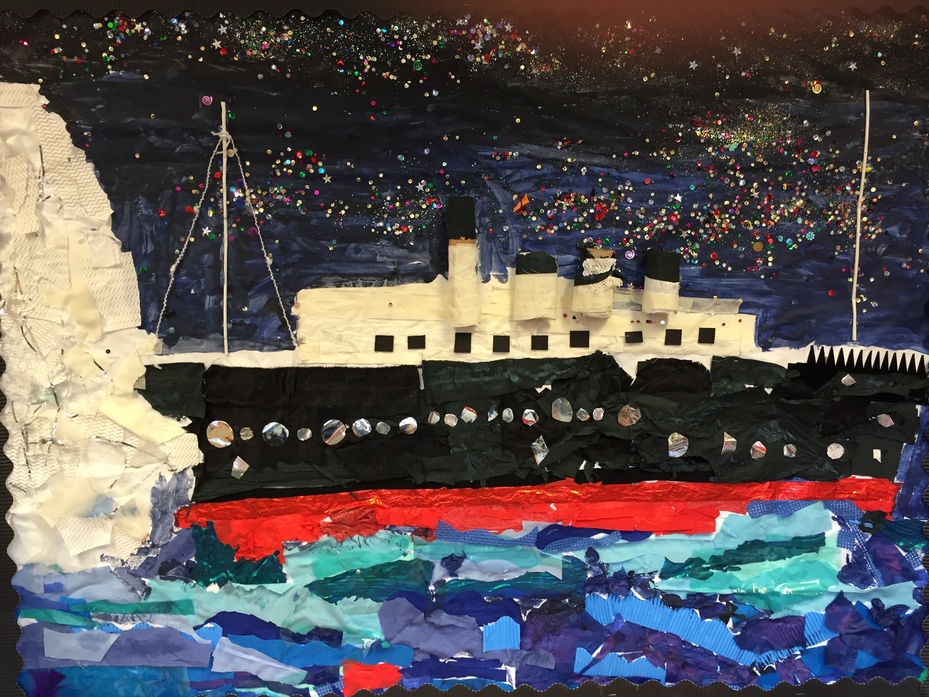 Our Year Four Rounders team at Quarry Road.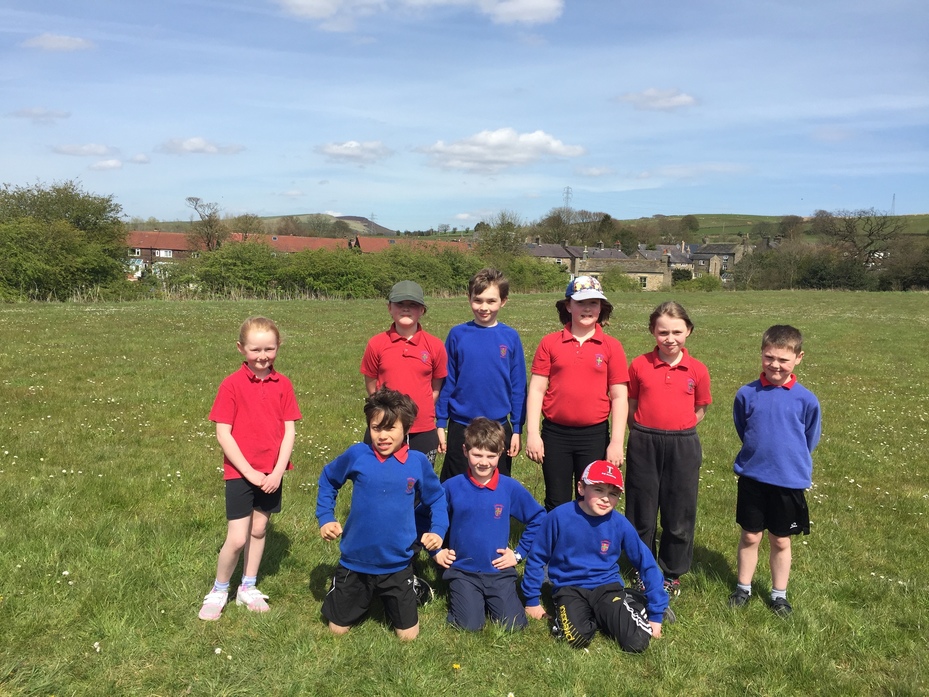 Year Four / Five performing 'In the Ning Nang Nong' for Year Six
(with actions and percussion).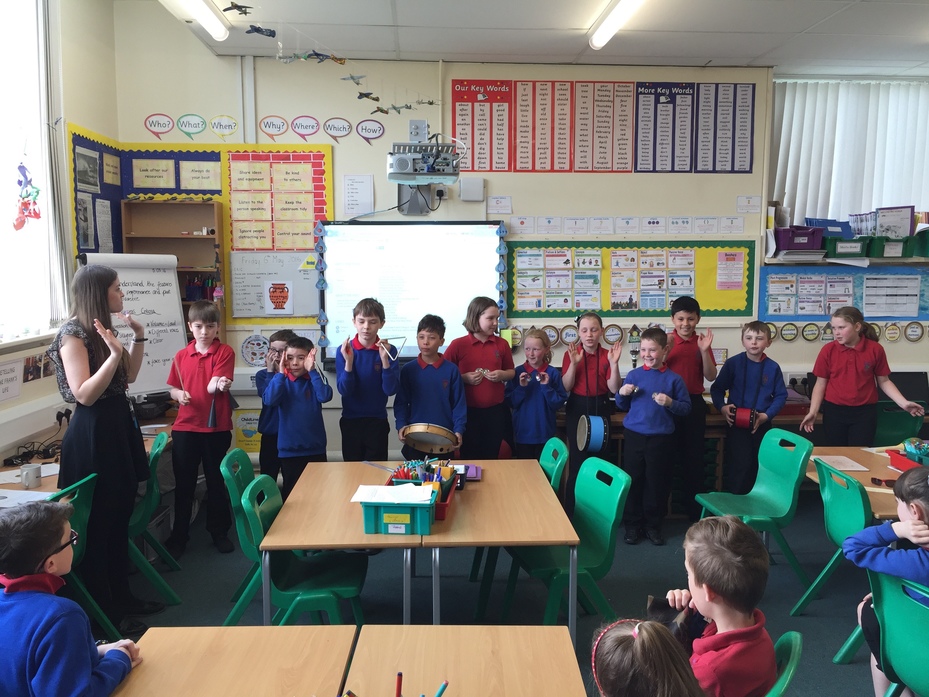 Sett Class are so pleased with their astronaut in Space - he's out of this world!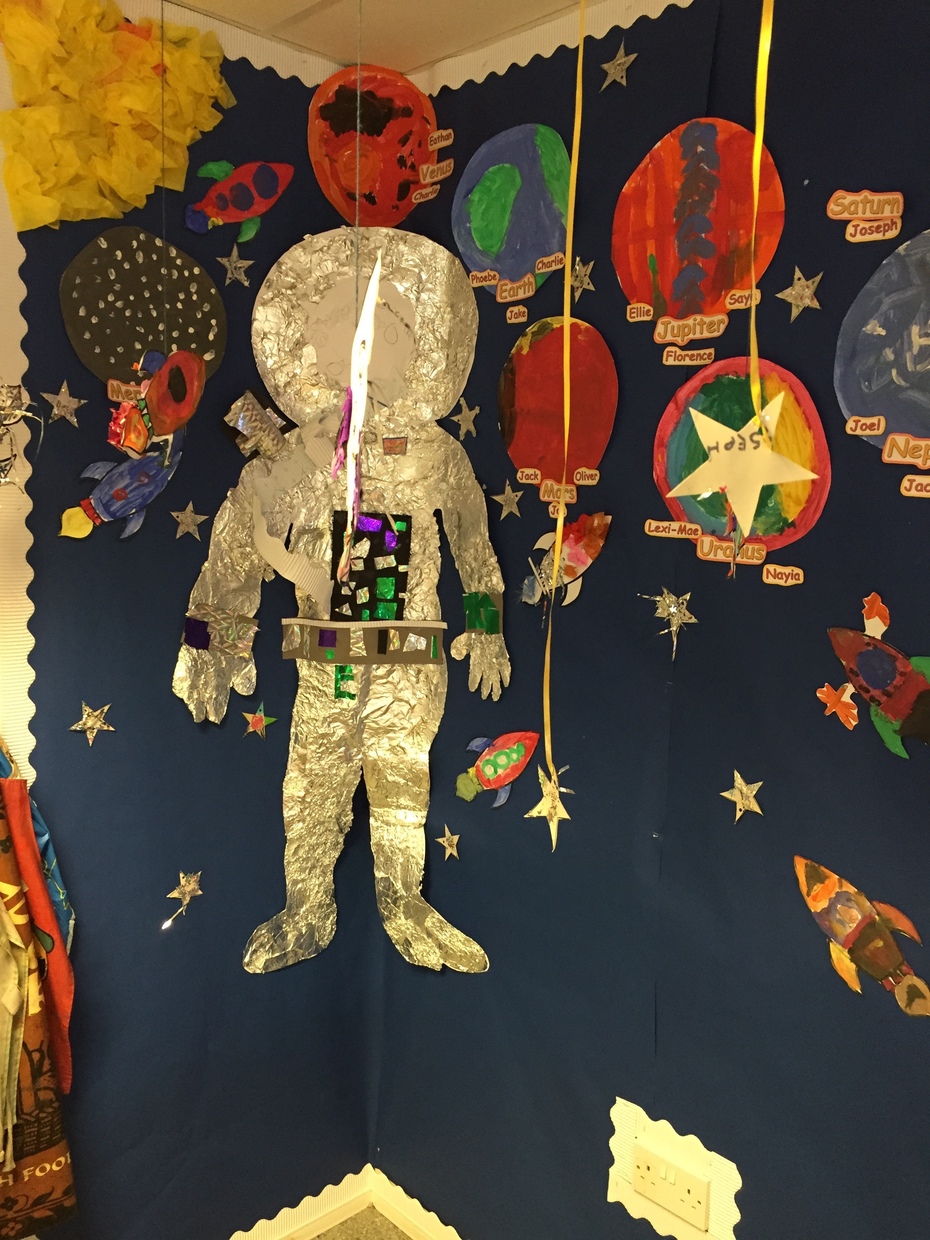 Thursday Assembly is led by the children - well done girls for a brilliant
last two weeks.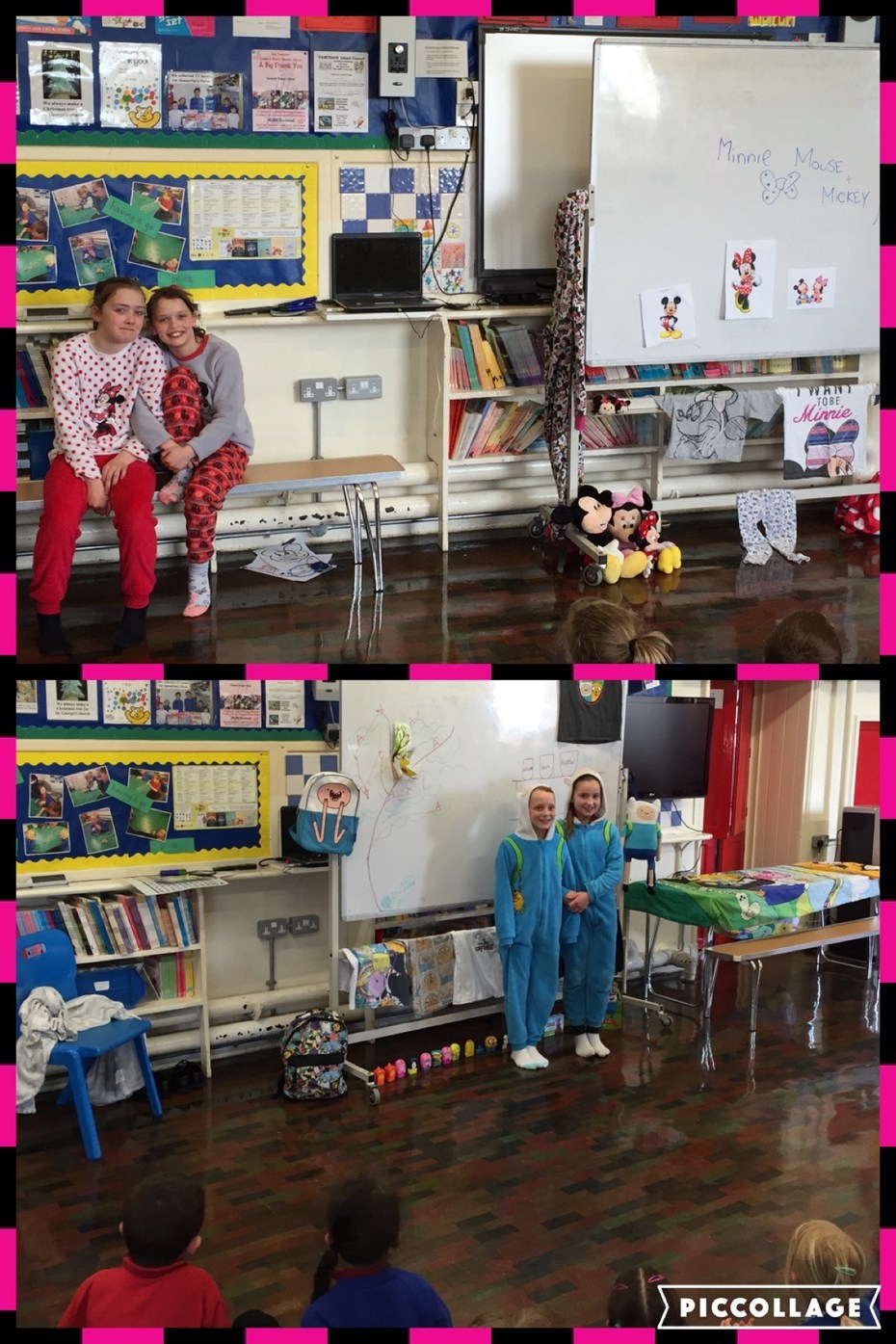 Calculating perimeter on the playground in Maths today.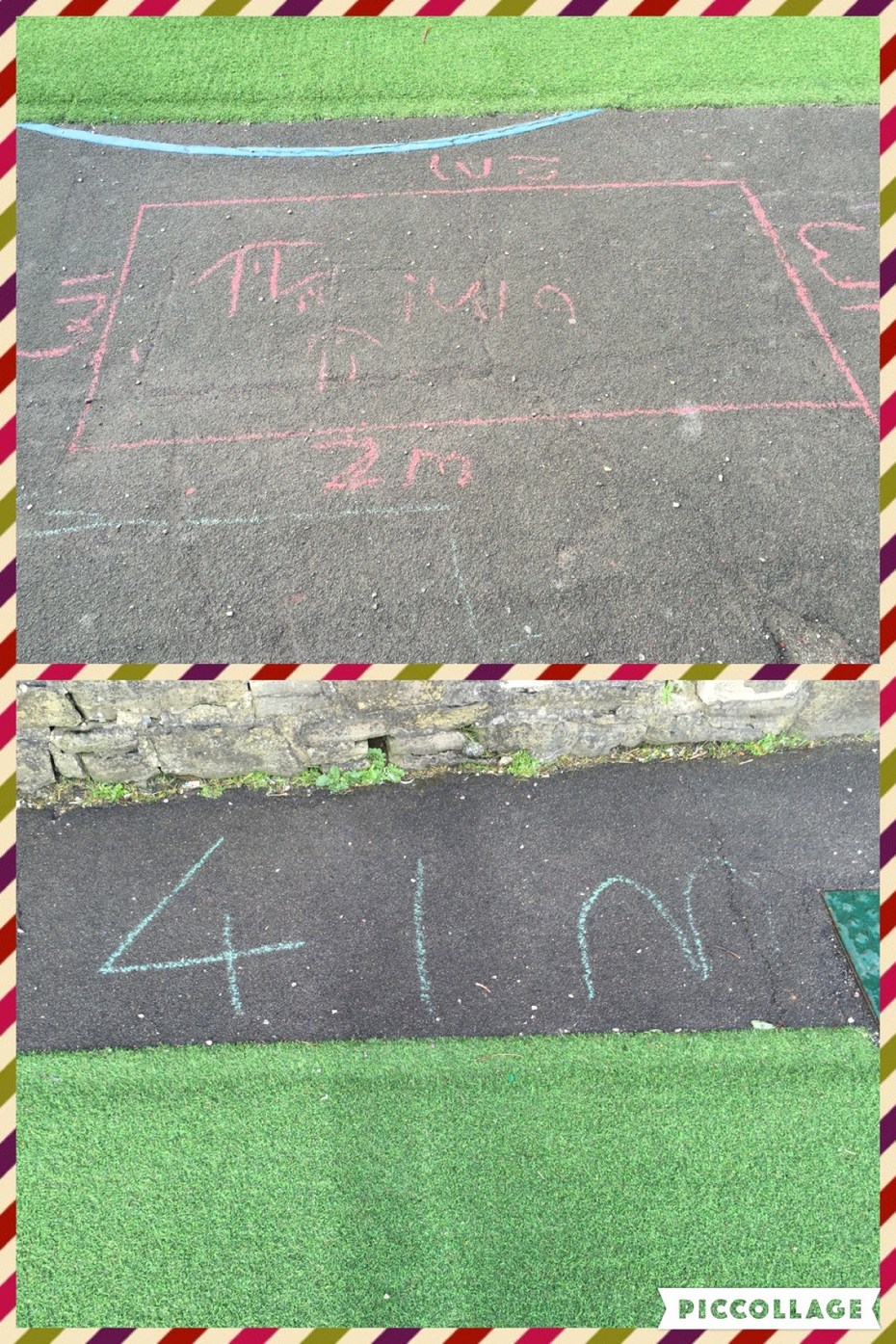 The children from Reception to Year Six worked together to complete
Easter Challenge morning.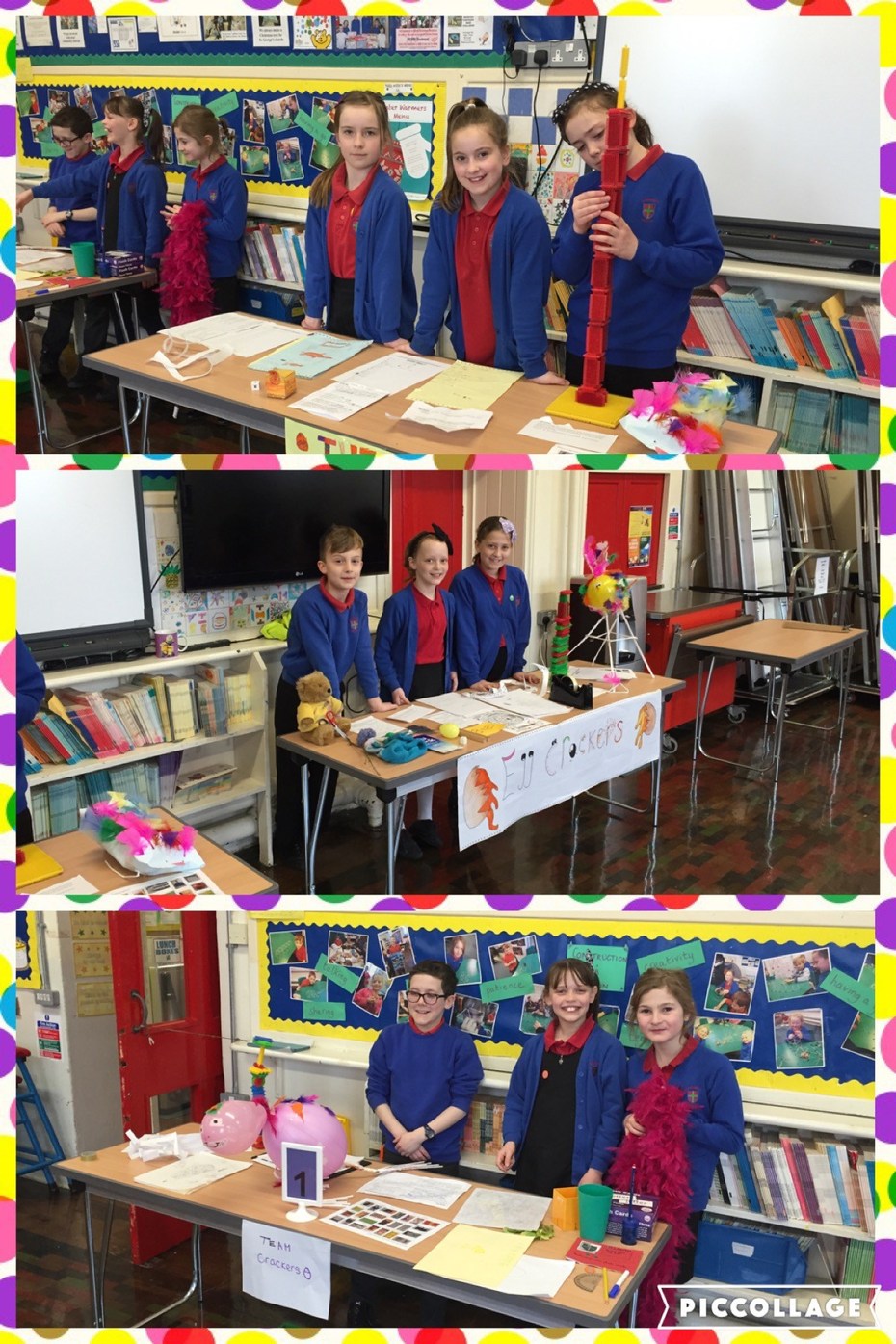 There's always lots of nature to see at Thornsett -
from baby frogs to new born lambs.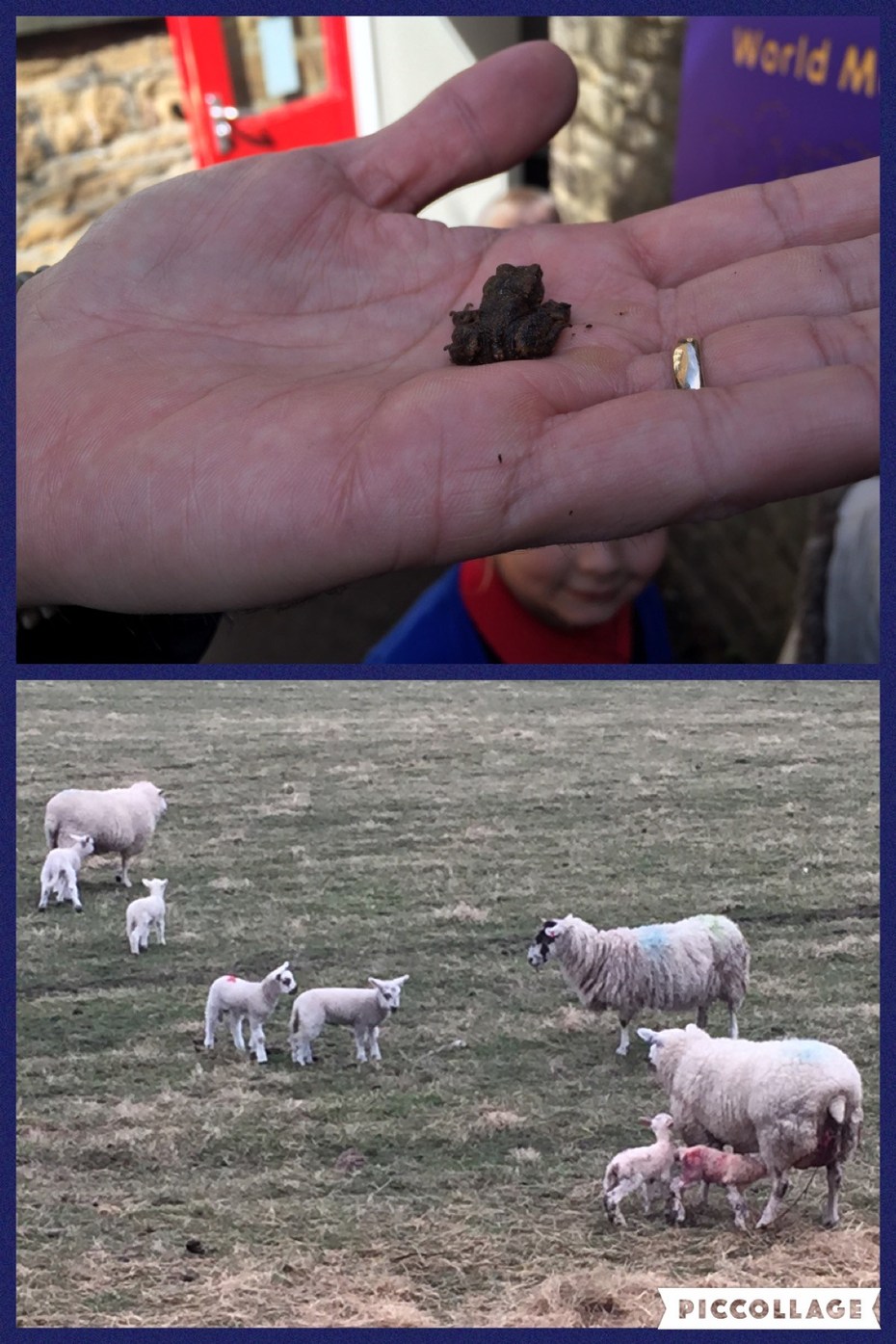 Year Four sleepover was lots of fun.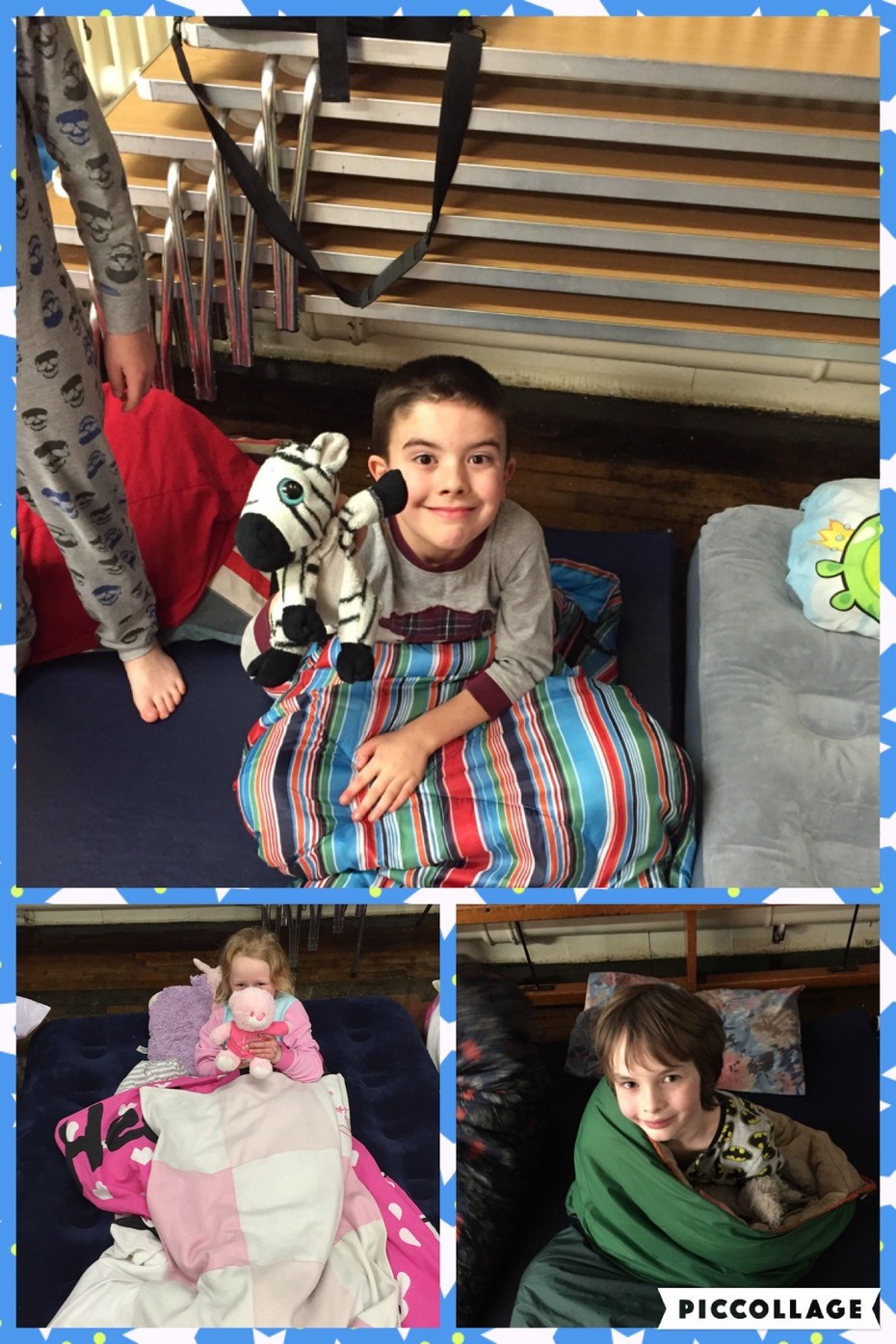 Our Sports hall Athletics team at New Mills Leisure Centre.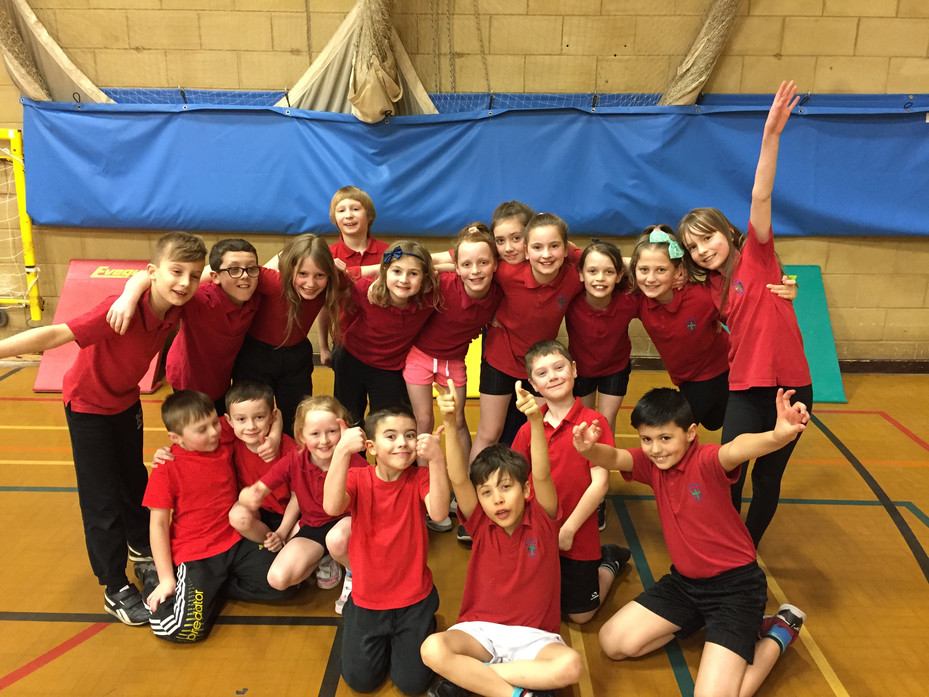 Easter Rewind with children from St. George's and New Mills Primary.

Painting our crocus bulb pots at Mellor Road Church.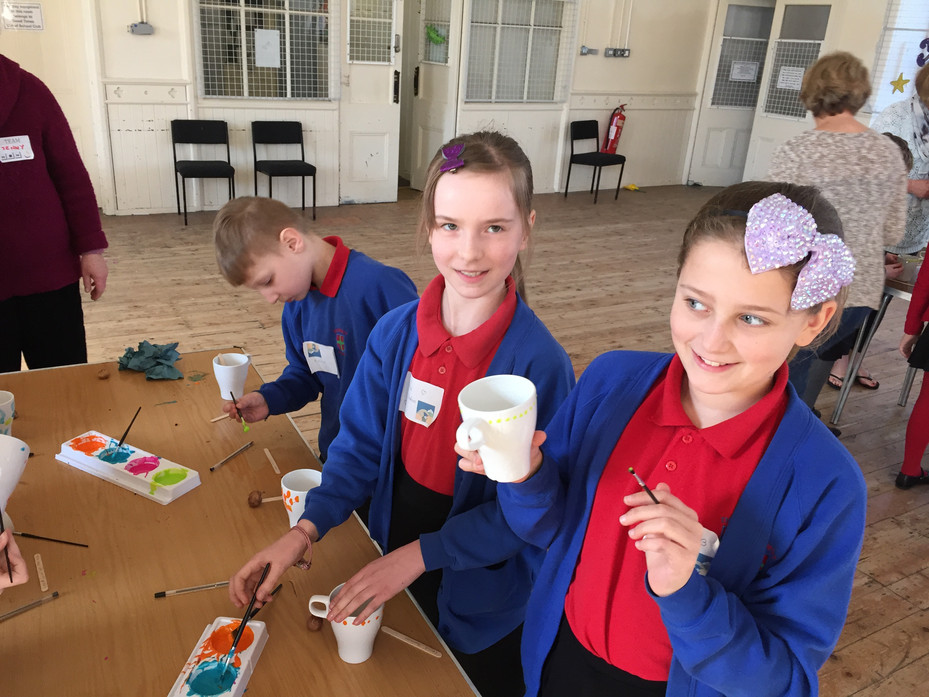 The children in their World Book Day costumes.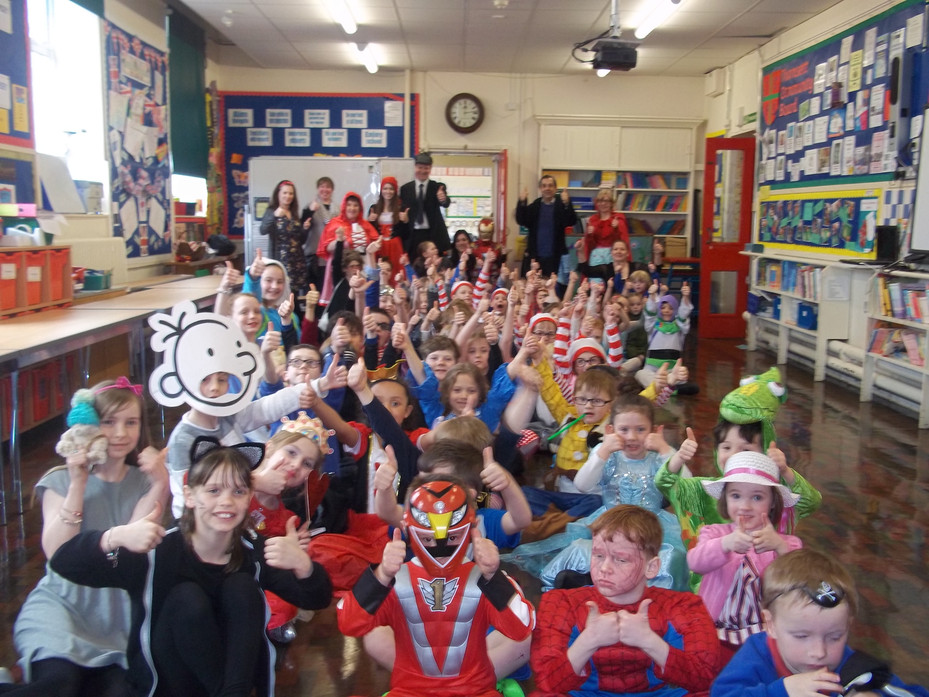 The view from school on Friday morning!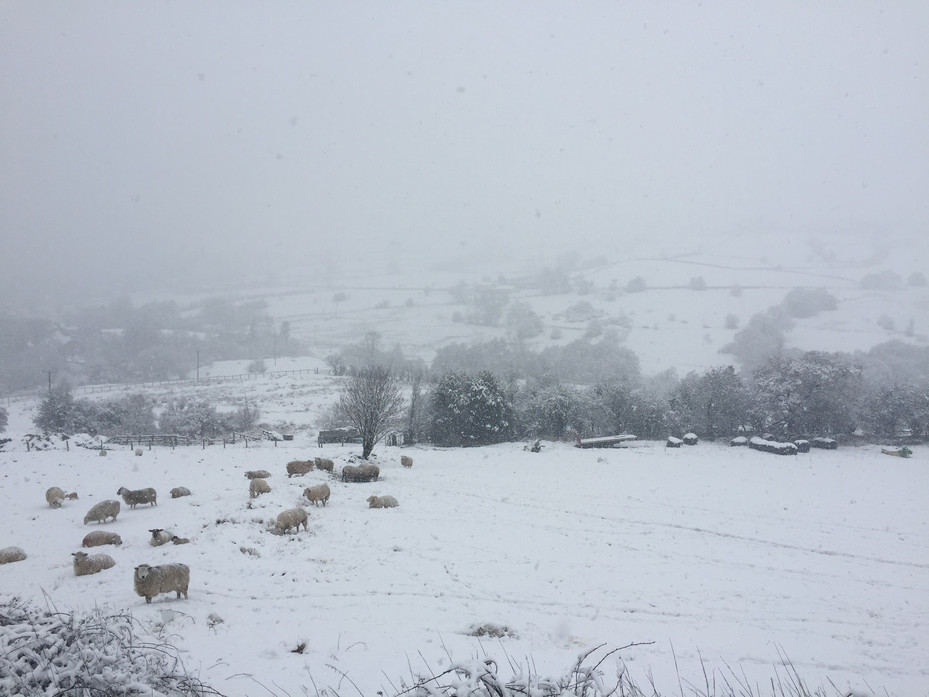 What an evening! We really enjoyed performing with 8,000 other children at the Young Voices concert in Manchester.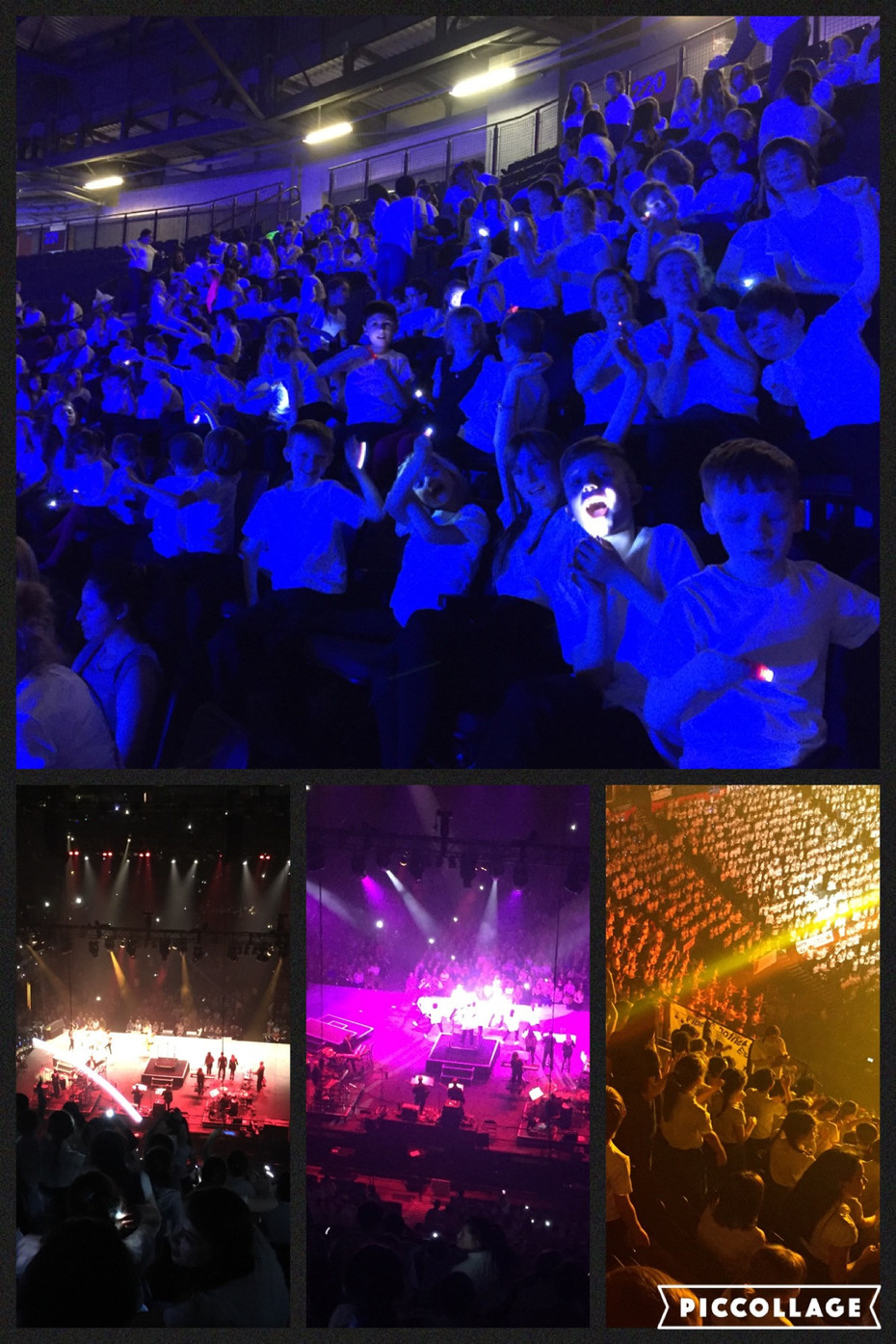 Well done to our basketball team - runners-up for Small Schools in the whole of the High Peak.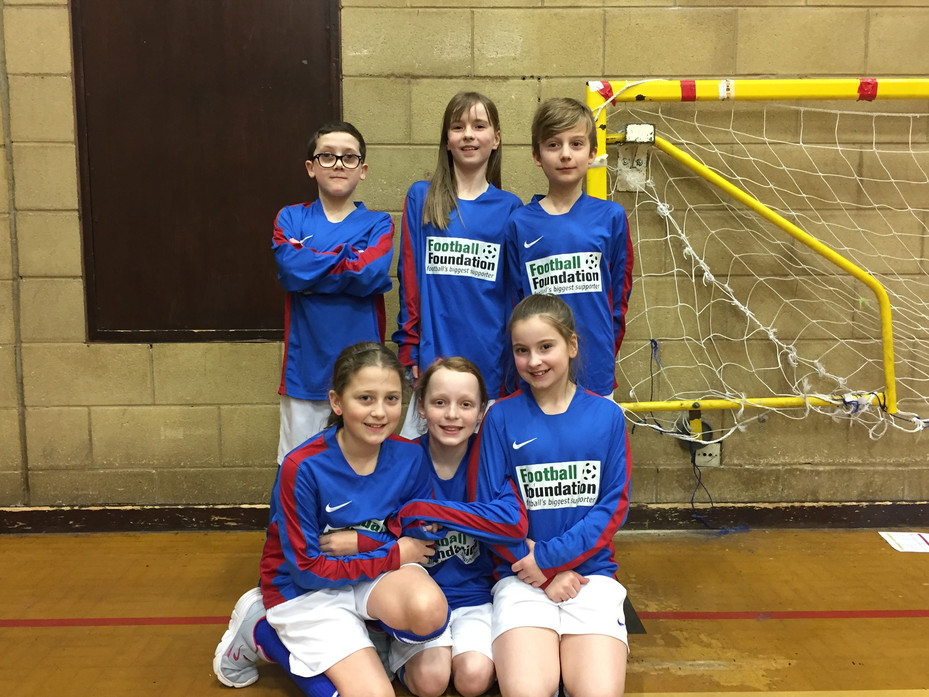 Look at some of our fantastic African art photo frames and photos.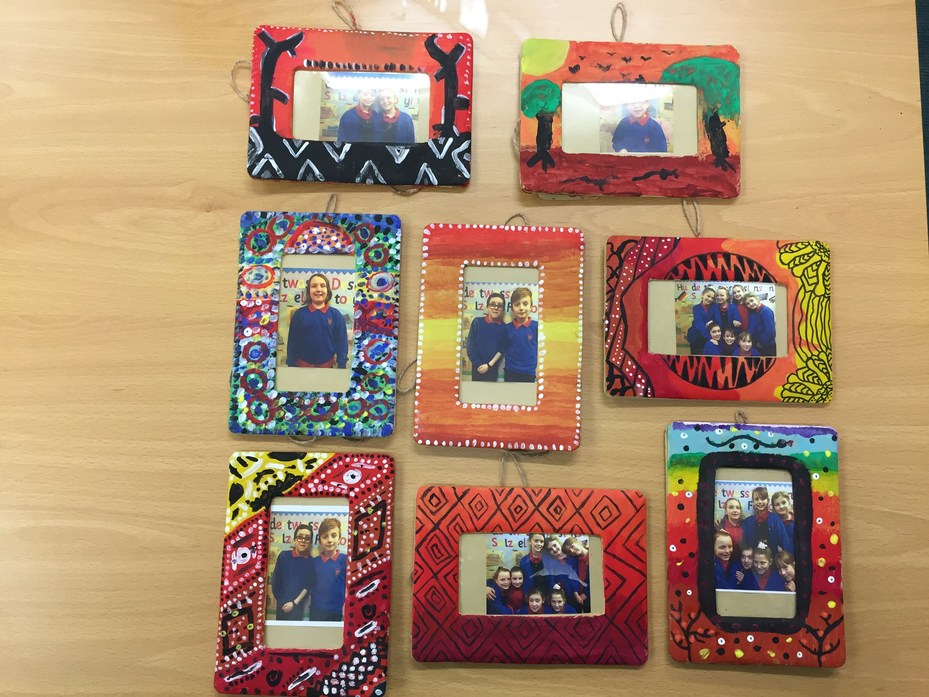 We studied an Austrian eco-artist named Hundertwasser and used his inspiring ideas to re-design the Swizzels factory.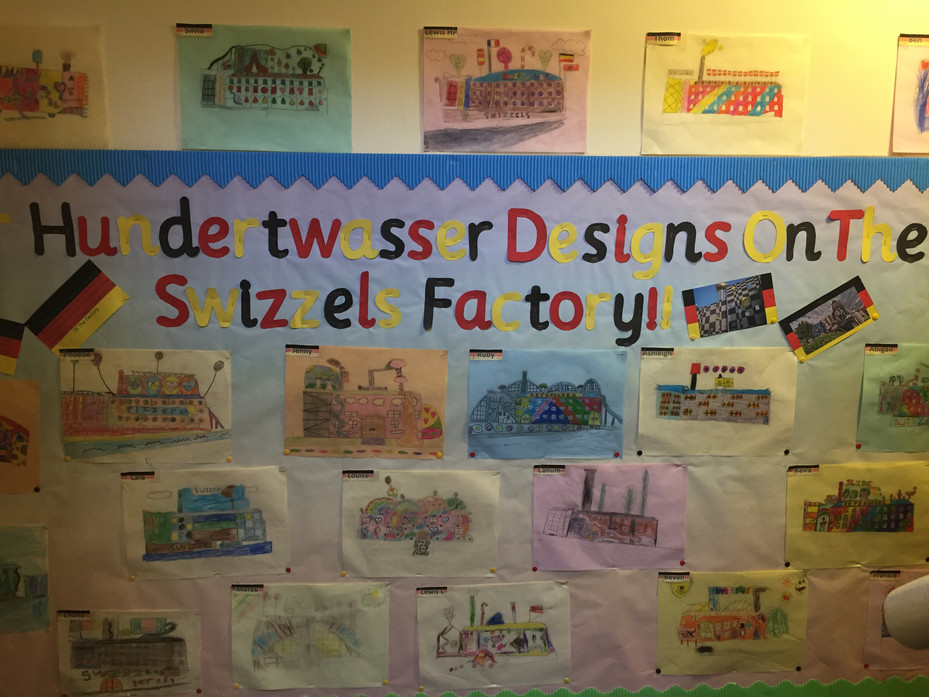 Safer Internet Day at school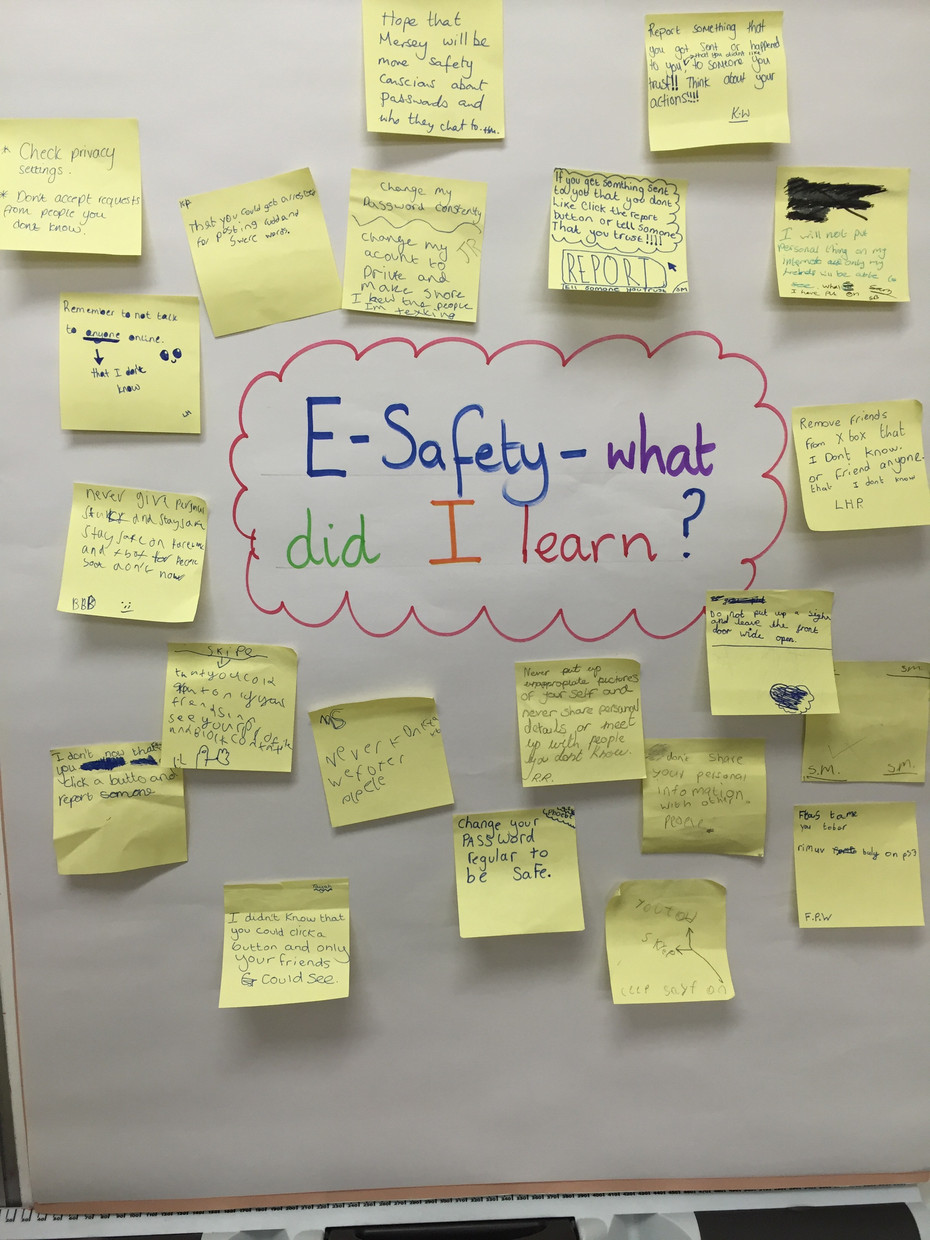 Well done to Mersey Class for their very informative Assembly.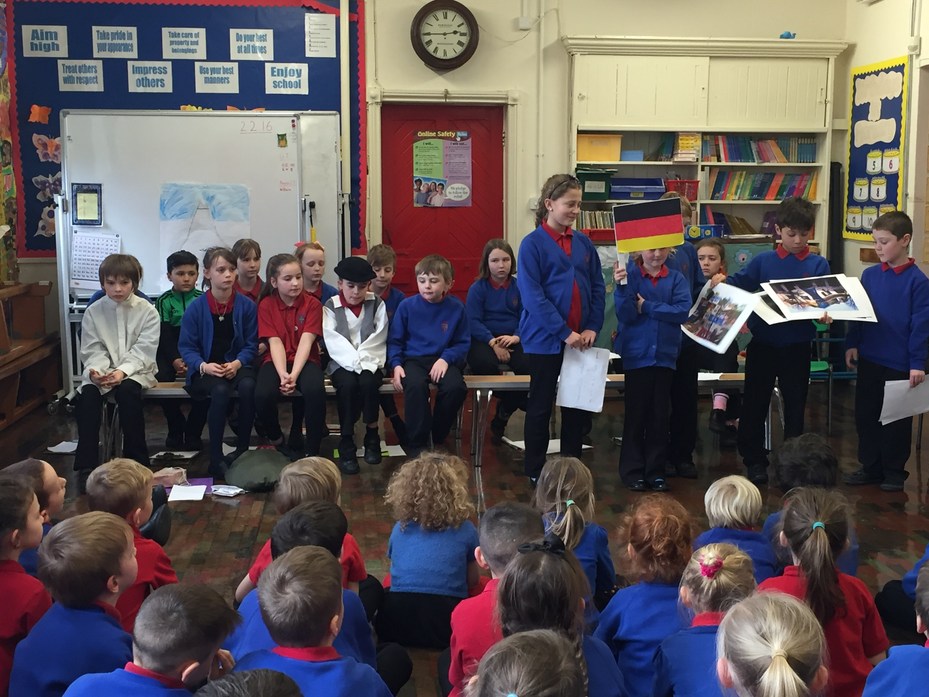 It's Volleyball at lunch-time!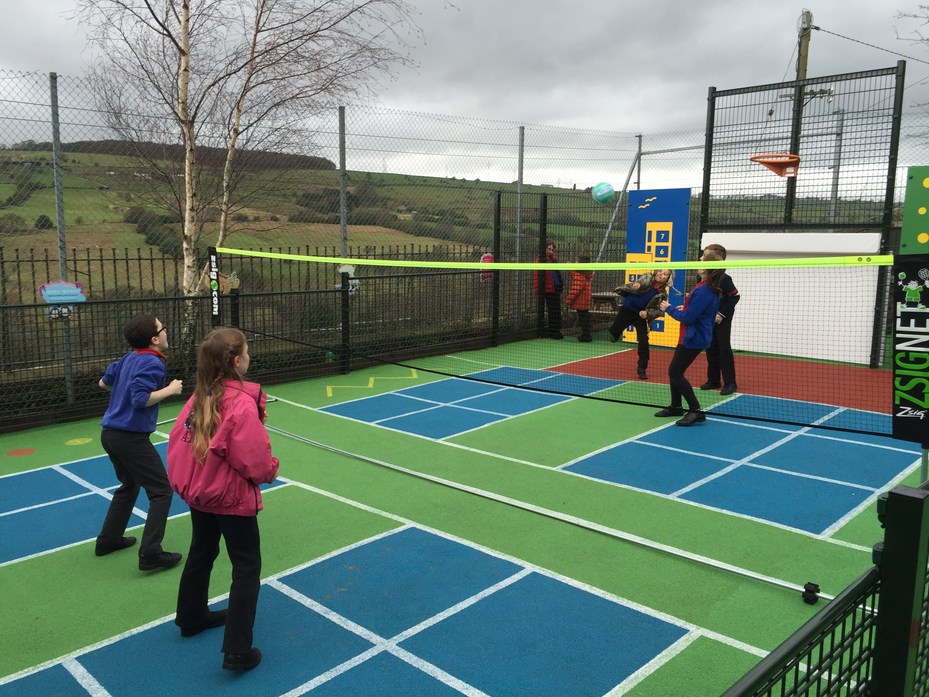 Sett Class tell us all about their recent 'Around the World' topic during Assembly.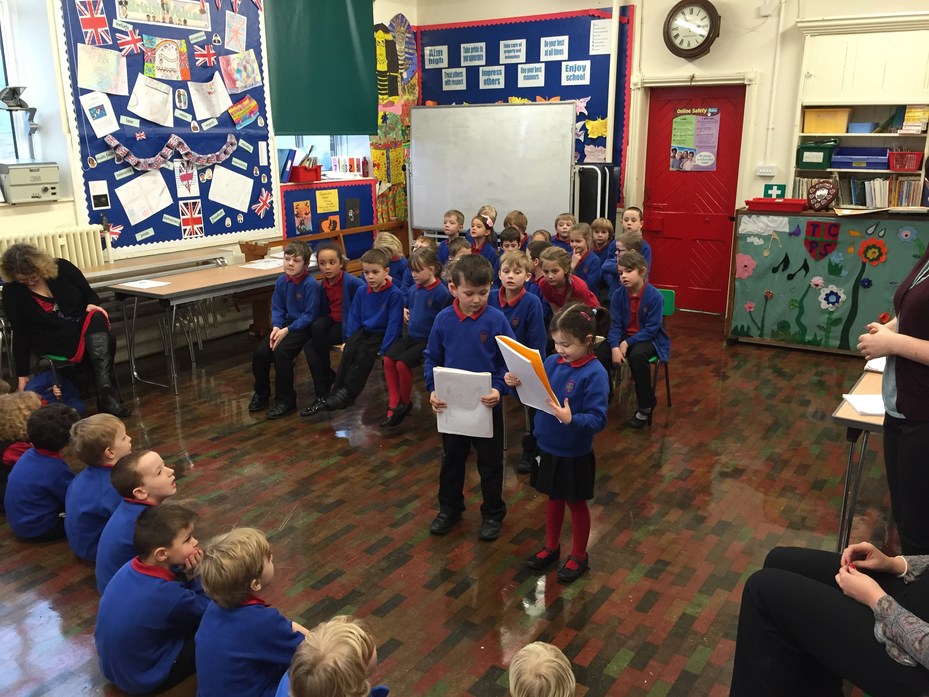 A brilliant 'Pirate Ship Construction' afternoon - thanks for lending a hand.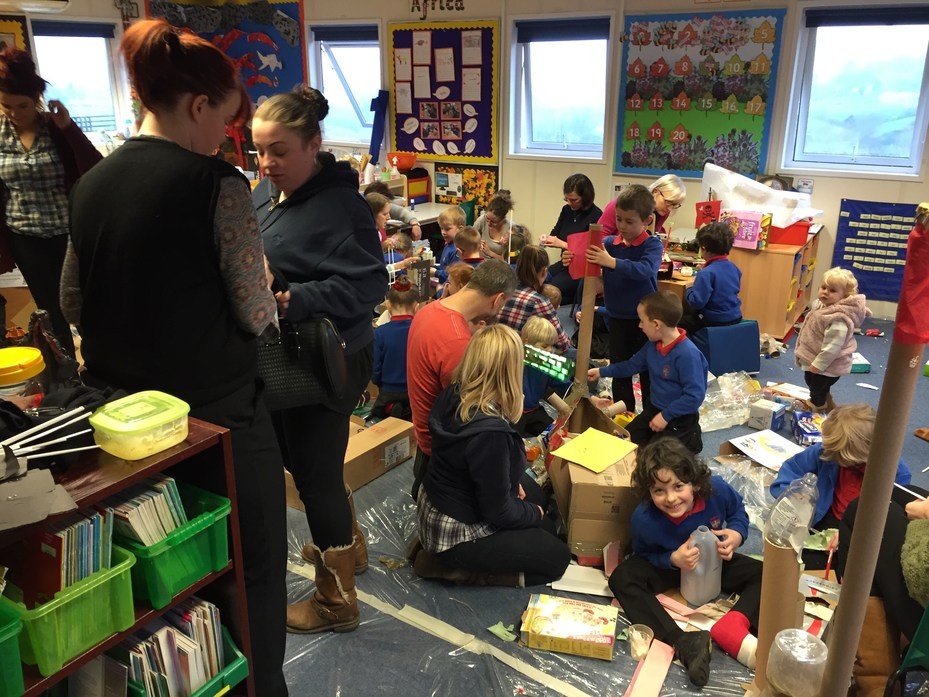 Sett Class presenting a fantastic Pirate Assembly.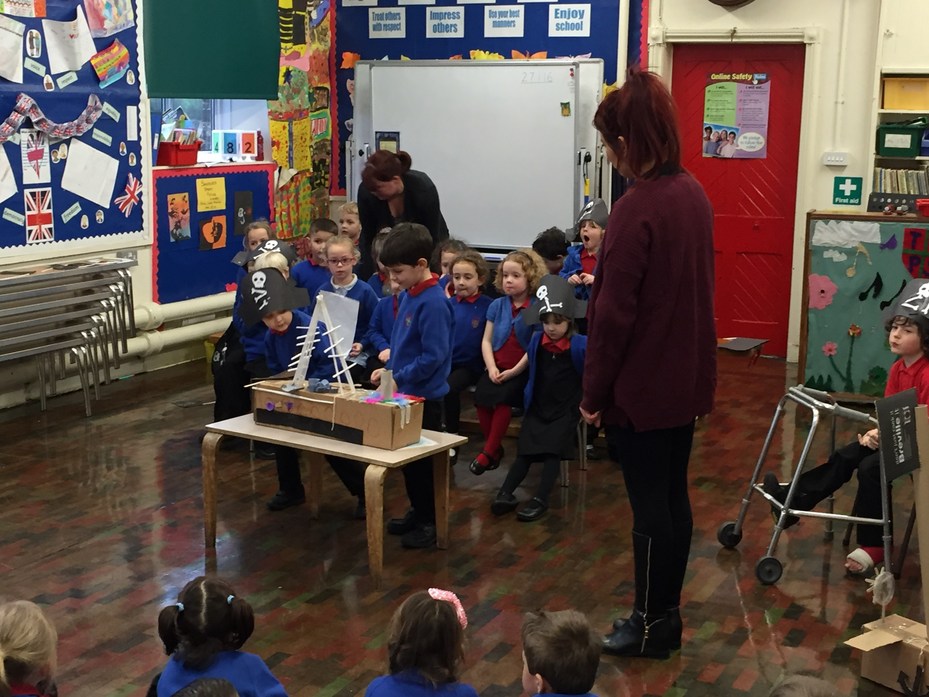 Our dynamic dancers performing at New Mills School.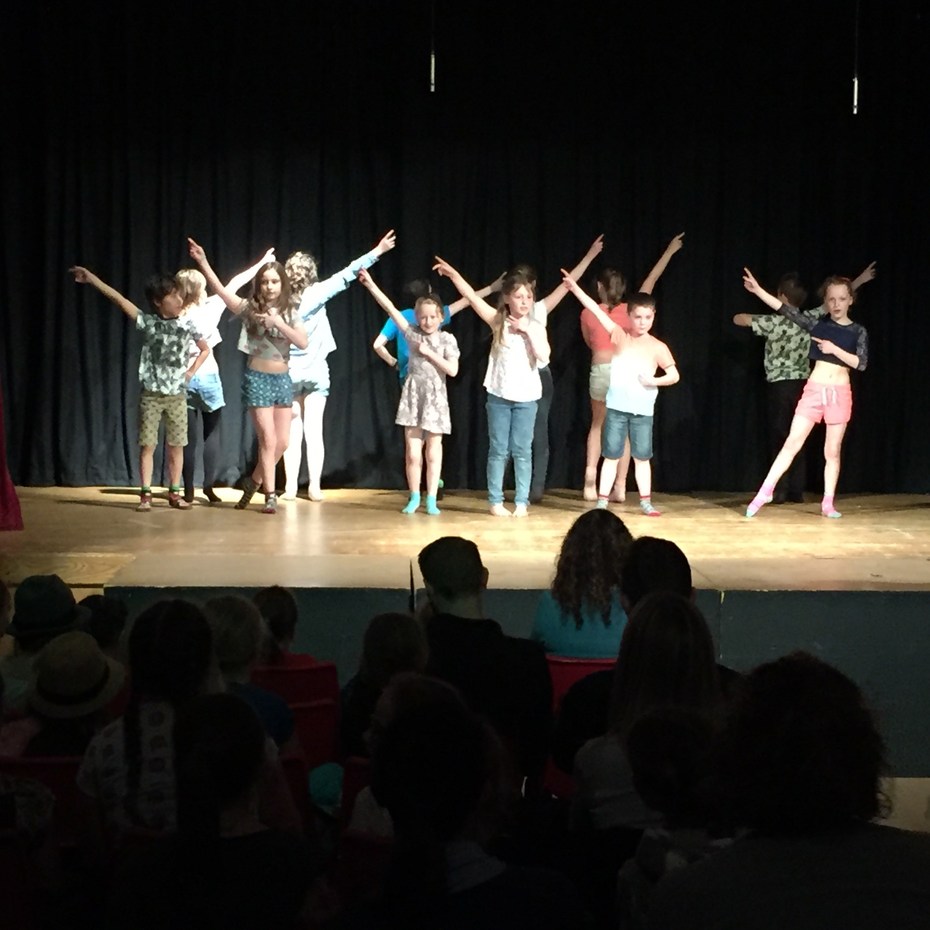 Our winning Year Four Bench ball team - New Mills Champions!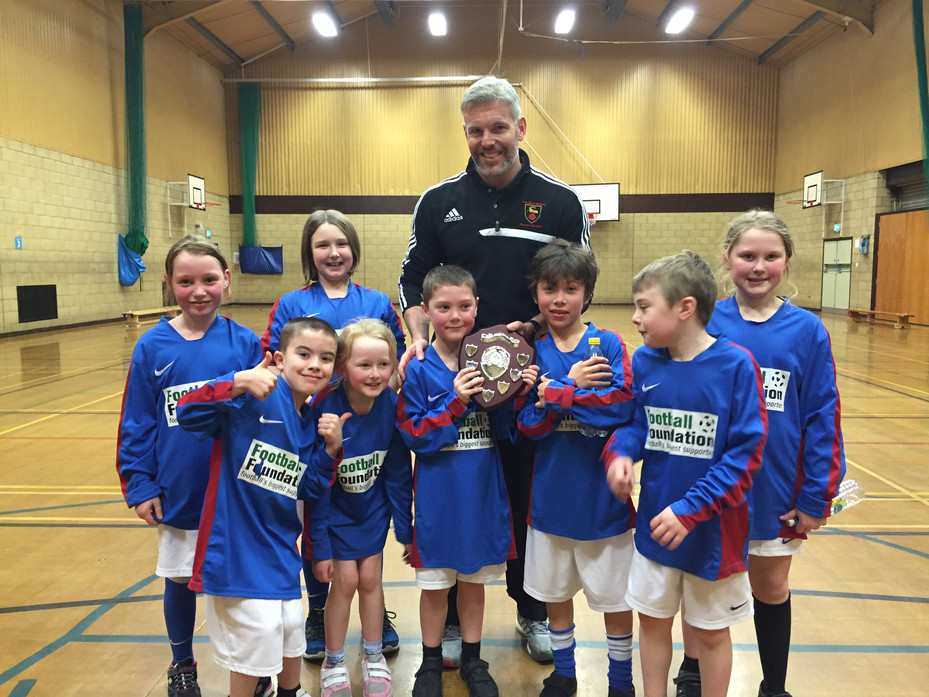 French breakfast in Mersey Class.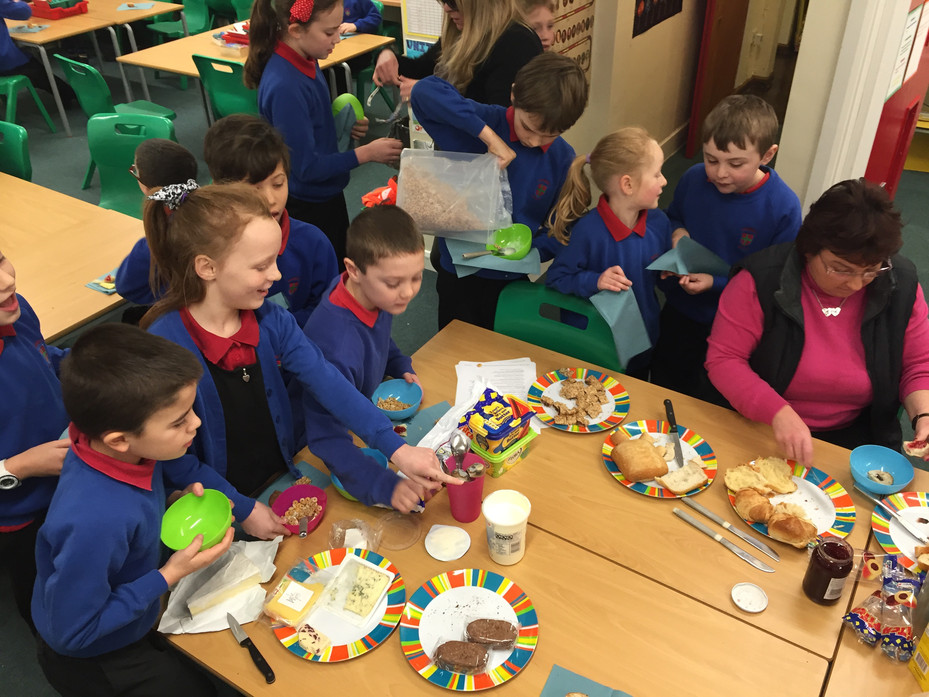 Building the Eiffel Tower from art straws.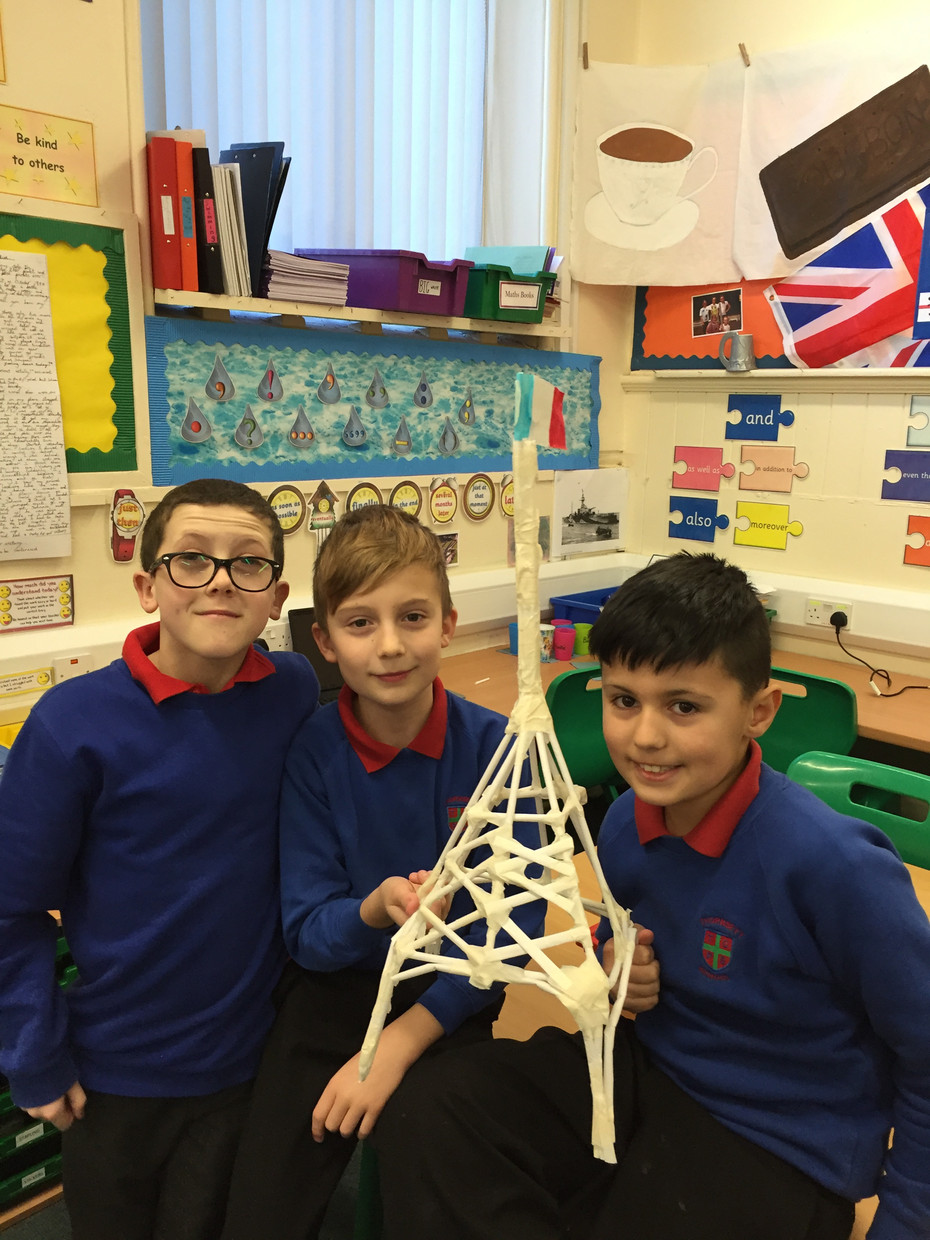 It's Pirate Afternoon in Sett Class.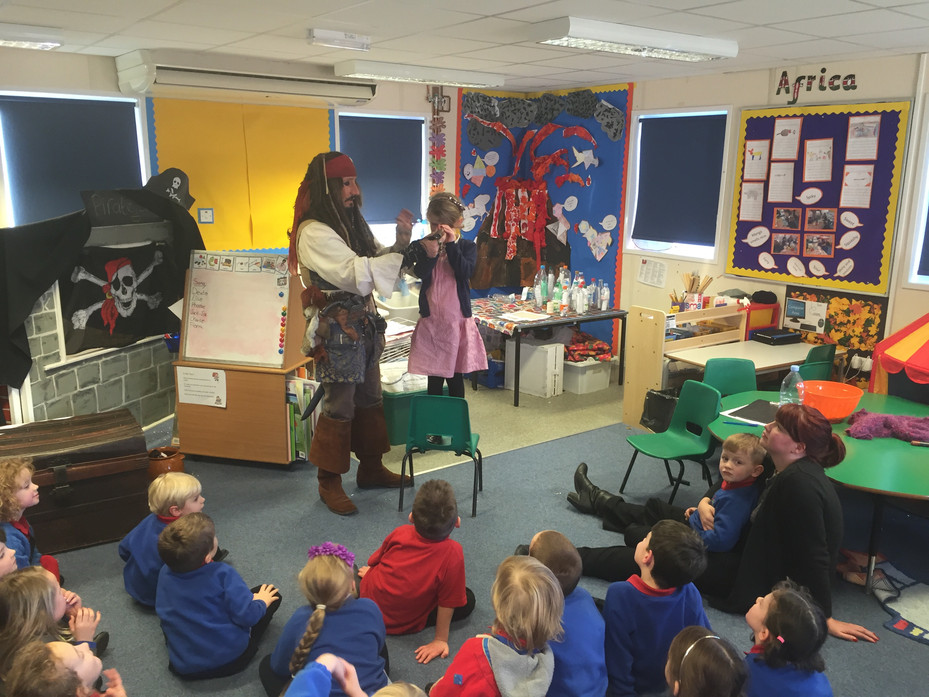 Mersey Class, starting their first Music Composition lesson of the new year.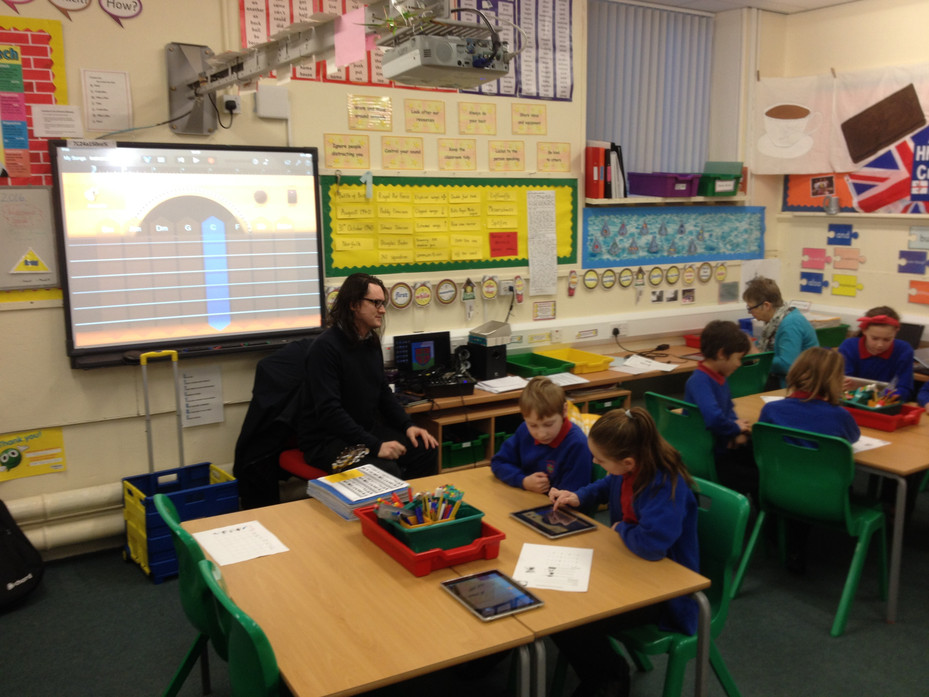 Thank you to all those who joined us for our Carol Service.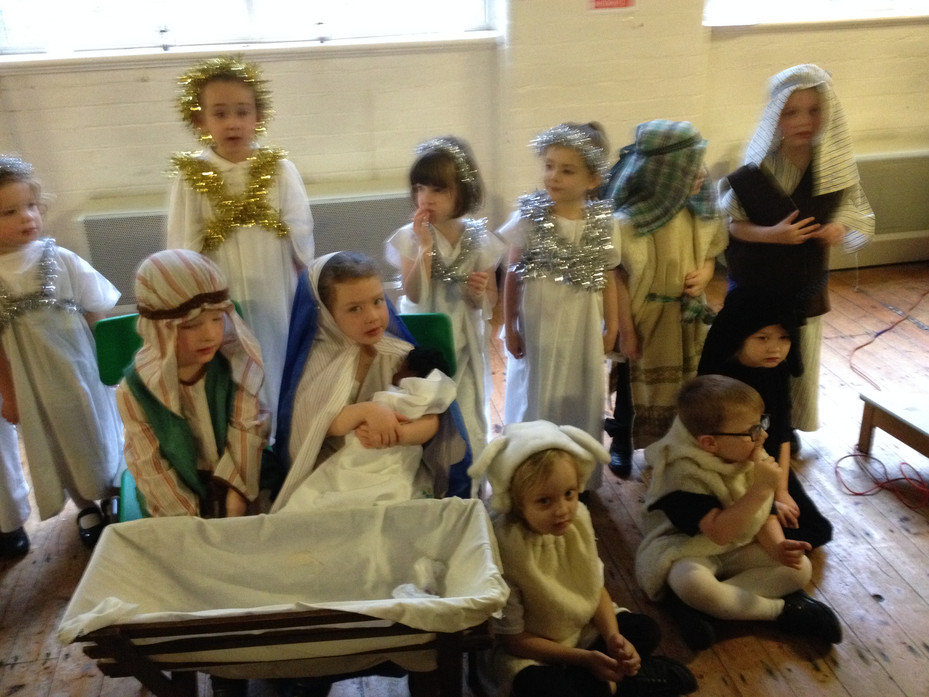 The choir performed brilliantly for the residents at Goyt Valley House.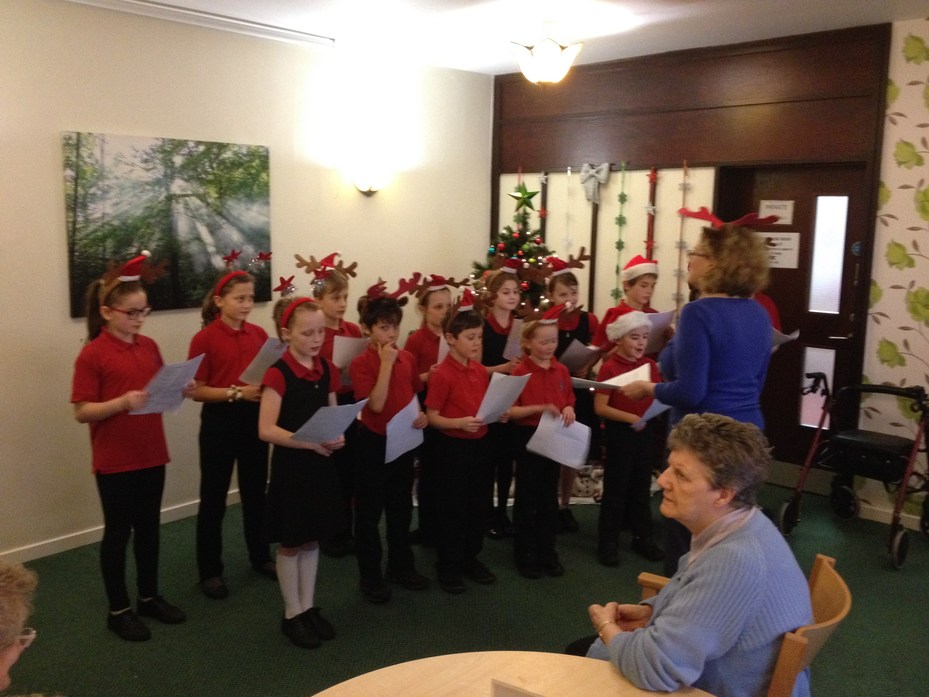 Father Christmas came to our Christmas Party.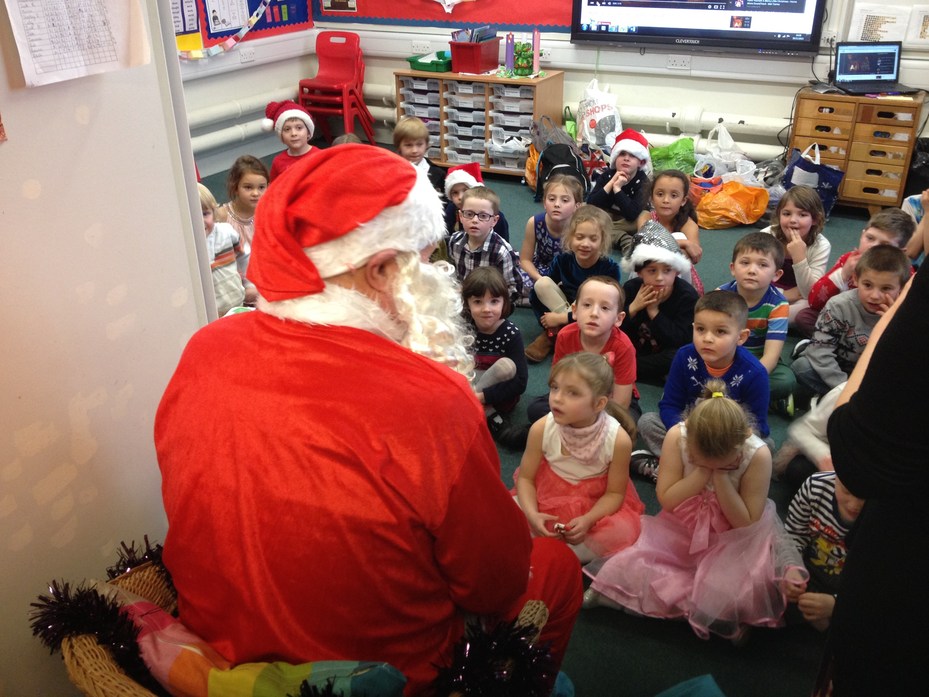 A super Christmas Dinner at the end of term.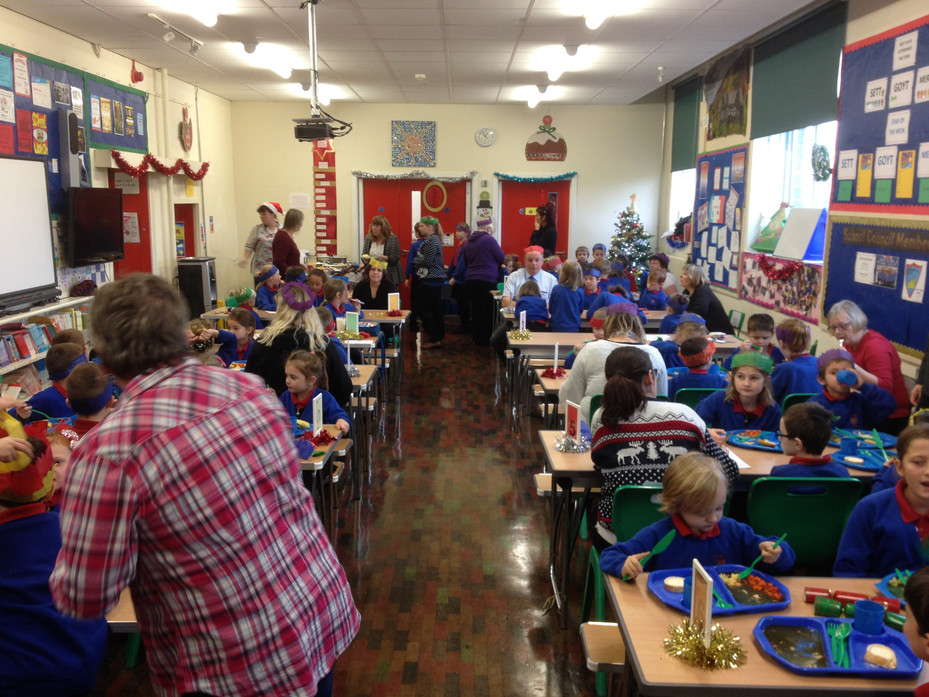 Our 'Christmas Dinner Tree' on display at St. George's church.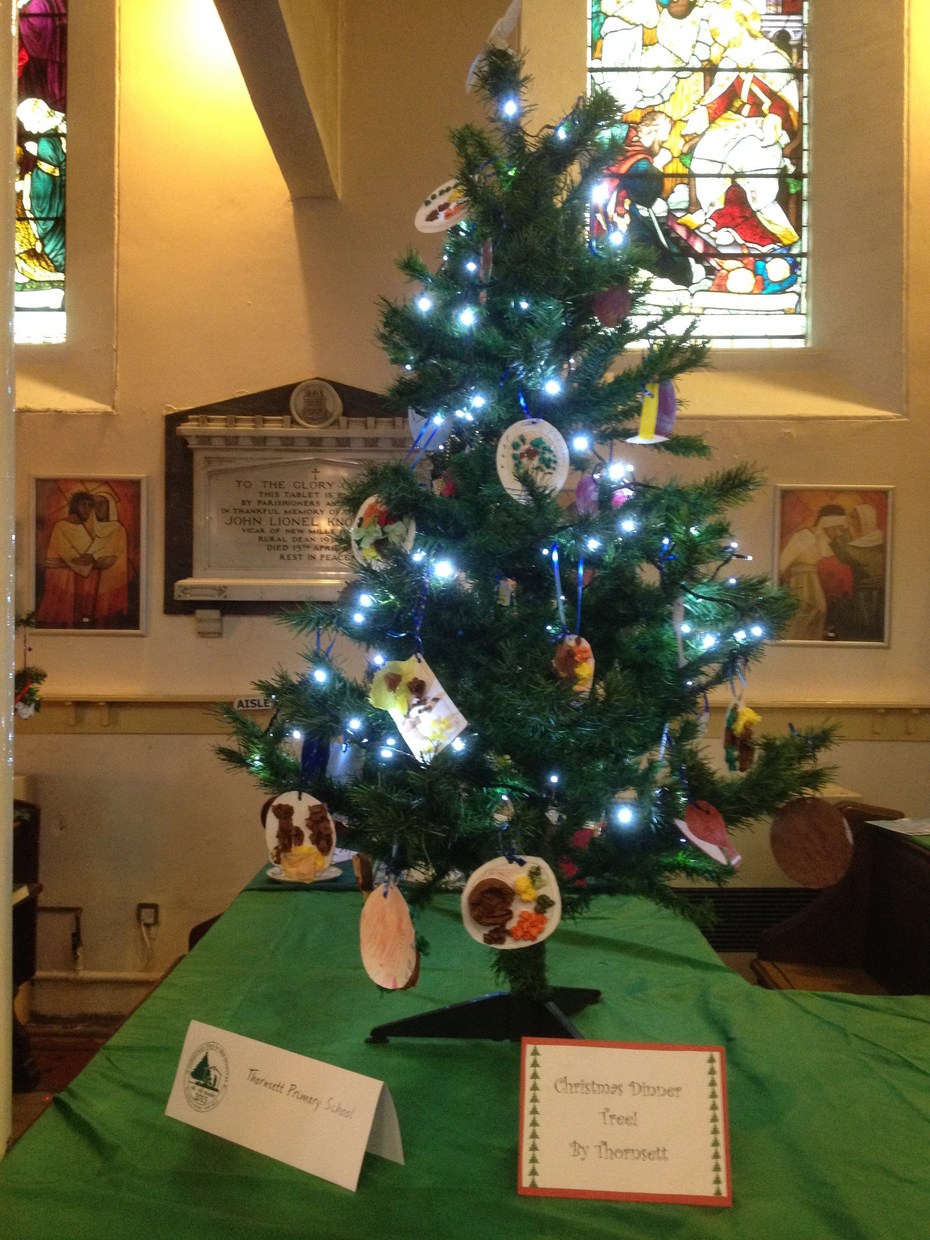 The Wishee Washee Washer Gang!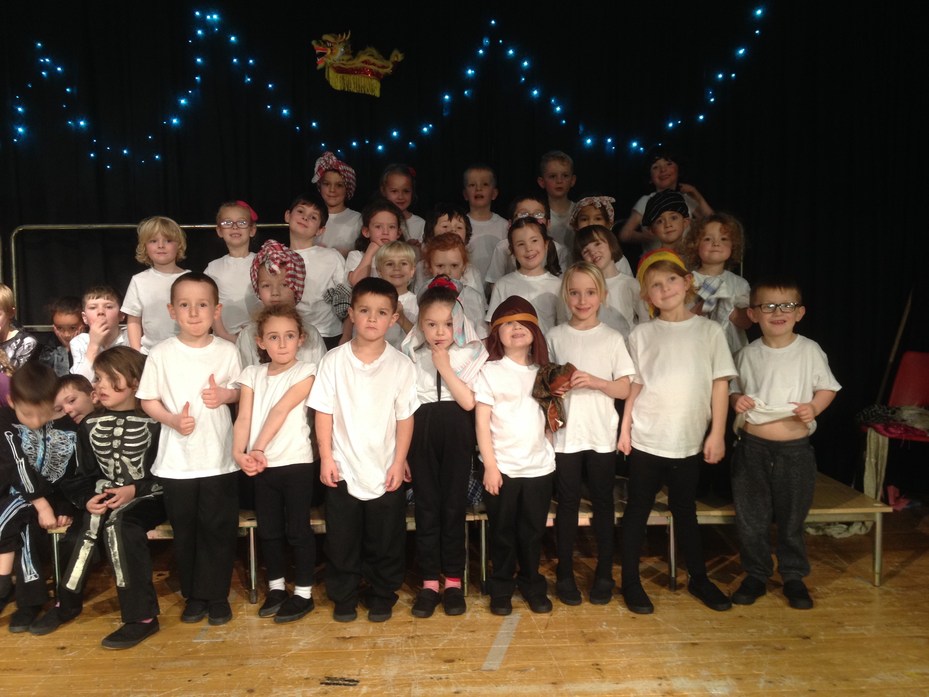 Our super Narrator.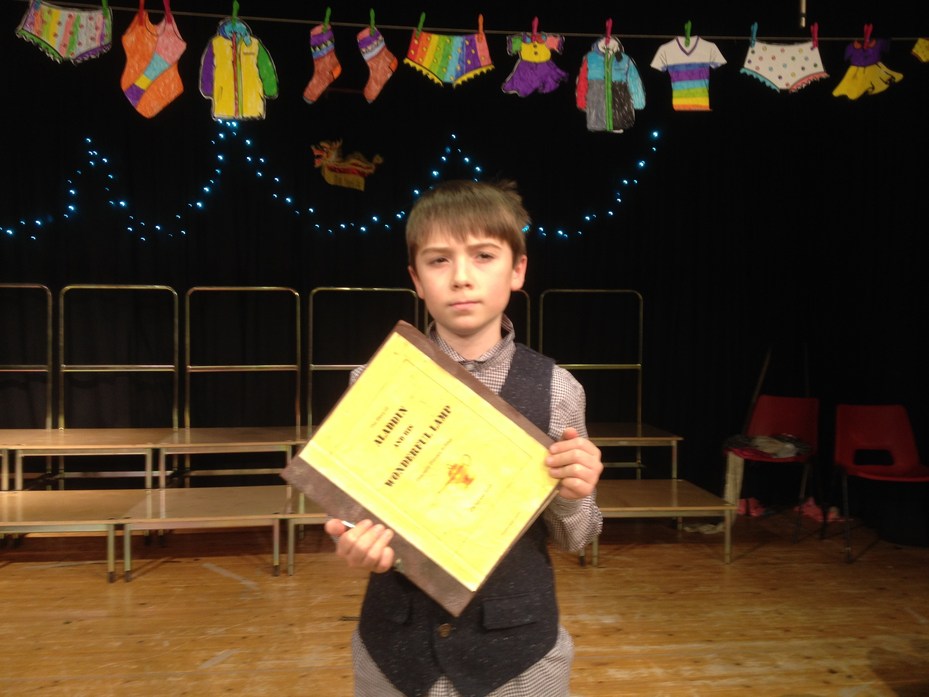 It's the monsters (argh)!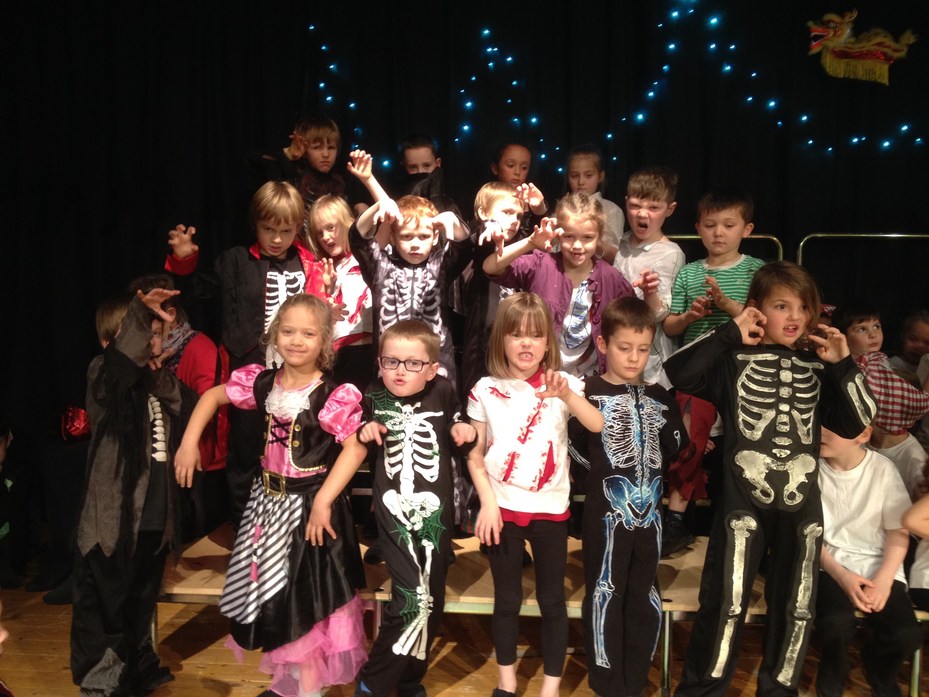 The robbers are about so you better watch out!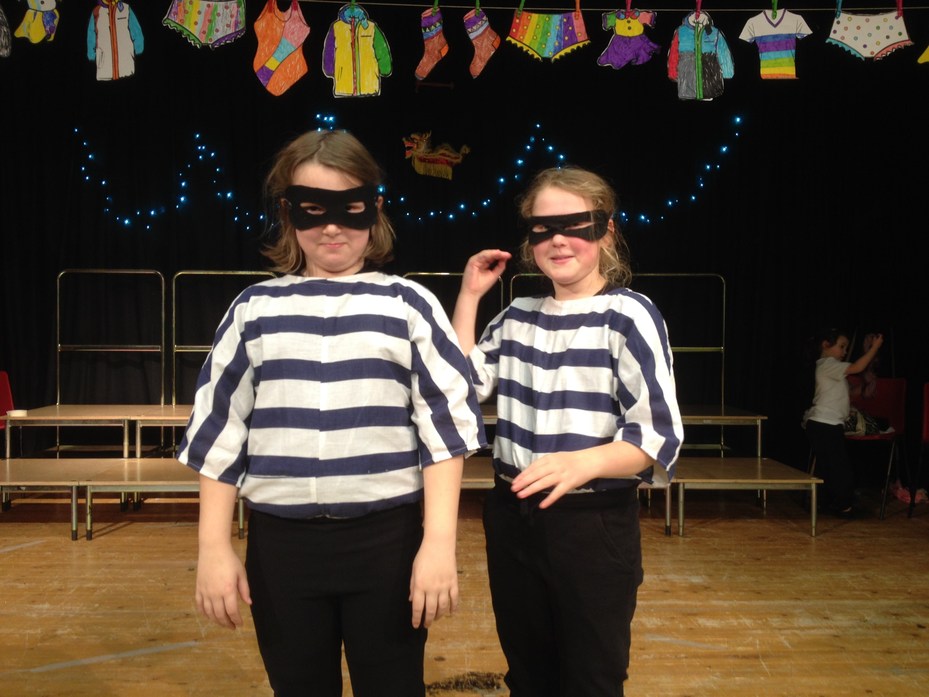 Aladdin and Widow Twankey - a lovely mother and son combination.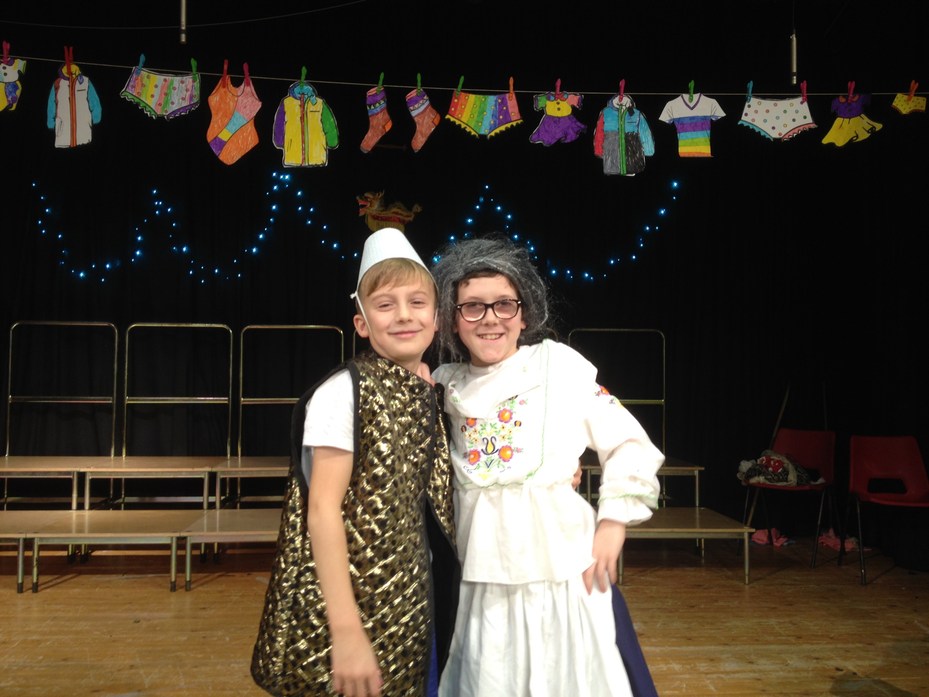 The evil Abanazar and the talented Genie.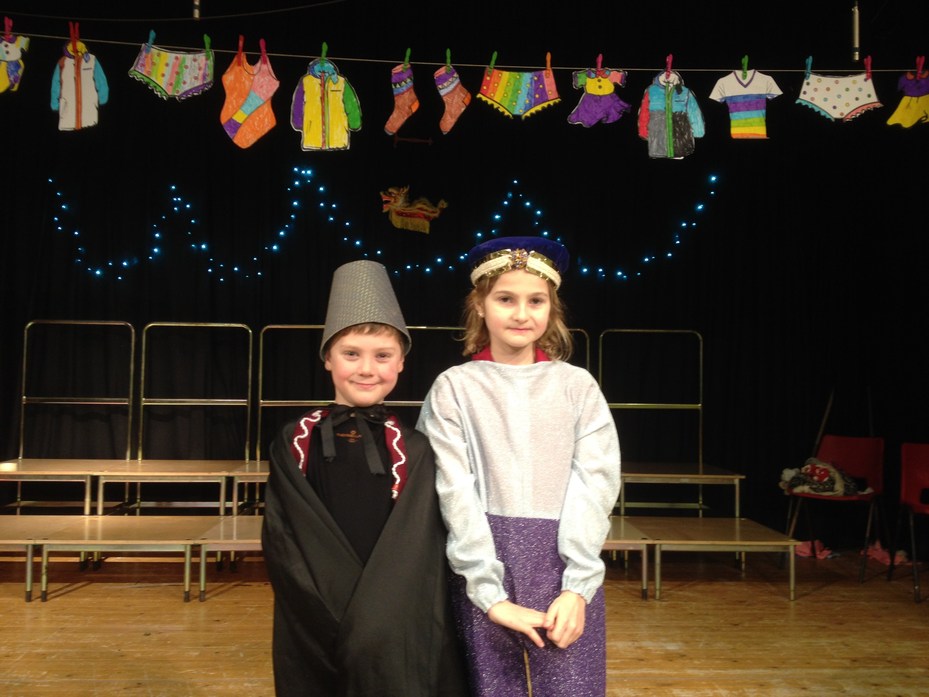 The fabulous Royal Princesses, Wishee Washee and Sultan.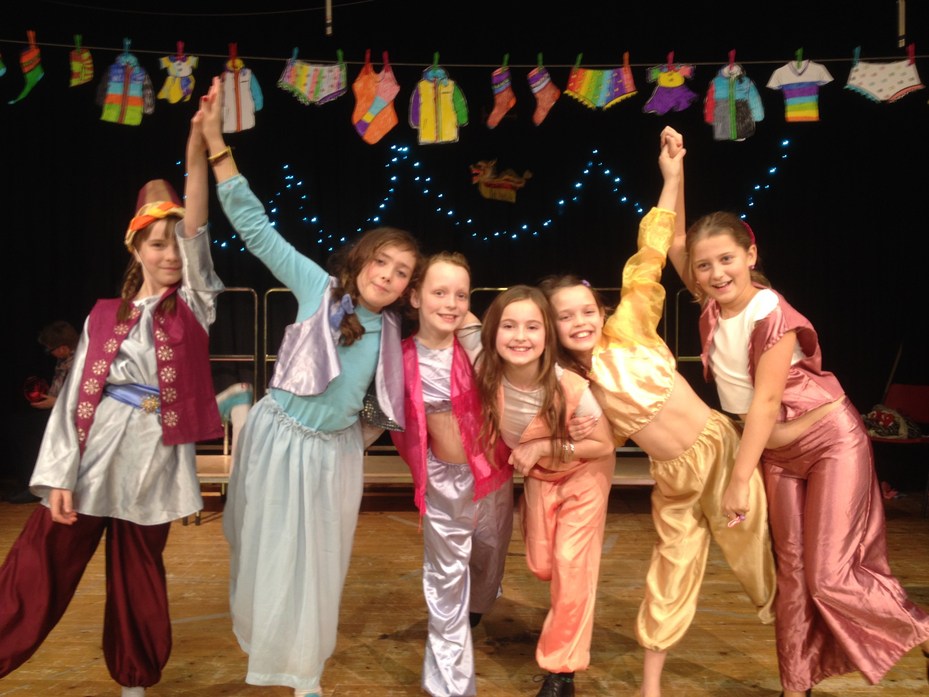 The charismatic characters have arrived from Fairy Tale Land (with Elvis in tow).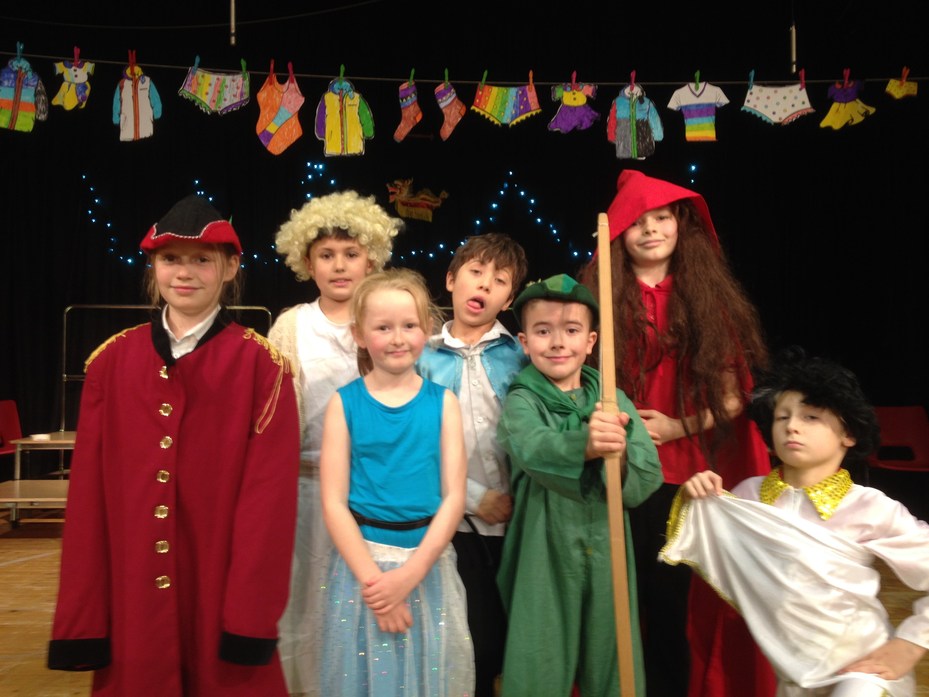 The Royal Guards - it's frightening fighting off those robbers!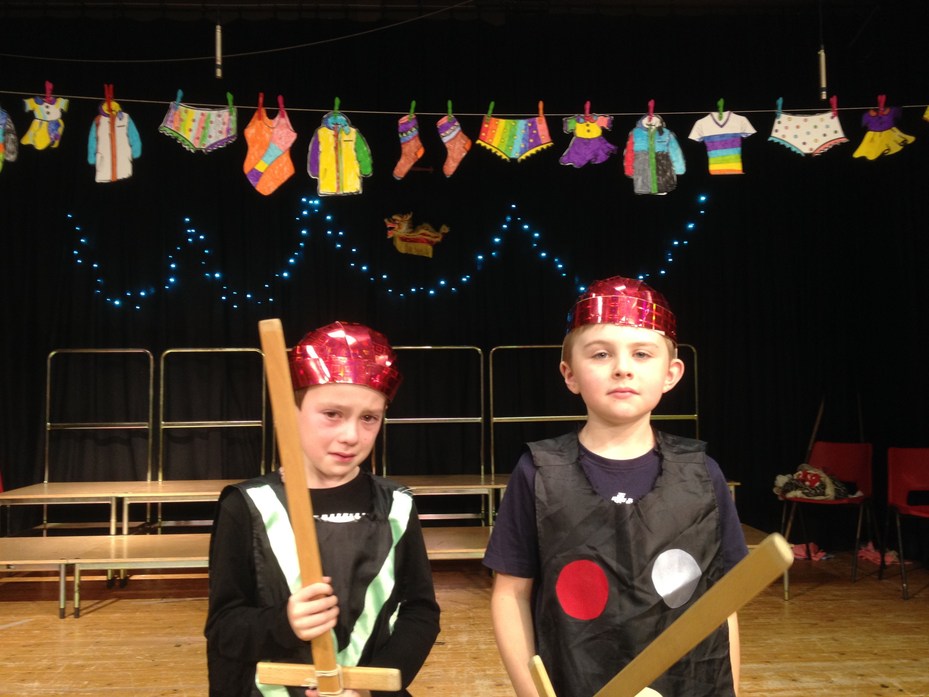 The whole cast on stage for our finale.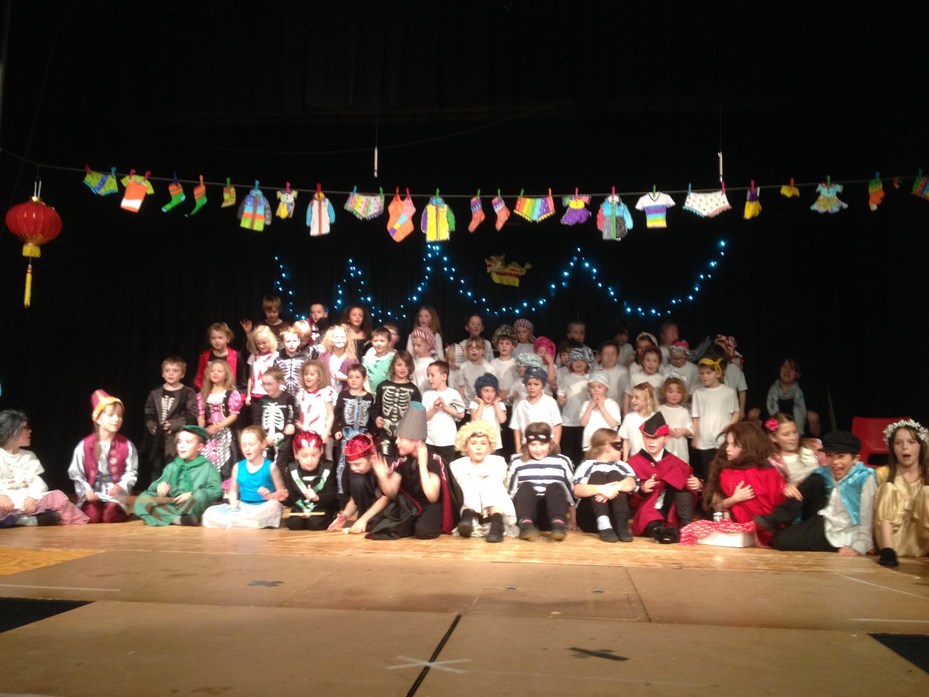 Mersey Class enjoying their visit to Stockport Air Raid Shelter - looking at the toilet facilities!!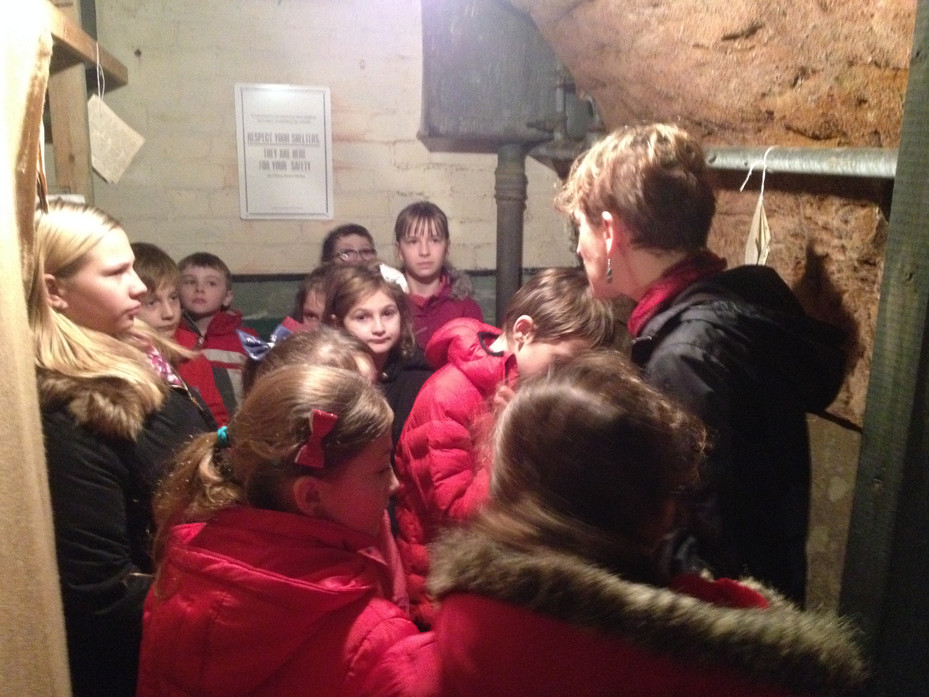 Well done everyone - we raised £111.22 for Poppy Appeal 2015 and over £1,000 was raised across the New Mills schools.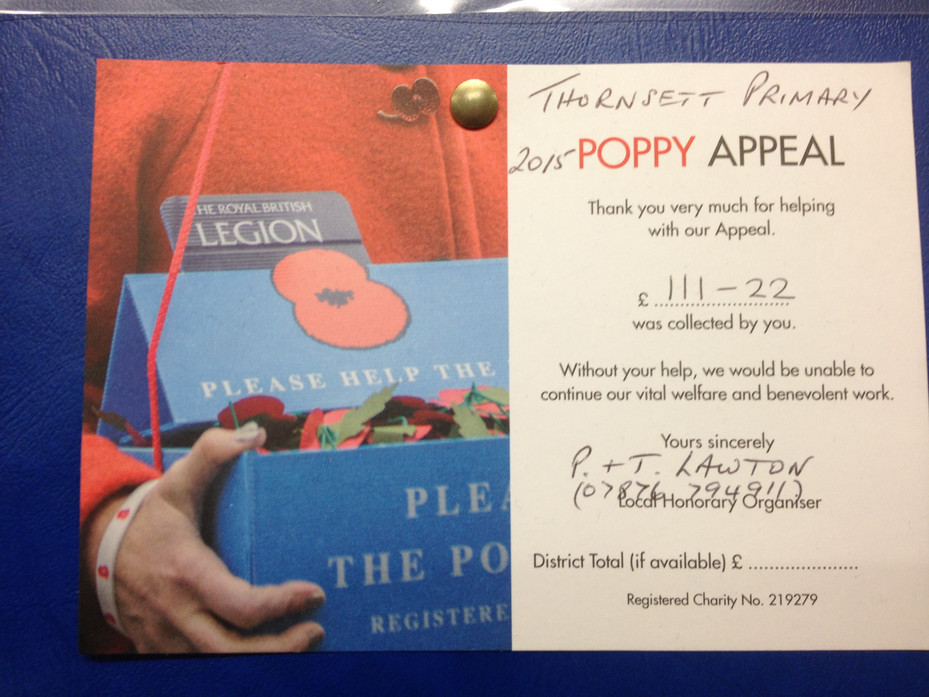 Over 400 trees planted on the school field over two days - with help from the children, parents and the Transition New Mills team.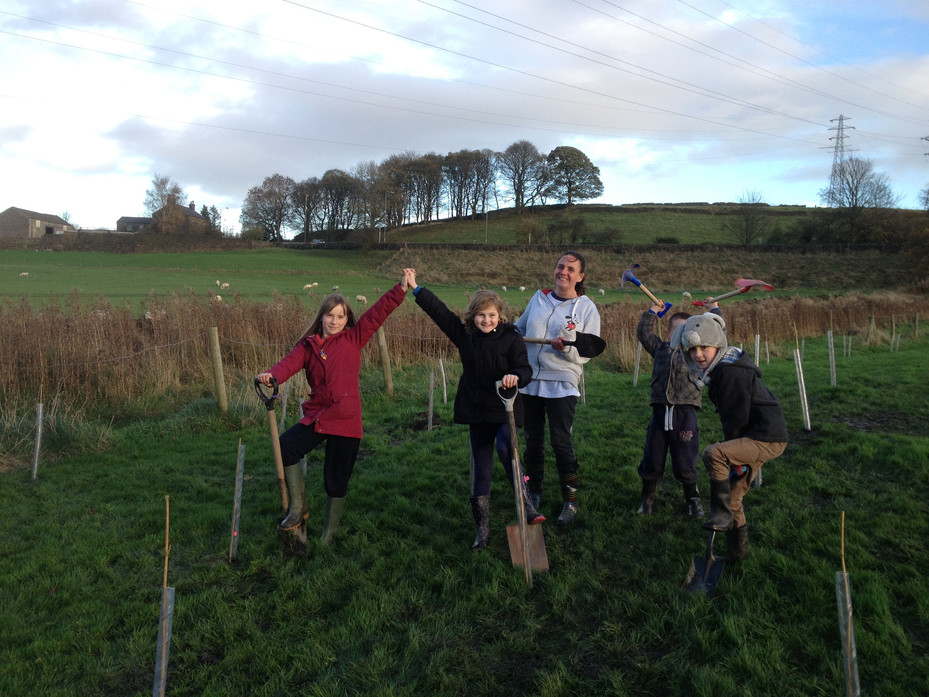 Art & Craft at Golden Time - making elephants from plastic milk cartons. The older children pair up with the younger children to help them out.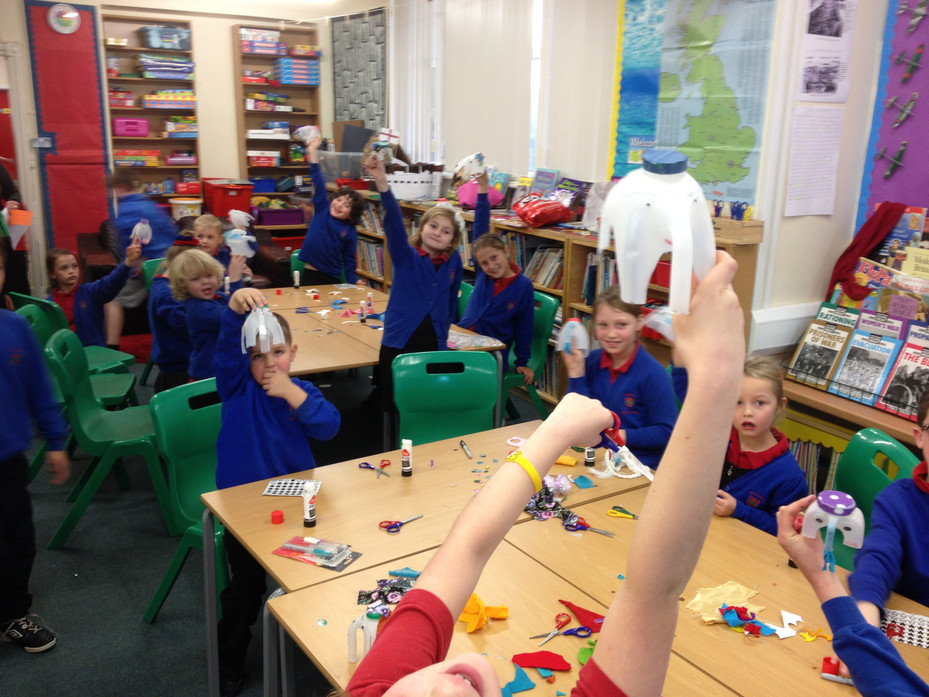 A visit from 'Blue Cross' explaining to the children about how to be safe around dogs (with help from Lulu)!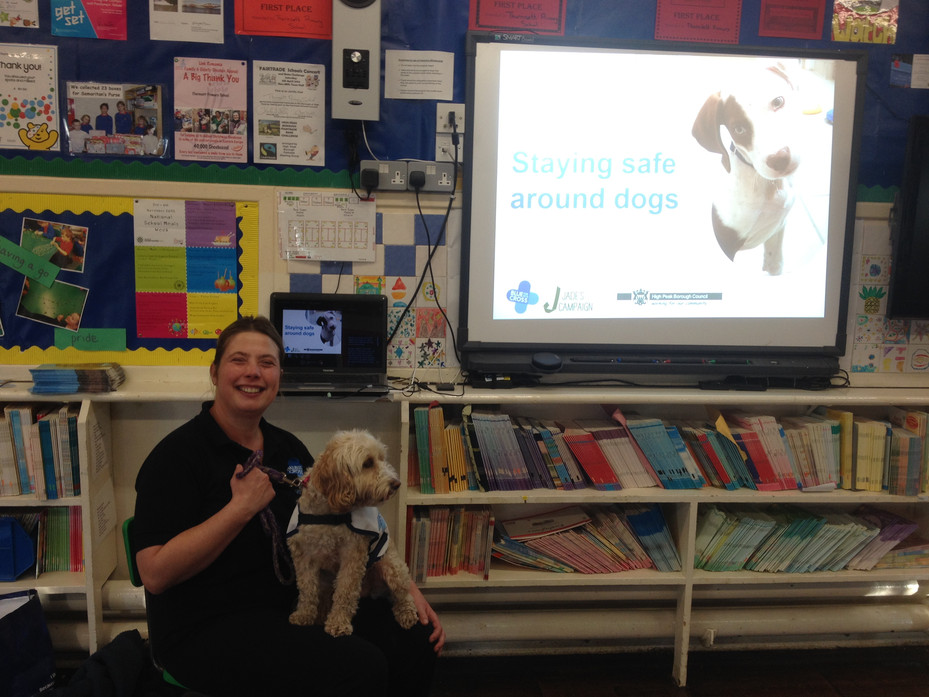 From 'Counting to Five' to solving 'Fibonacci Codes' - Maths at Thornsett today.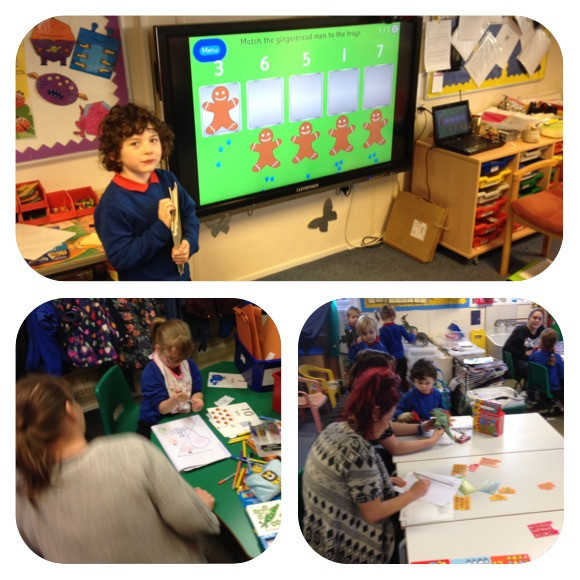 The children really enjoy their Maths.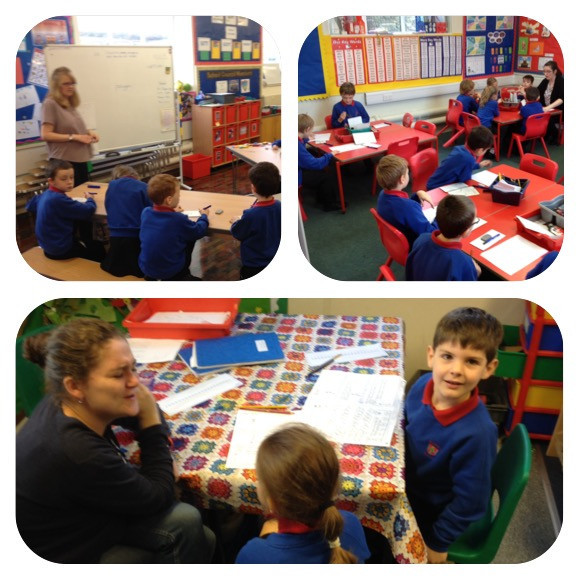 Only THREE Classes, but TEN Maths groups to support the children with their learning.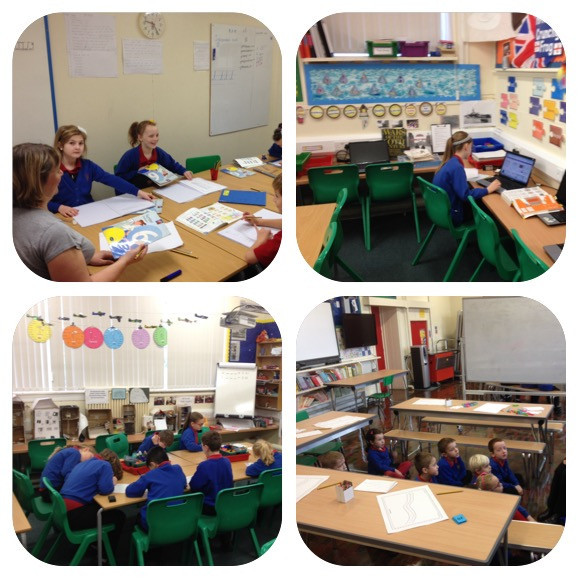 The Spooky Disco gets into full swing.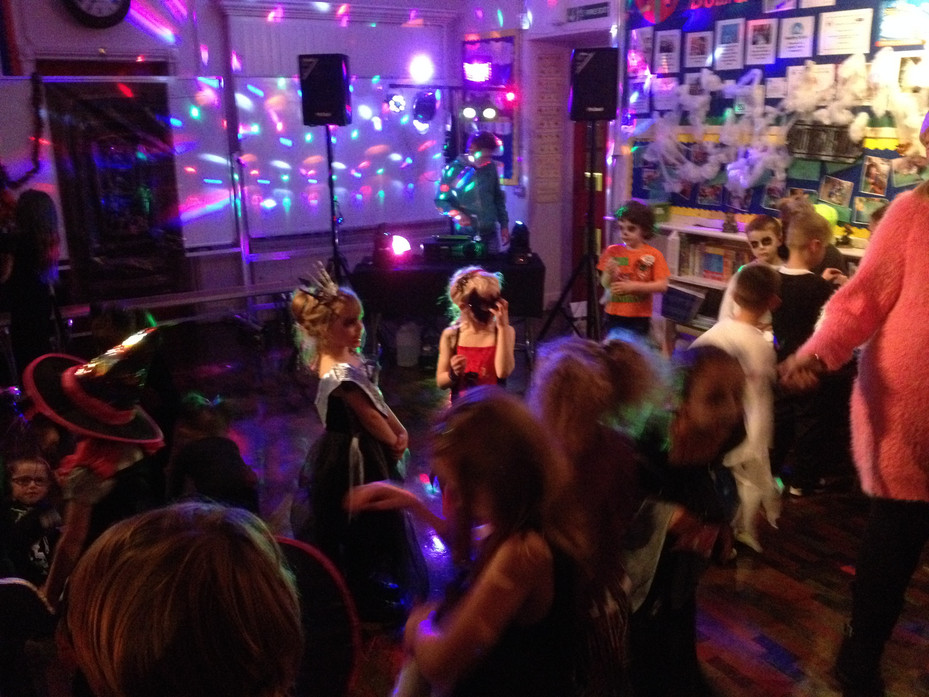 The skunk popped in to say hello!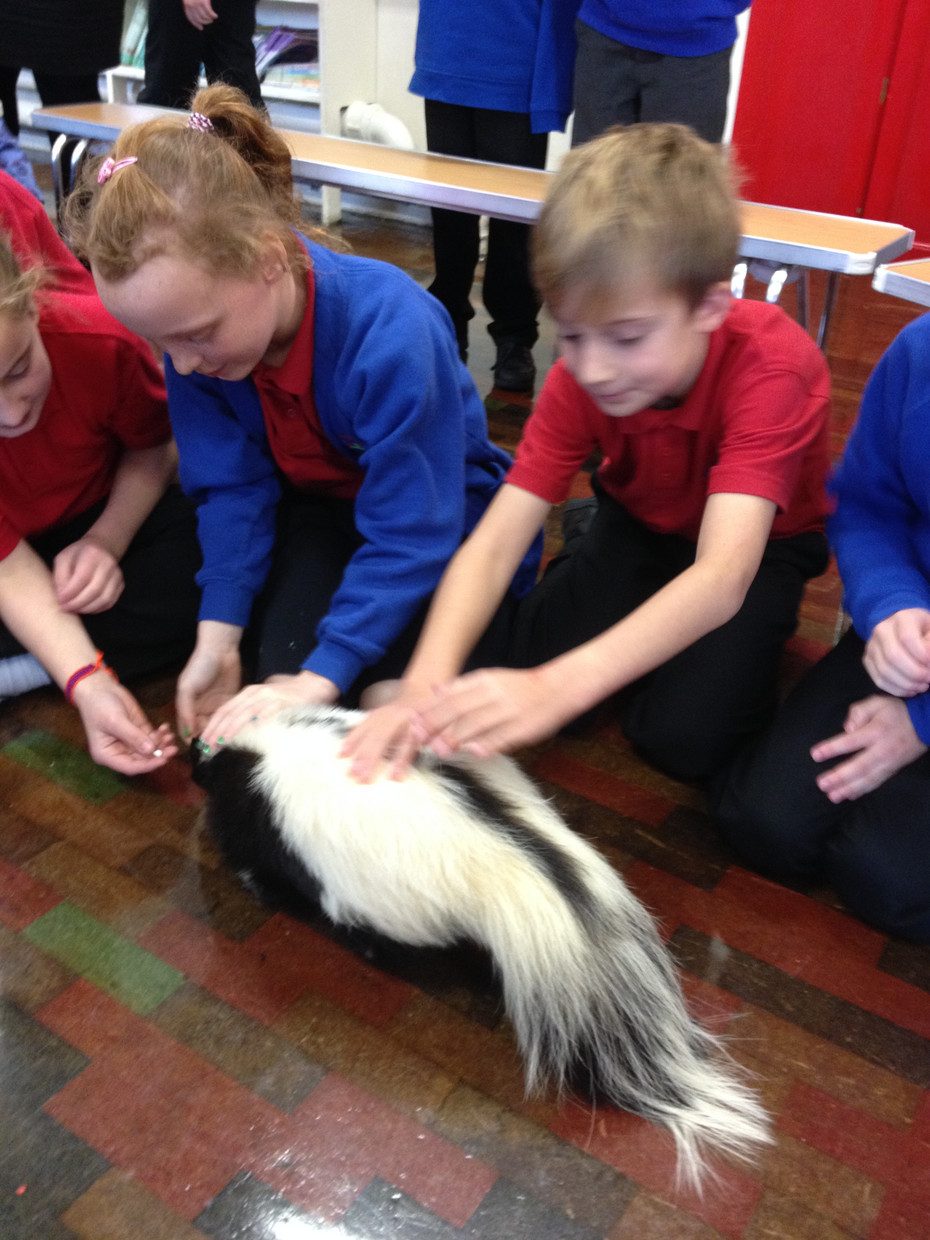 The children asked for more 'animal visits into school' - so we organised a visit from the Animal Roadshow for all the children to enjoy.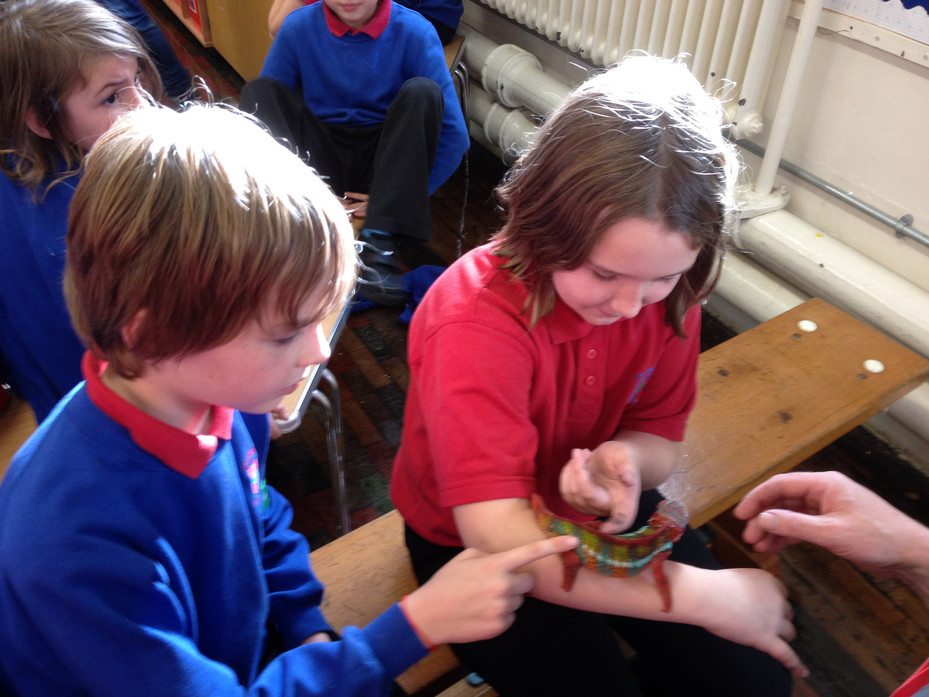 Our Year 3/4 girls football team played really well.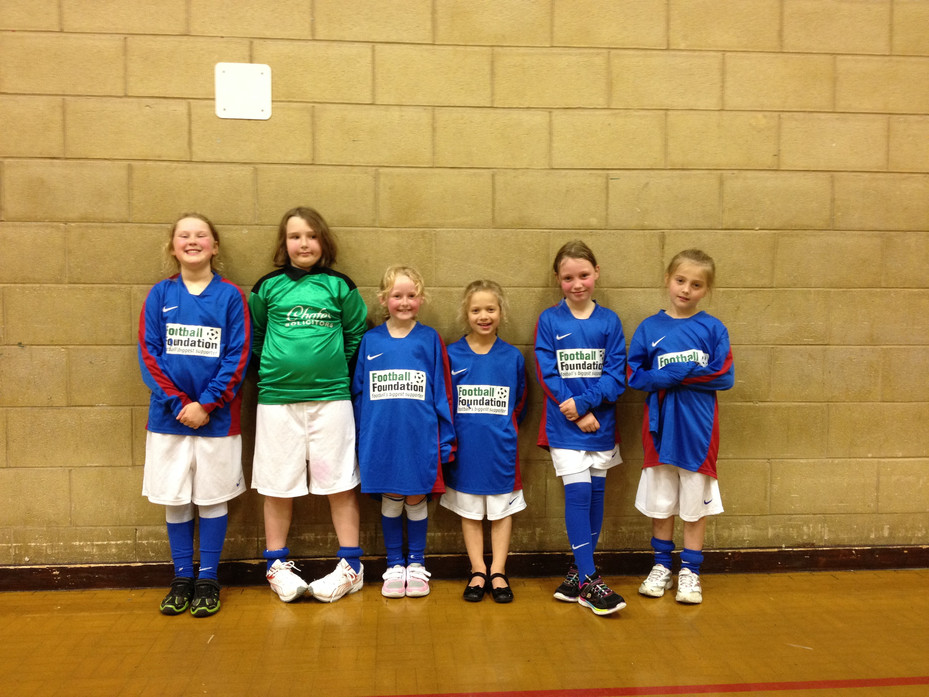 Our final Whitehall challenge - tackling the second ropes course.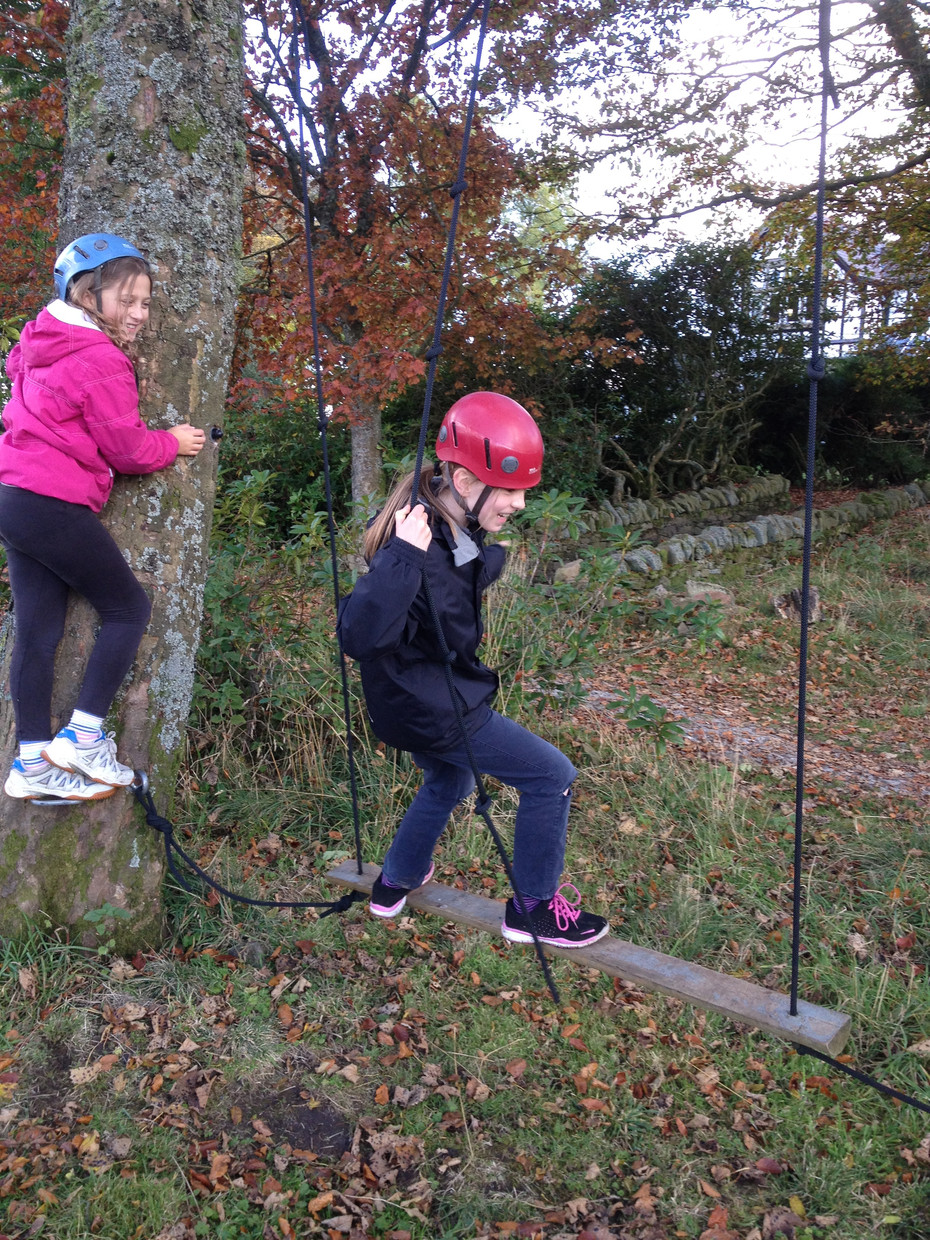 Caving in the lead mine.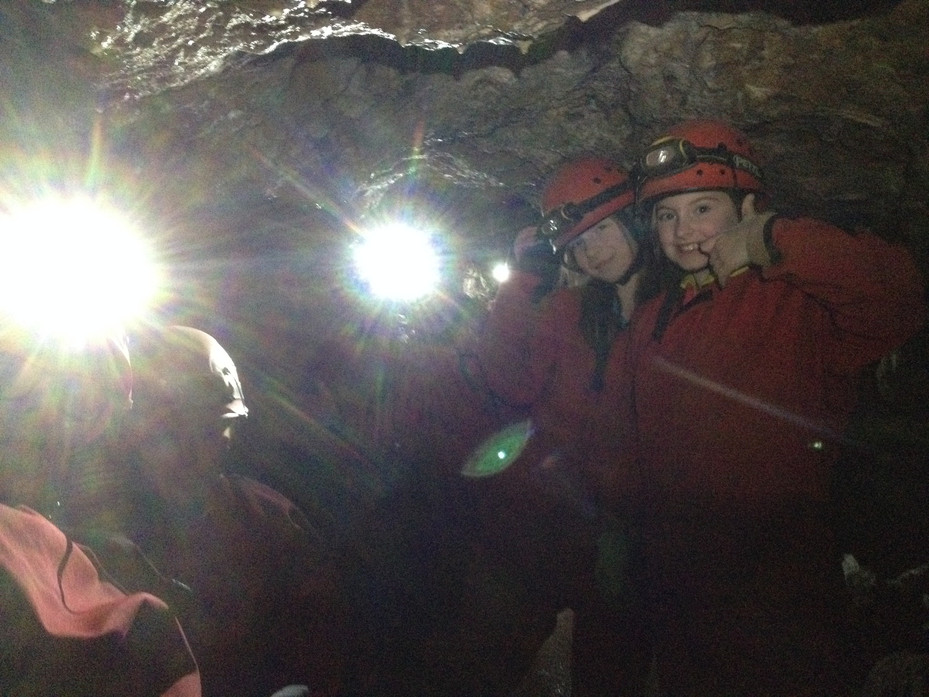 Ready to launch the kayaks.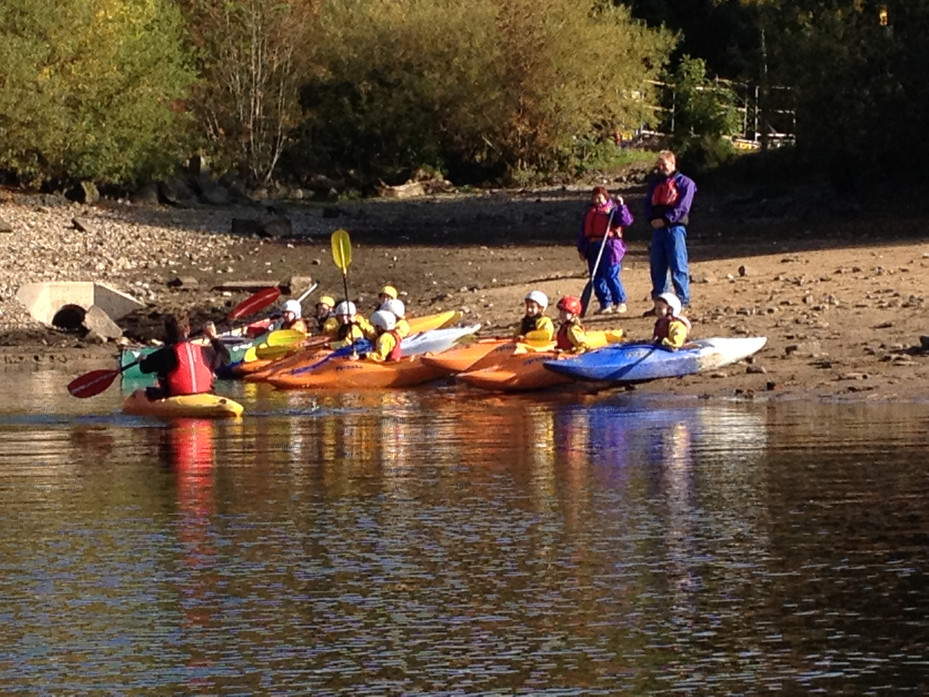 Mountain biking on the track.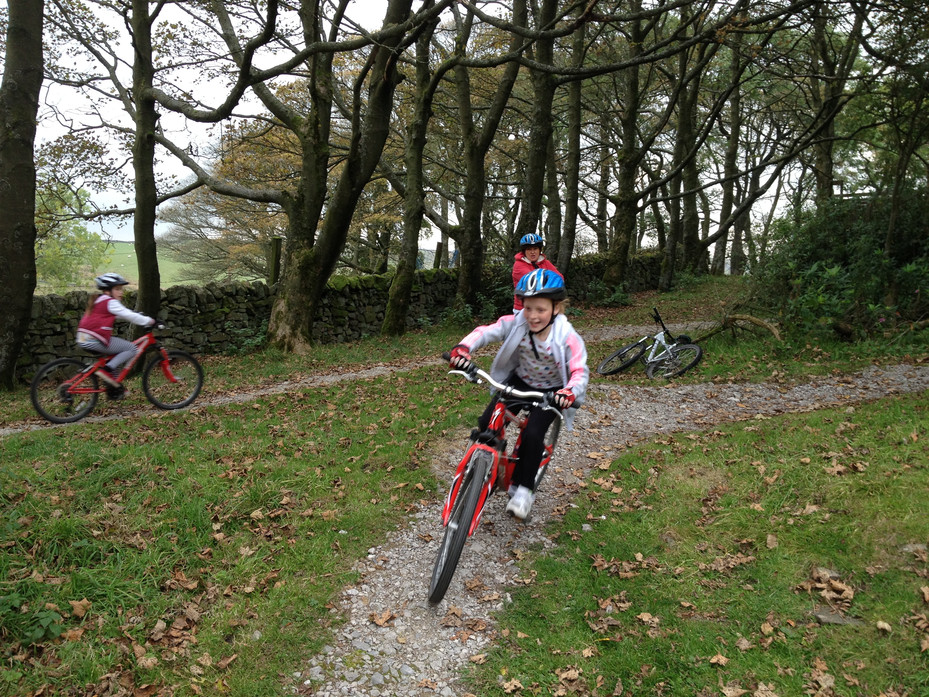 'Log leaping' on the ropes course at Whitehall.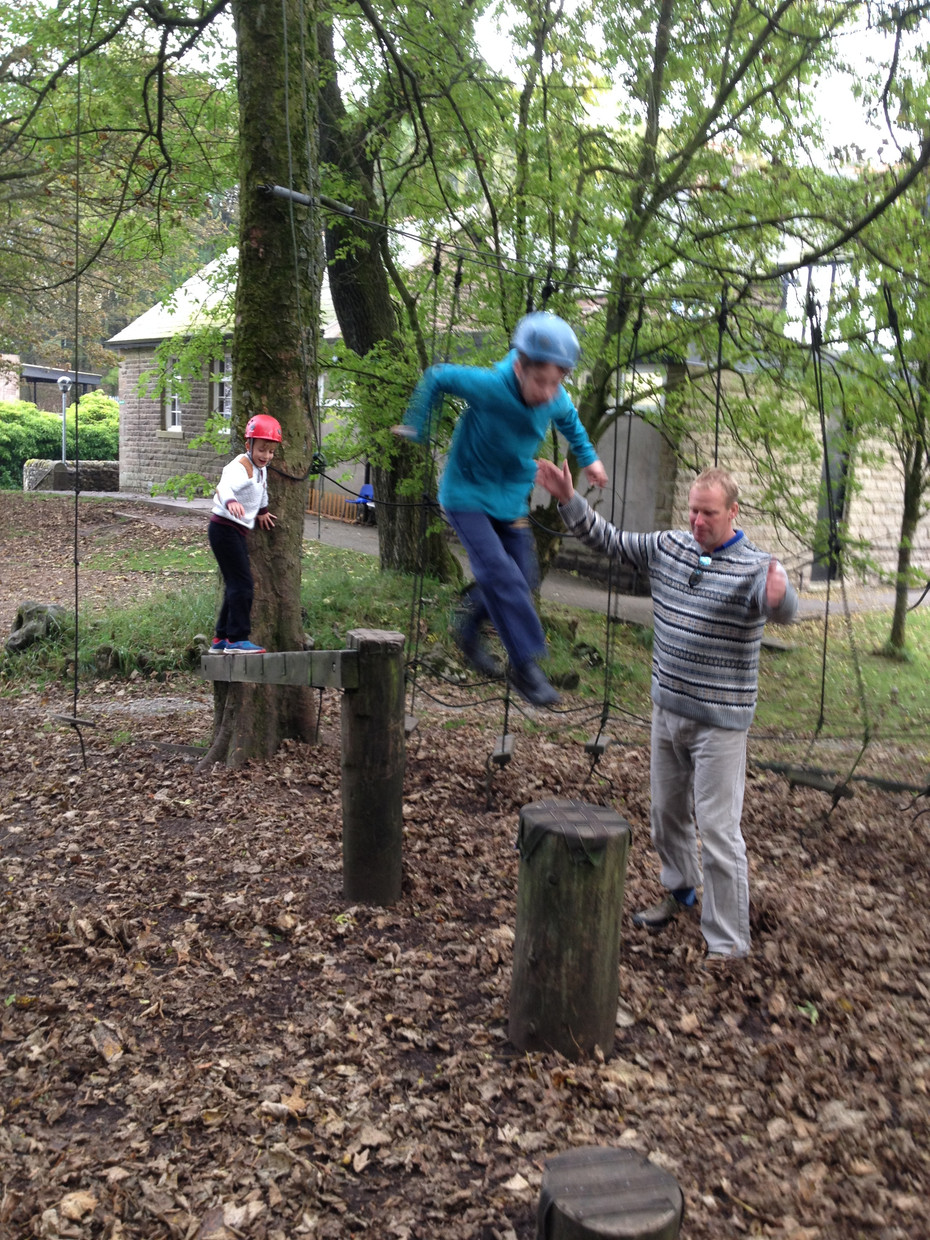 The children celebrating the opening of the new playground.
Goyt Class working hard with their 'Big Writing'.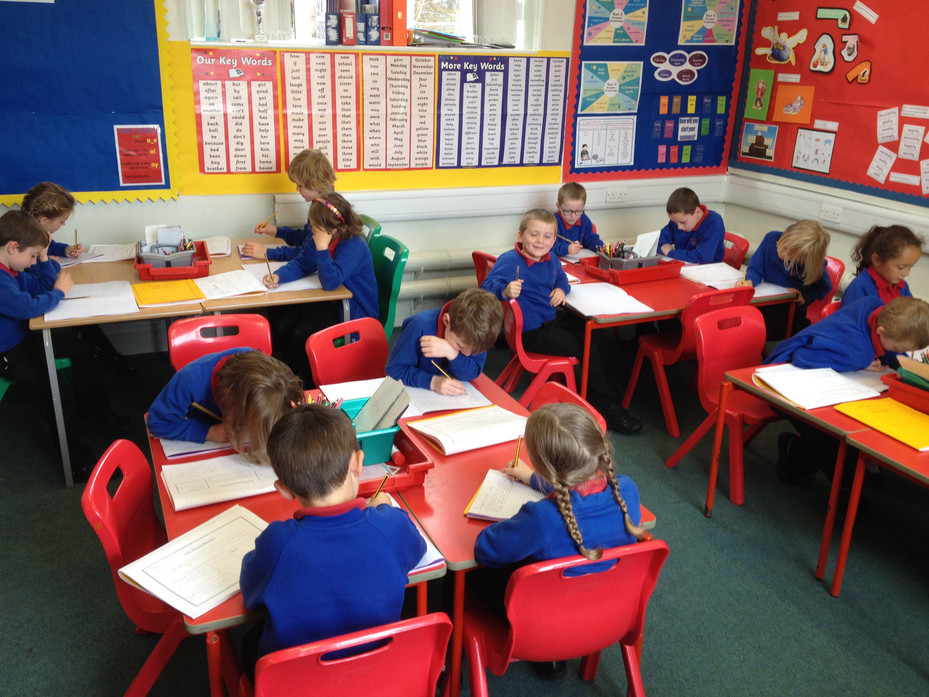 Year Four taking part in the 5/60 Health Programme on the new playground.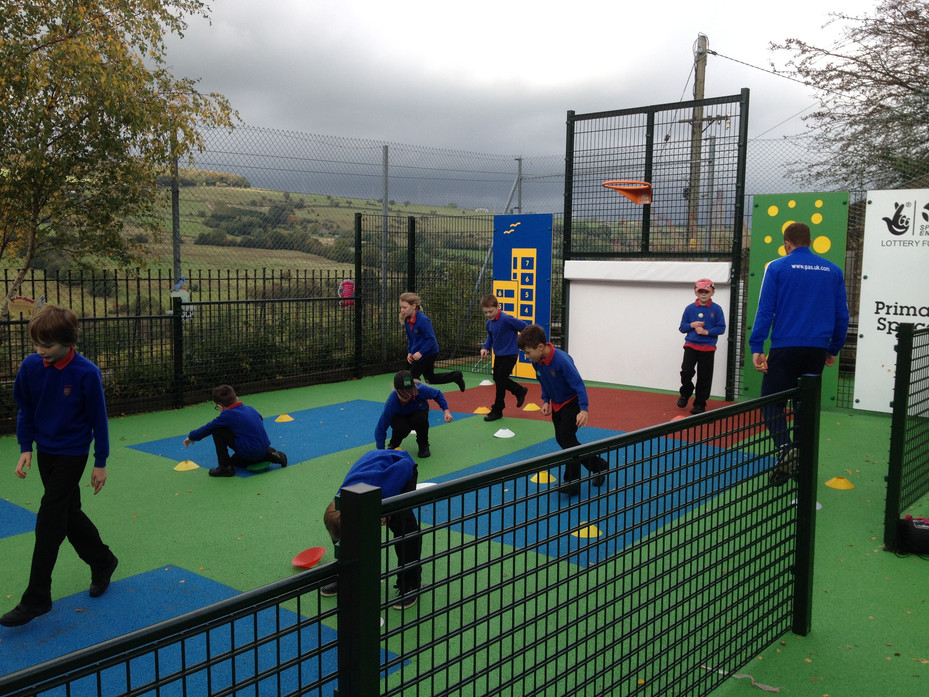 A fantastic rainbow this morning - followed by a super day at school.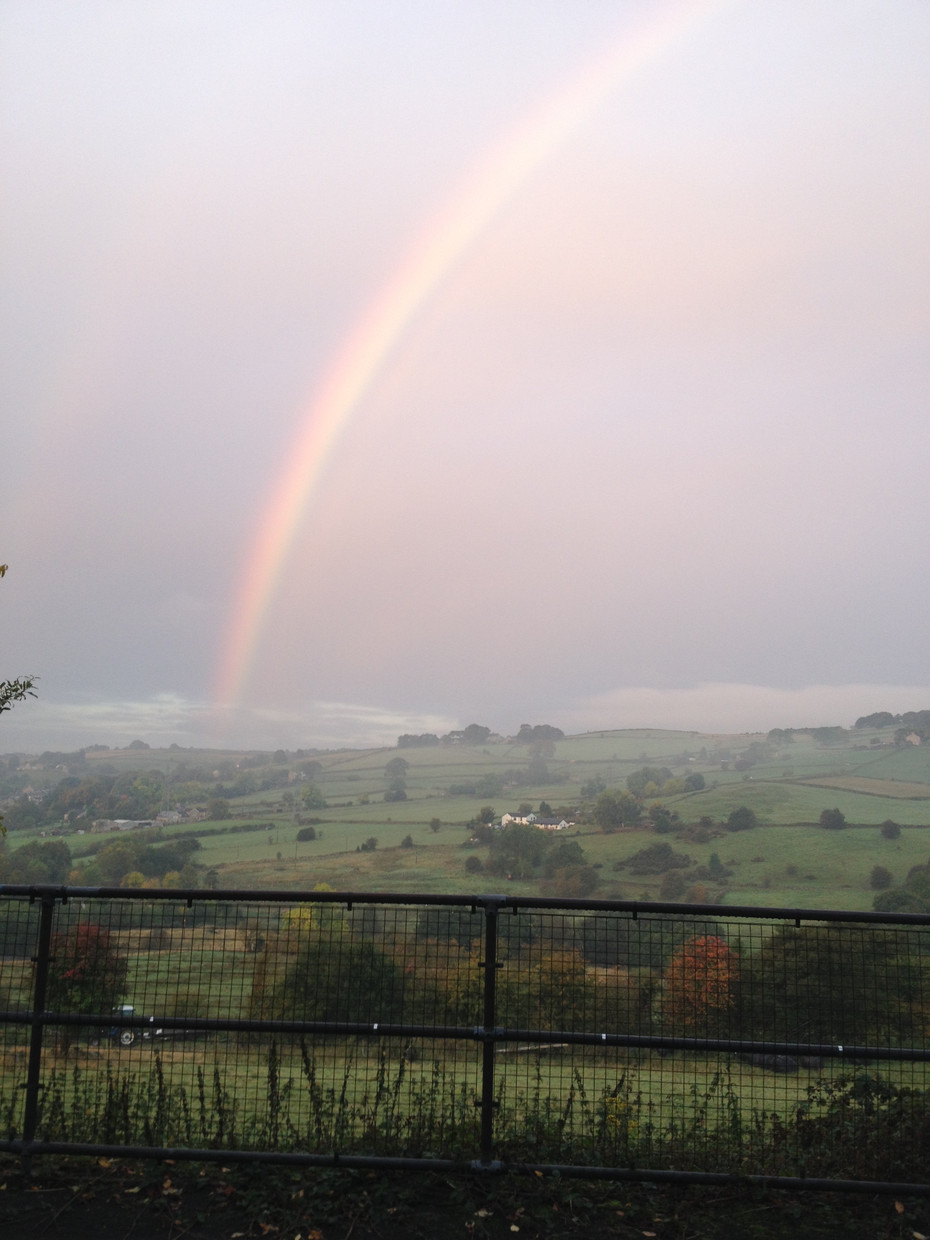 Mersey are busy making models of Anne Frank's secret annexe.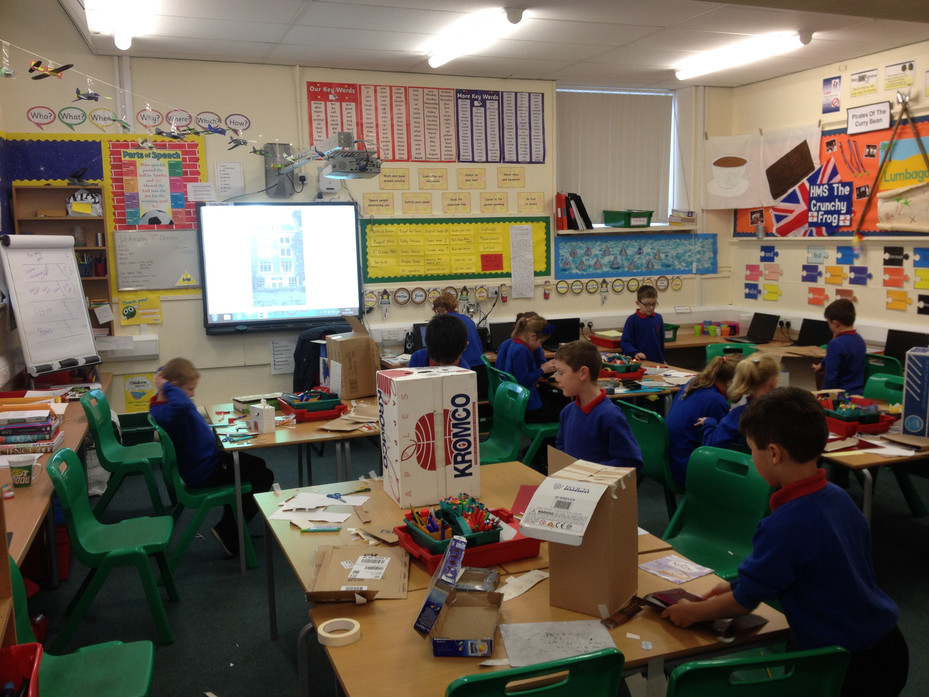 Reception and Year One enjoy their Gymnasics.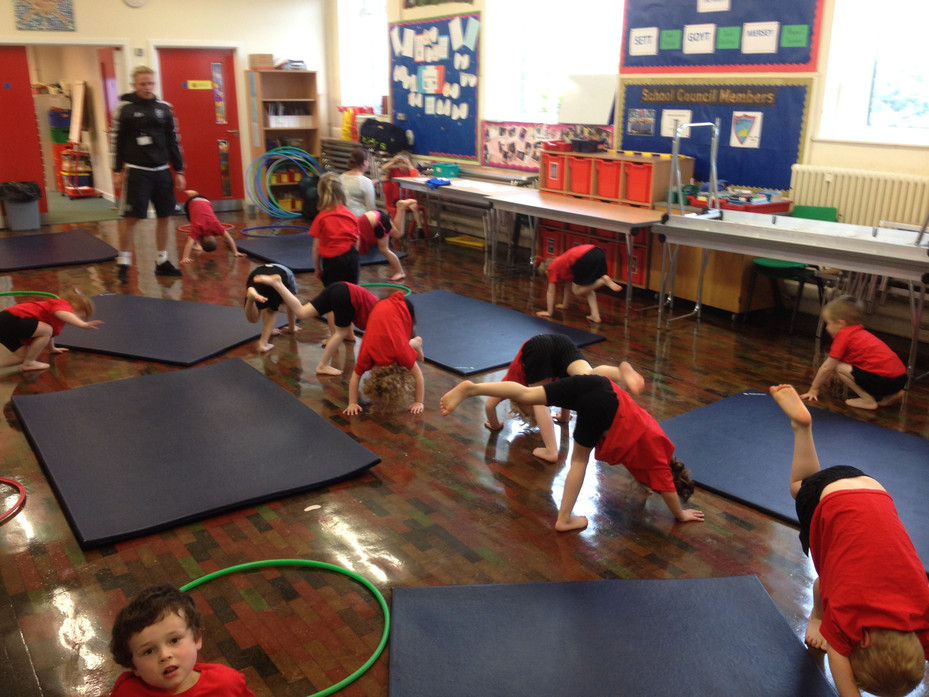 Year Six had a great time at the New Mills School 'Bonding Day'. They got involved with African drumming, building a Lego City, learning a French song and some co-operative Drama too.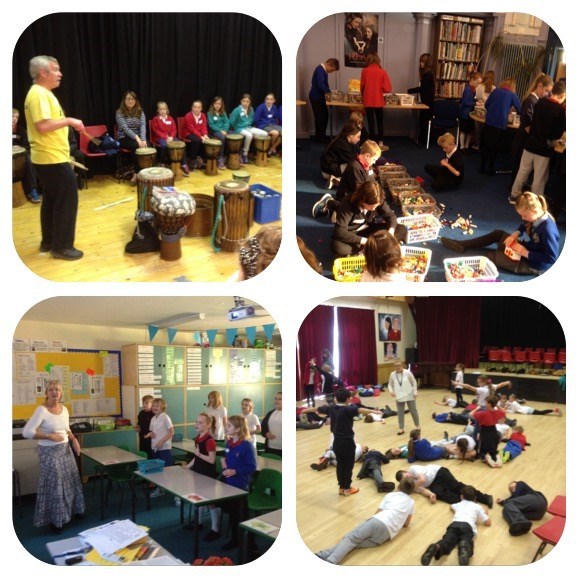 Sett and Goyt Classes have had their Smart boards replaced by 'state-of-the-art' Clever touch boards this week.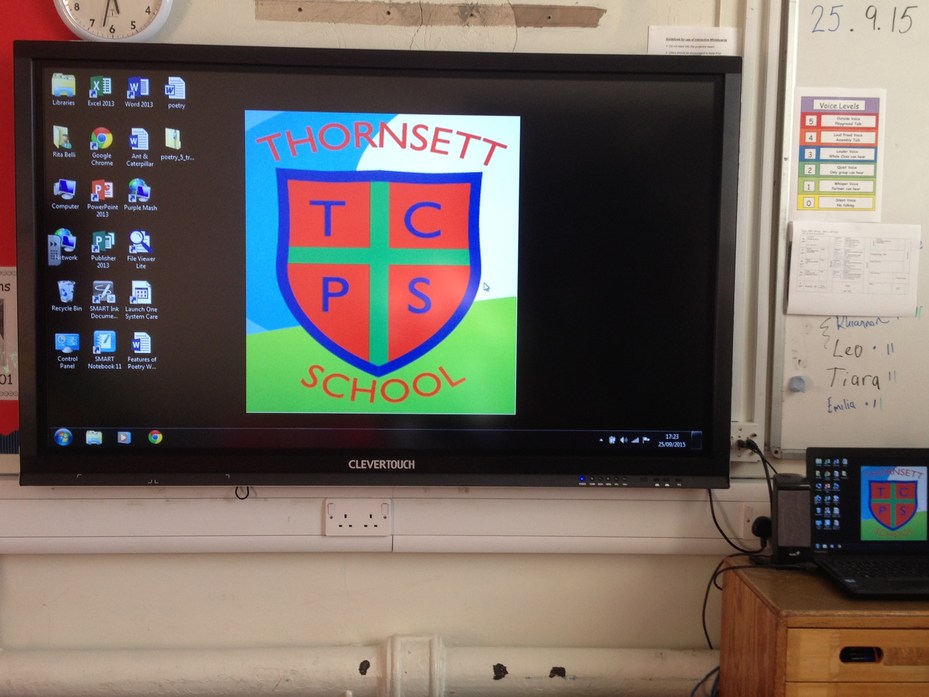 Our 'Domino' on display at the Lantern Parade.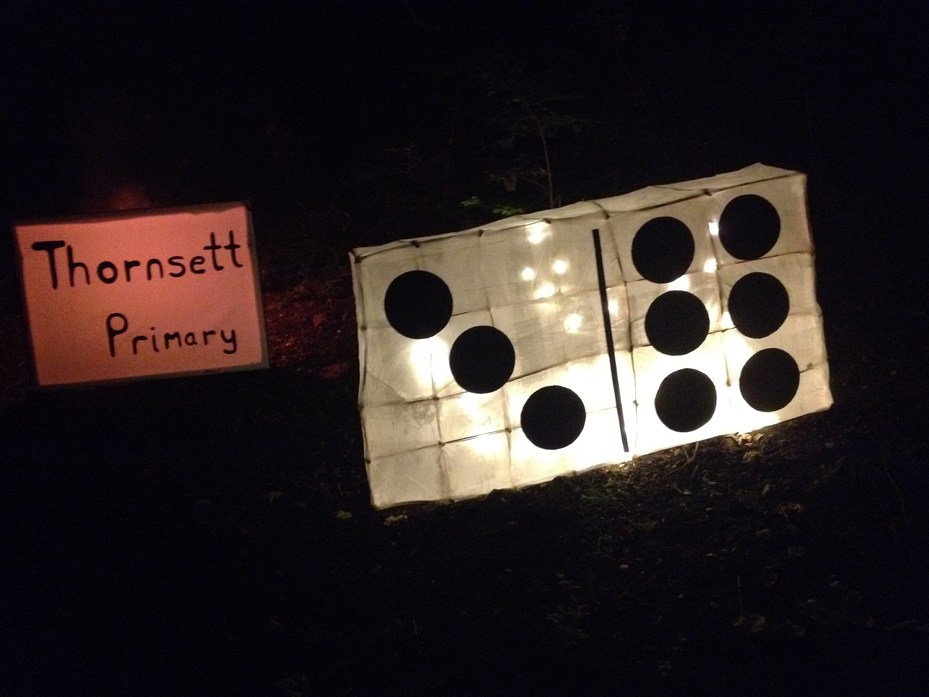 The lantern making process is in full swing.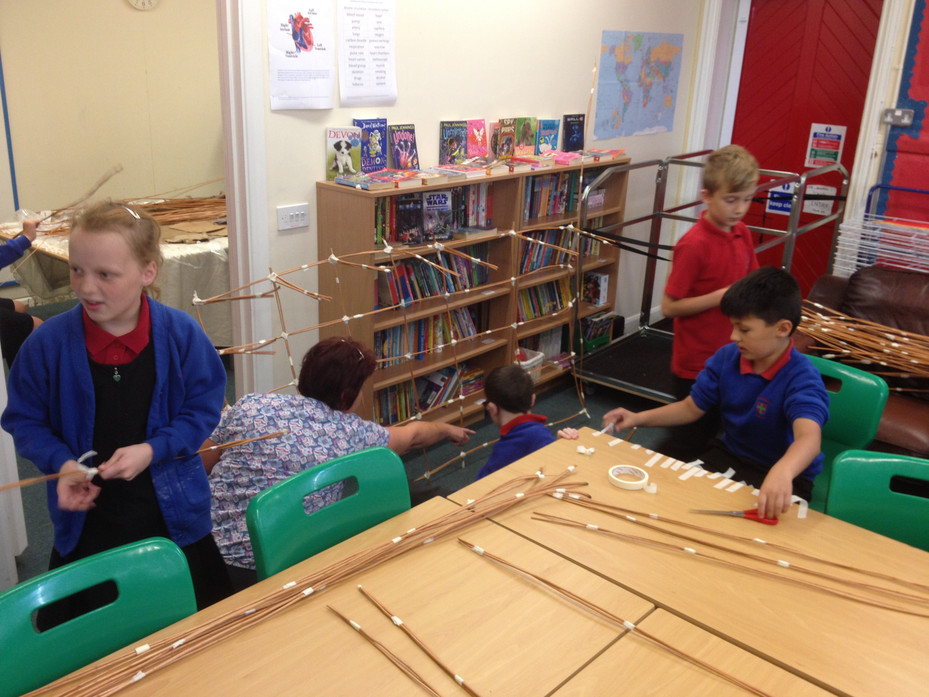 Well done to our Girls Soccer team who made it to the semi-finals.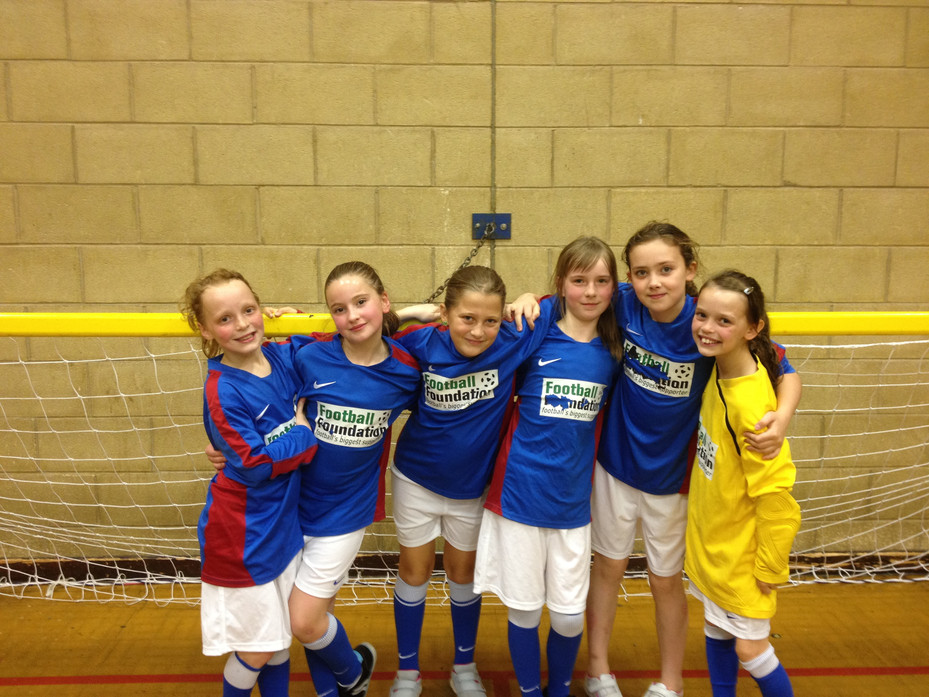 Work on the new playground gets underway.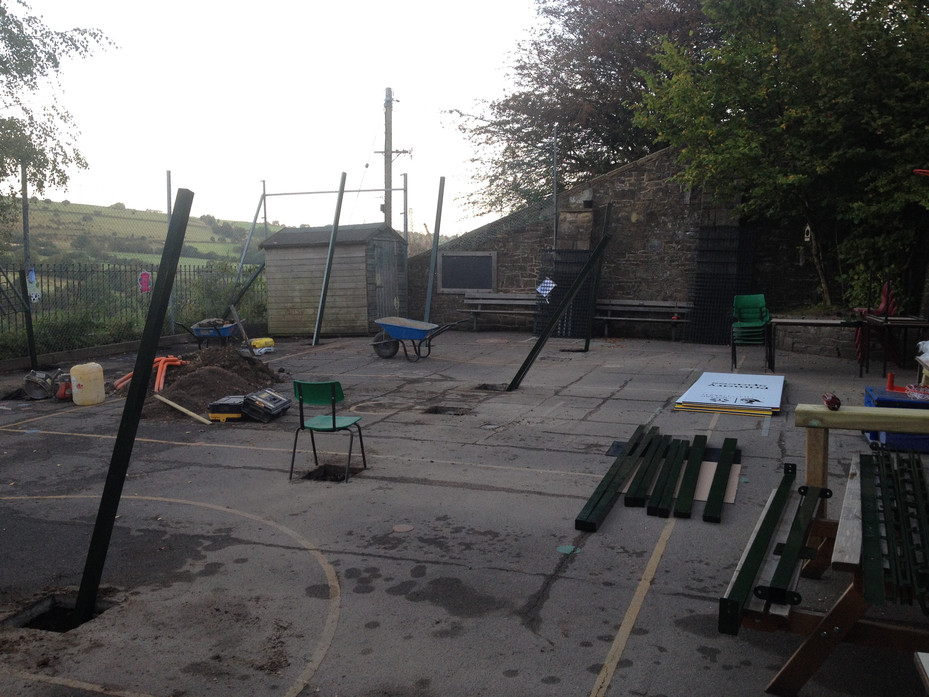 The children get straight back into their BIG WRITING!

2014-2015
We enjoyed a fantastic Year Six Leaver's Day - Laser Quest, Ten-pin Bowling and a Movie. We wish you all every success at High School and beyond.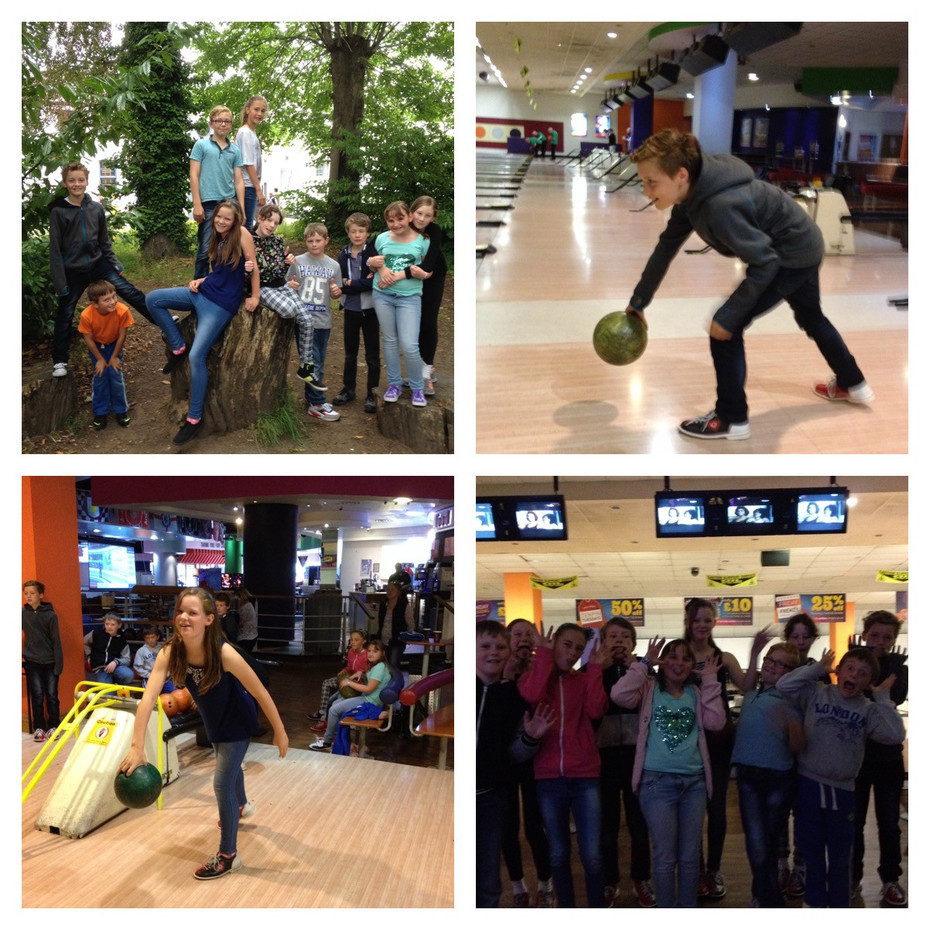 An entry to the School Talent Show - The Story of Chicken Lickin' performed as a Puppet Show.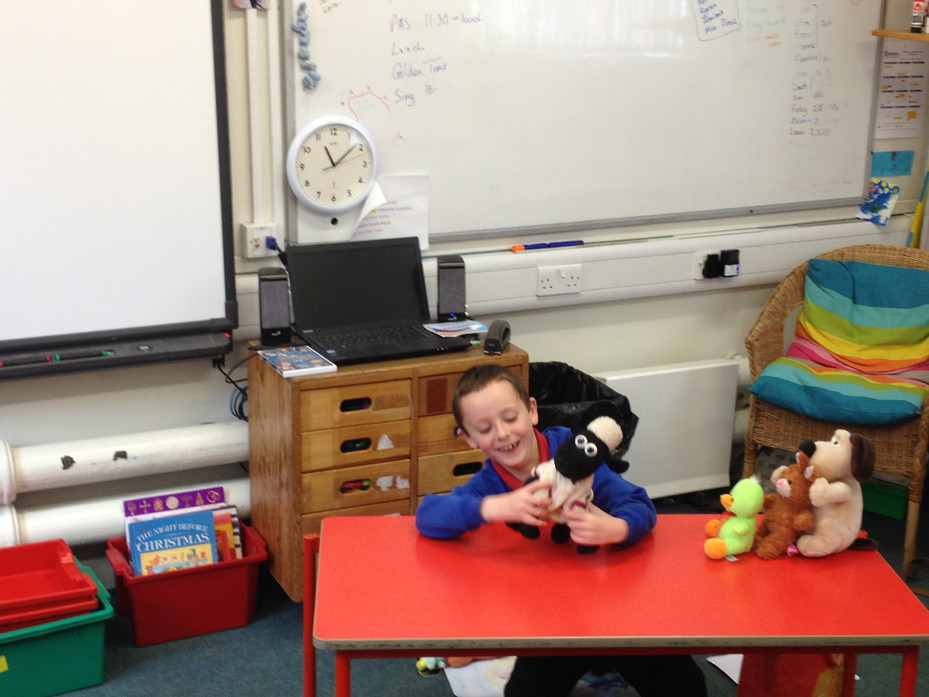 Seven children celebrated not losing a single minute of Golden Time all year with a morning of craft and cookie decorating activities and a special lunch - well done!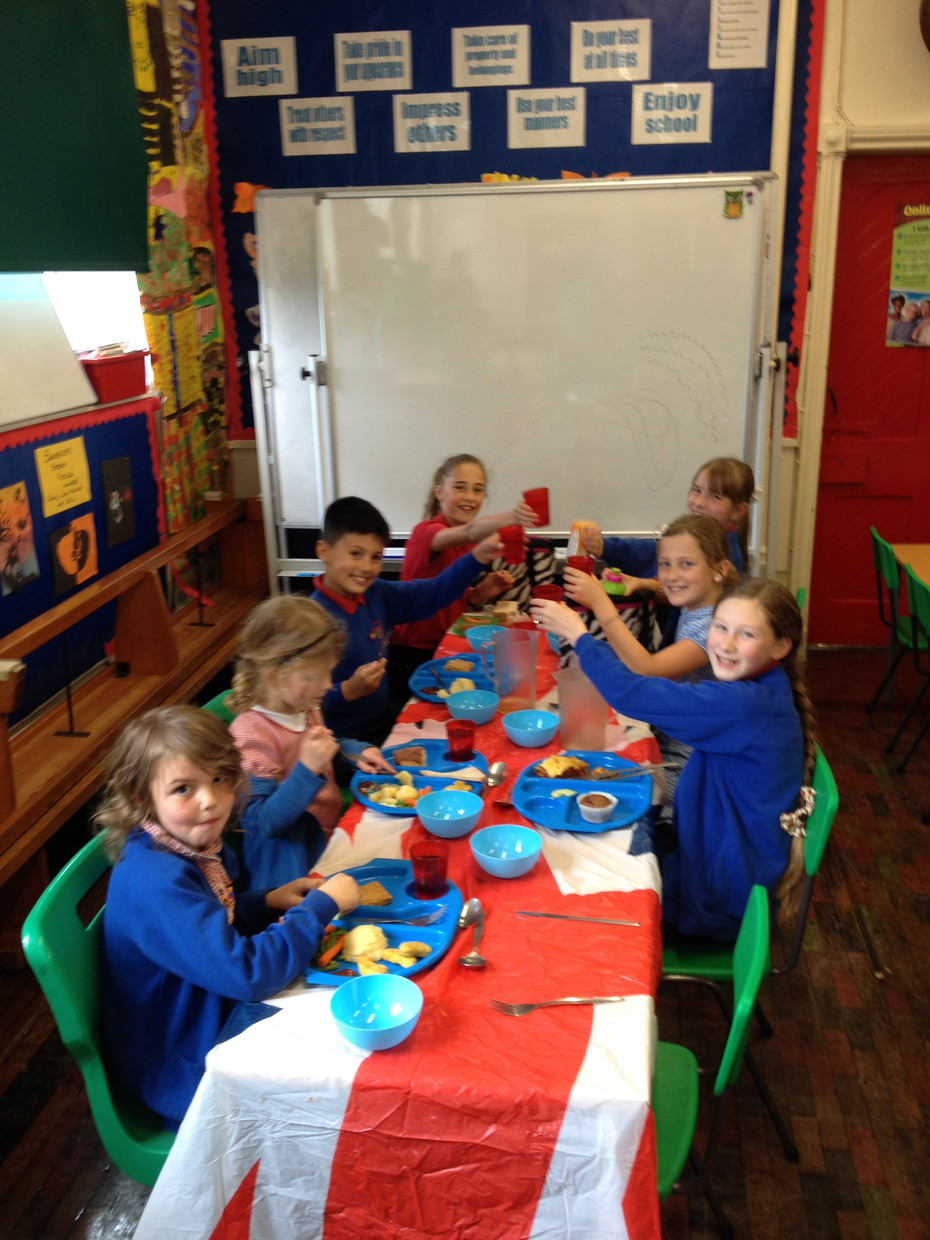 Lots of fun at Sportday!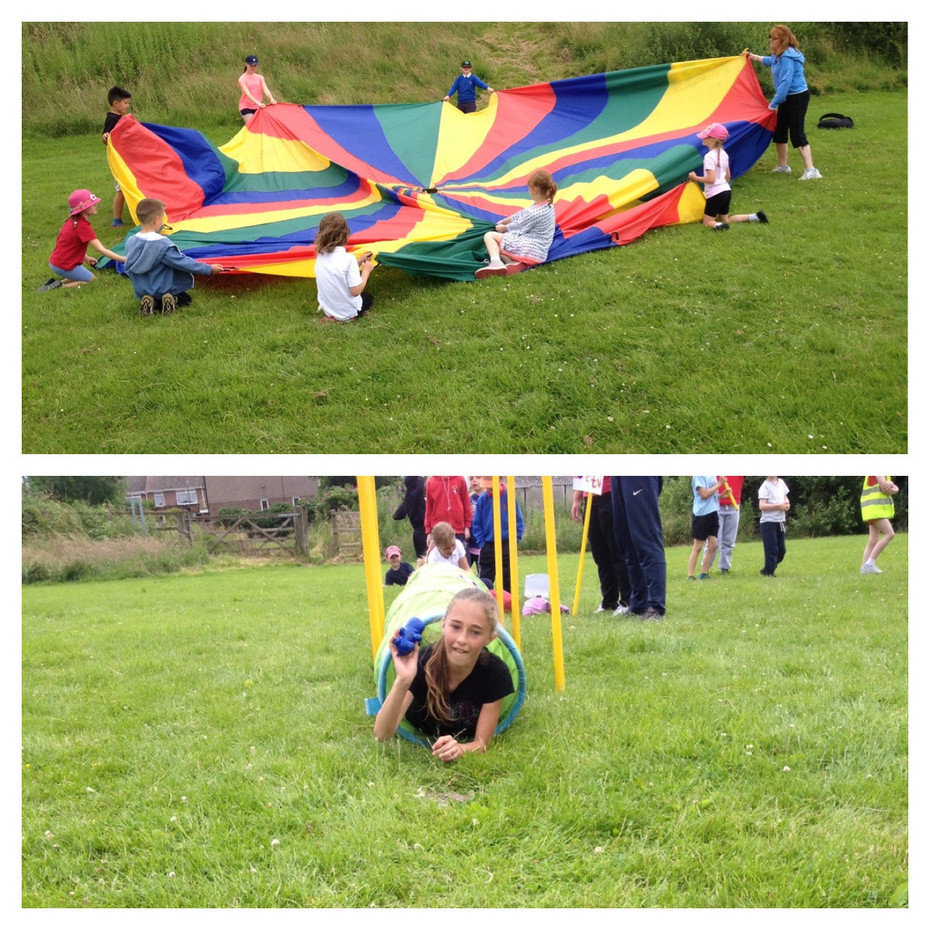 Sportsday at the school field.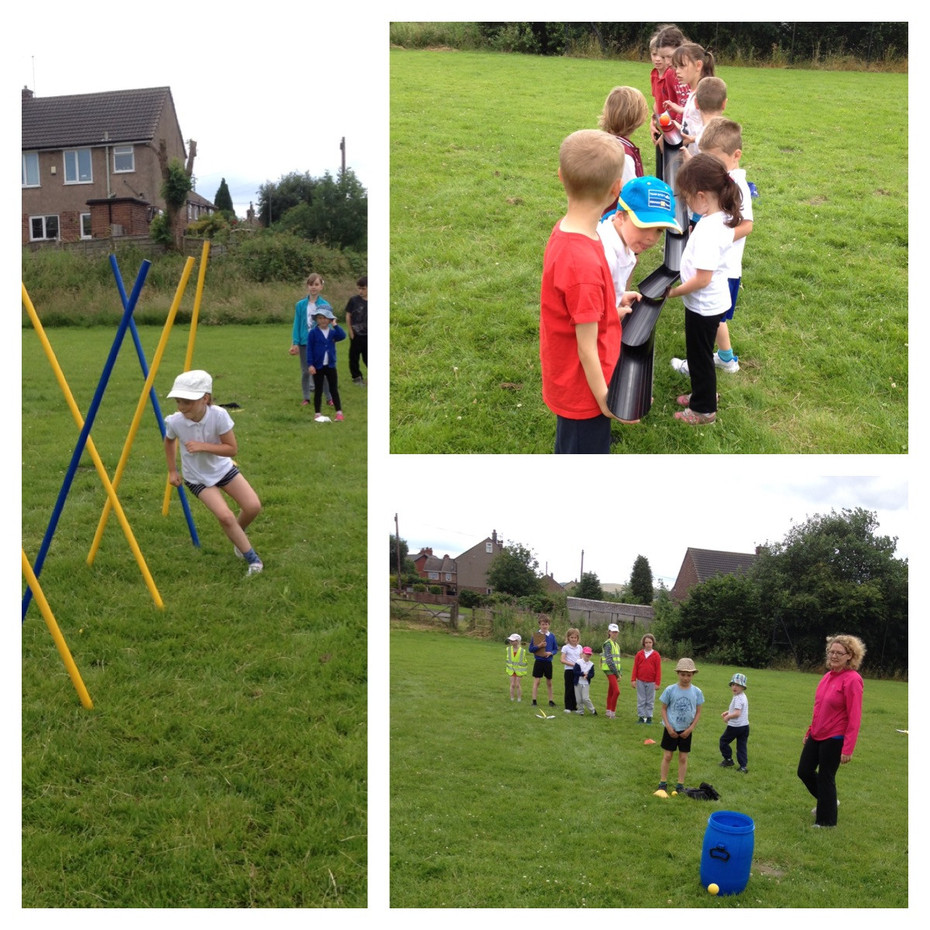 Performed brilliantly to a hall full of very proud parents and relatives - well done Mersey!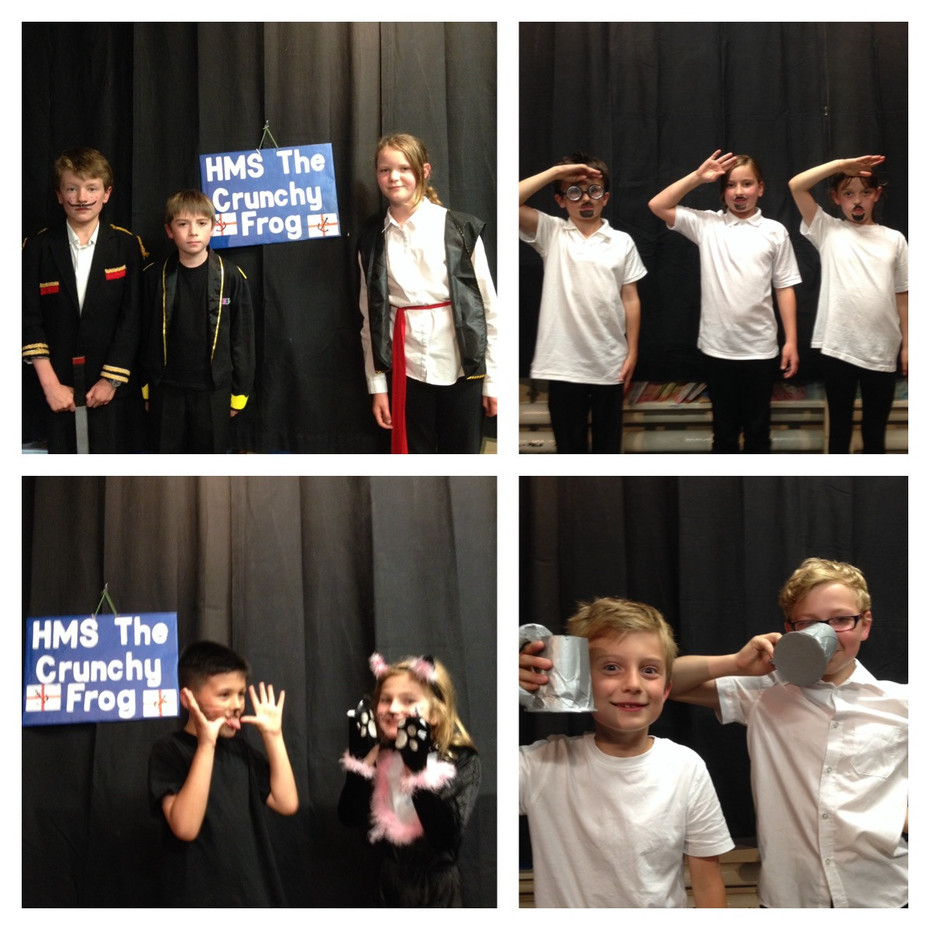 The fabulous cast from our Mersey Class production 'The Pirates of the Curry Bean'.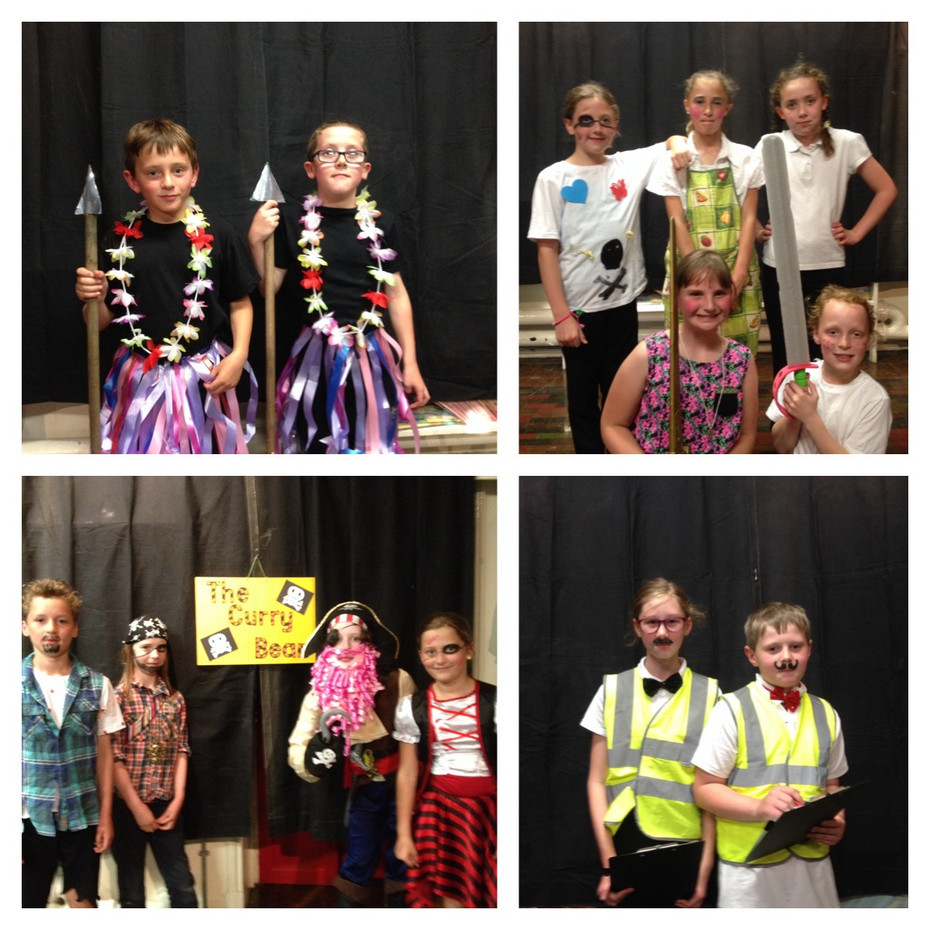 Our Year Six join up with St. Georges's for a 'getting ready for High School' workshop at Mellor Road Church.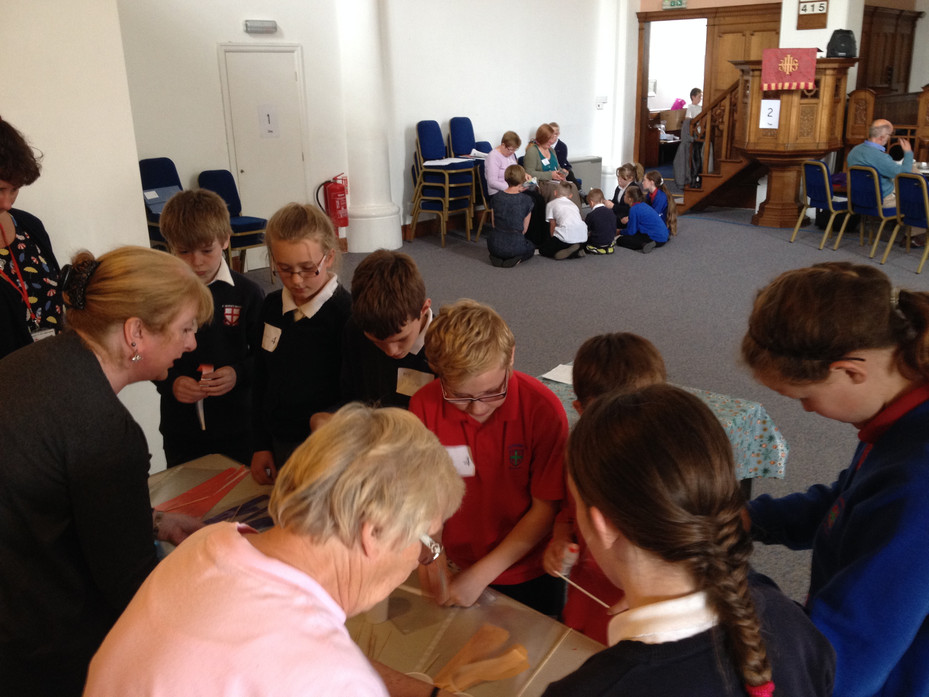 The Summer Fair was a great success.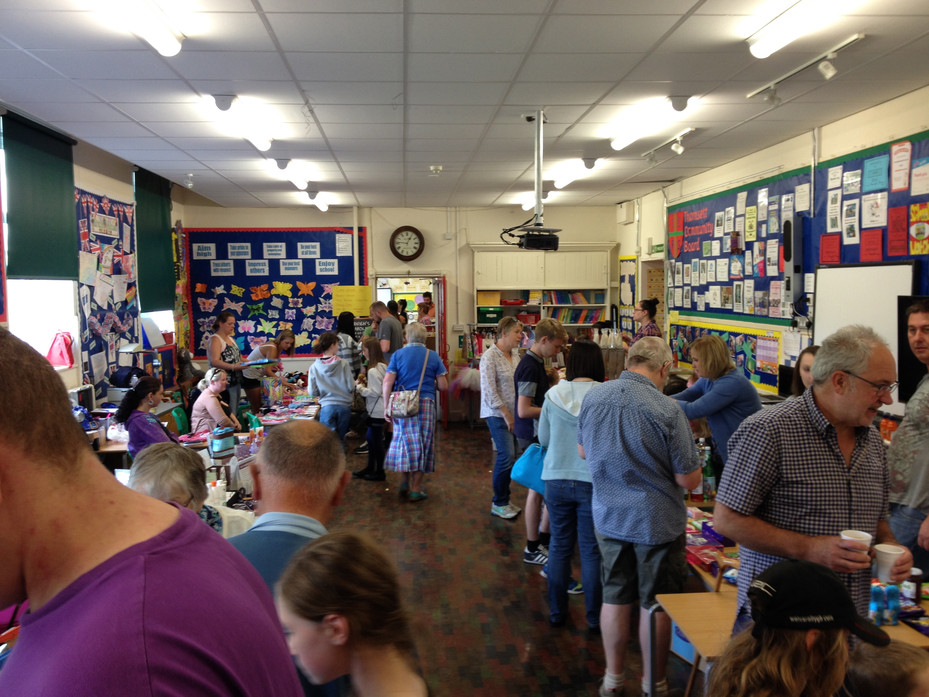 Performing at the High Peak Kids Council Fundraiser.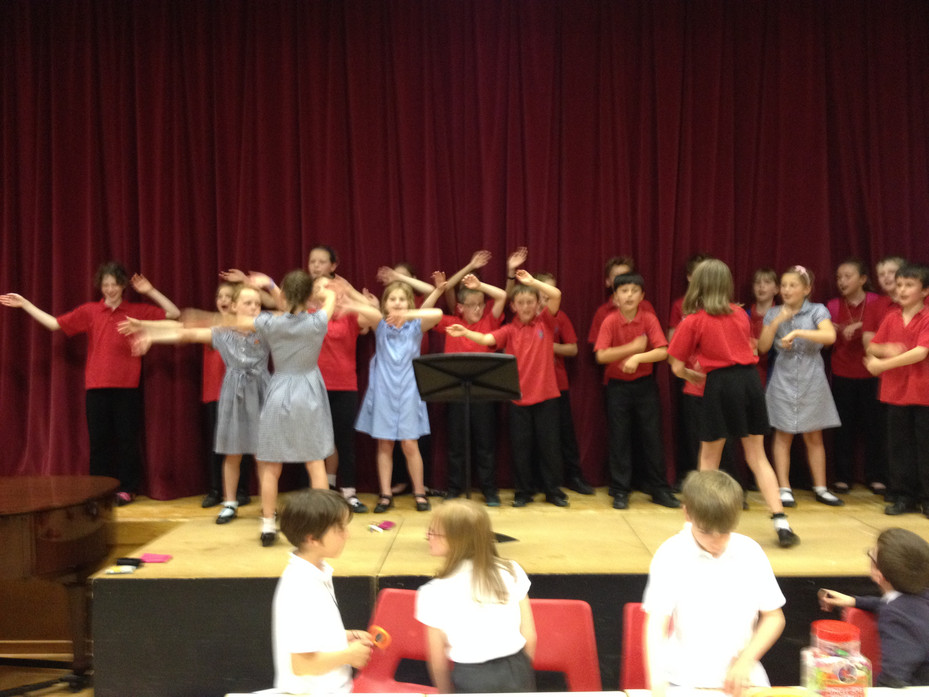 On your marks...get set...go!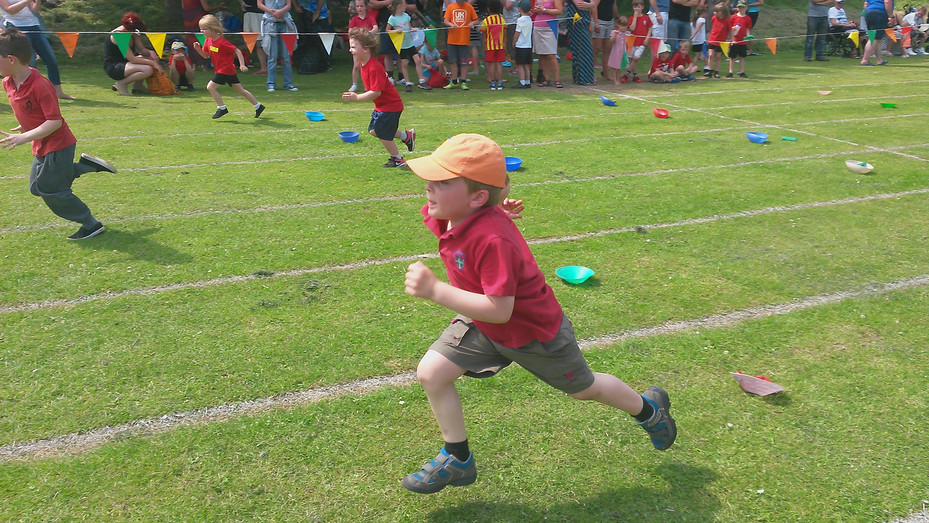 The Infants at Sports Day.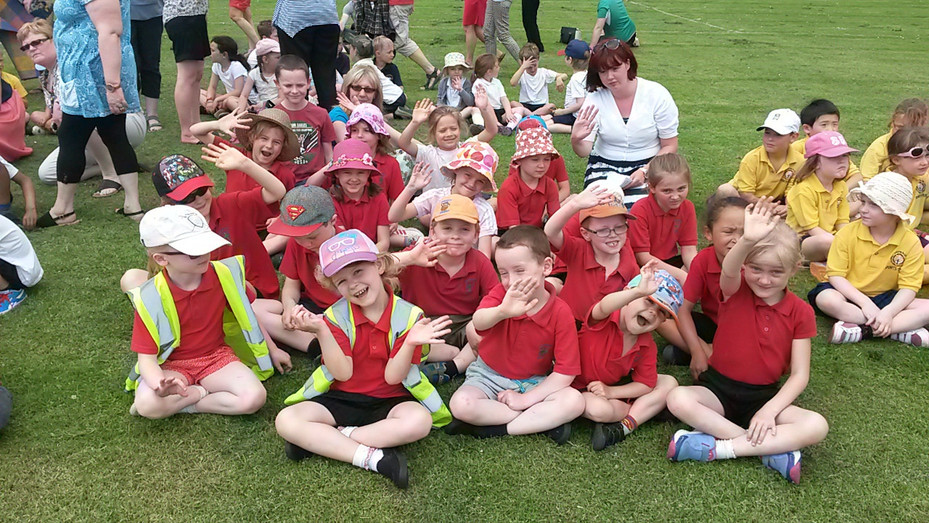 Well done to our Cyclo-Cross team - 6th place overall.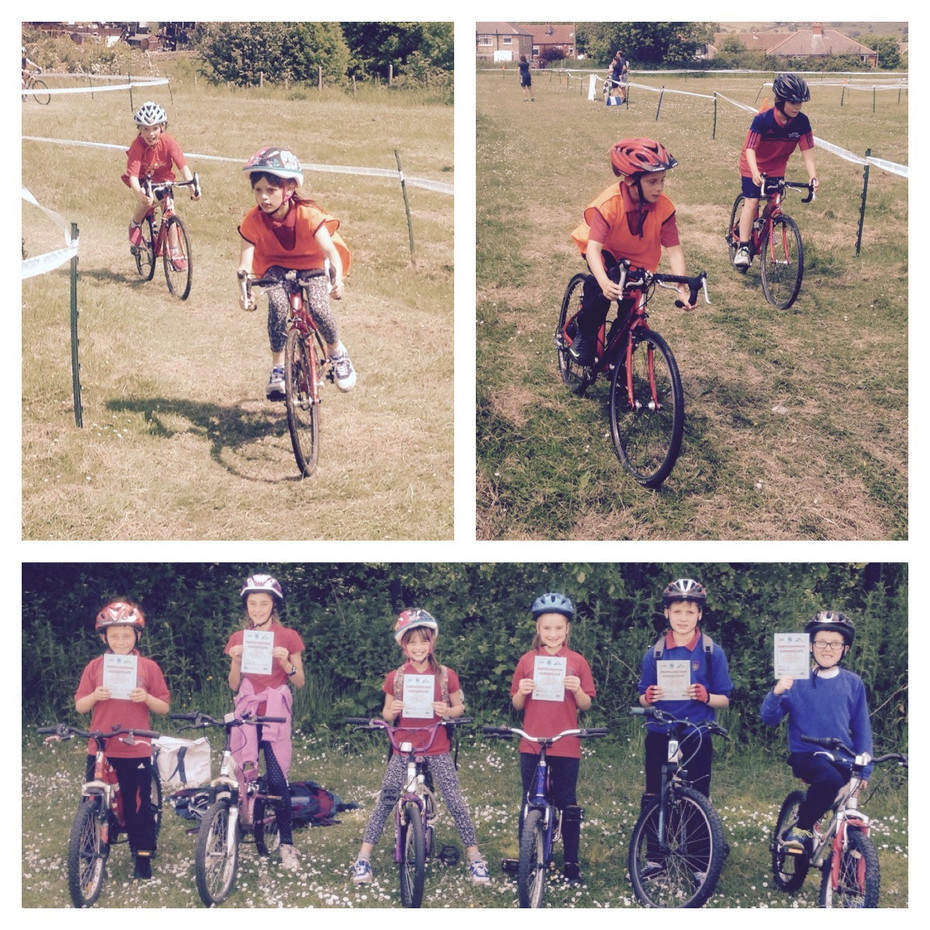 Performing at the Carnival of the Animals Concert.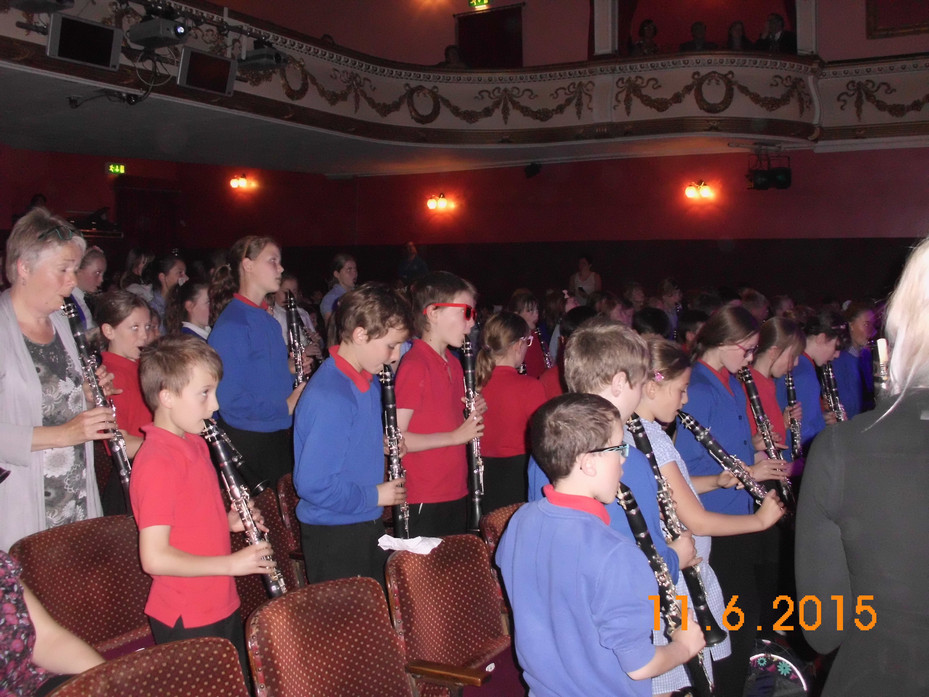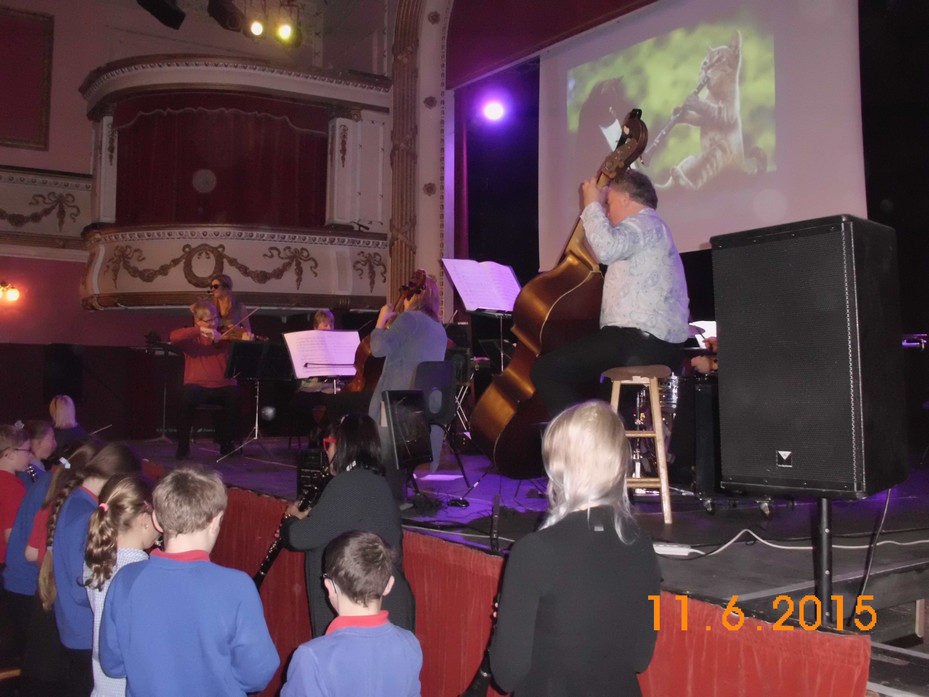 All aboard the Polar Express at New Mills Carnival - the train is full, the chips are eaten and the train departs. Well done to all those involved - best float for the 4th year in a row!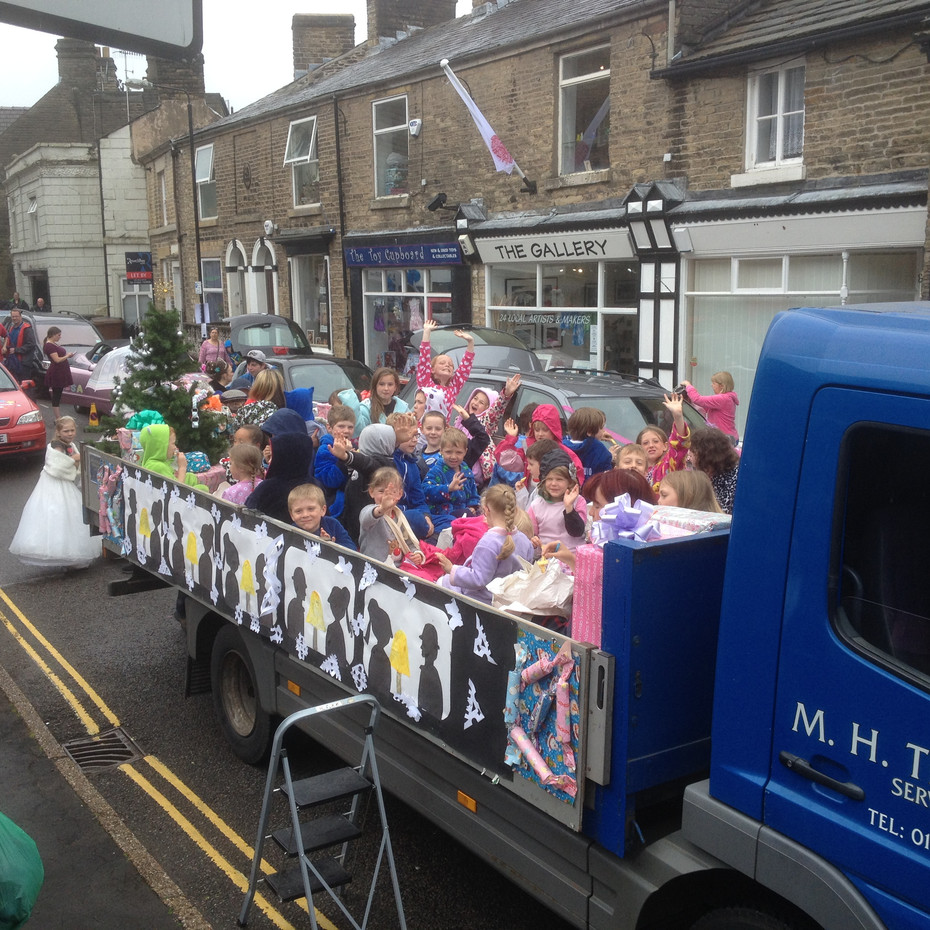 It's the New Mills Key Stage Two Sports day - all our children are involved.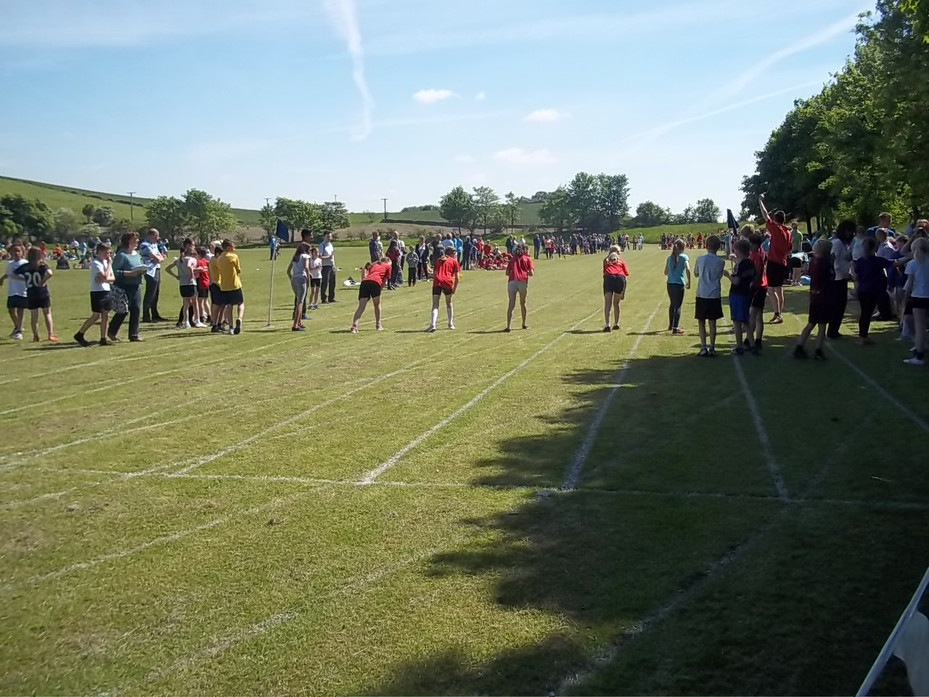 Sett Class party gets into swing.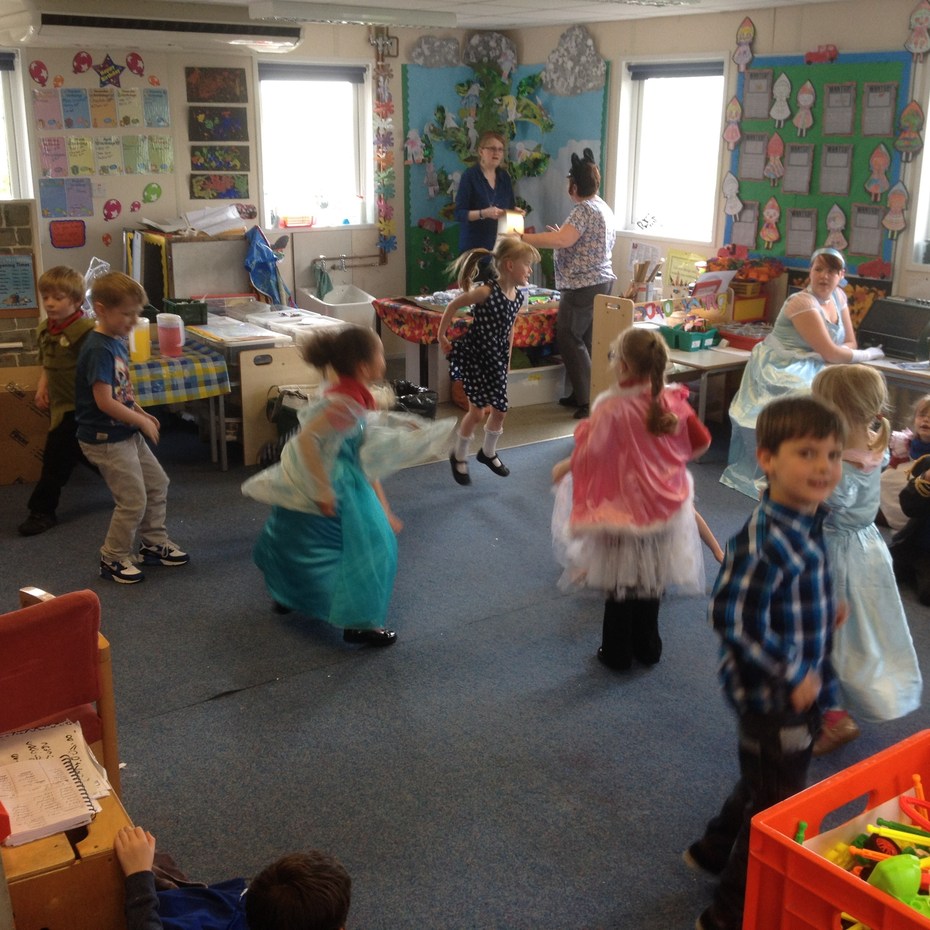 Dance Club share their Mary Poppins medley.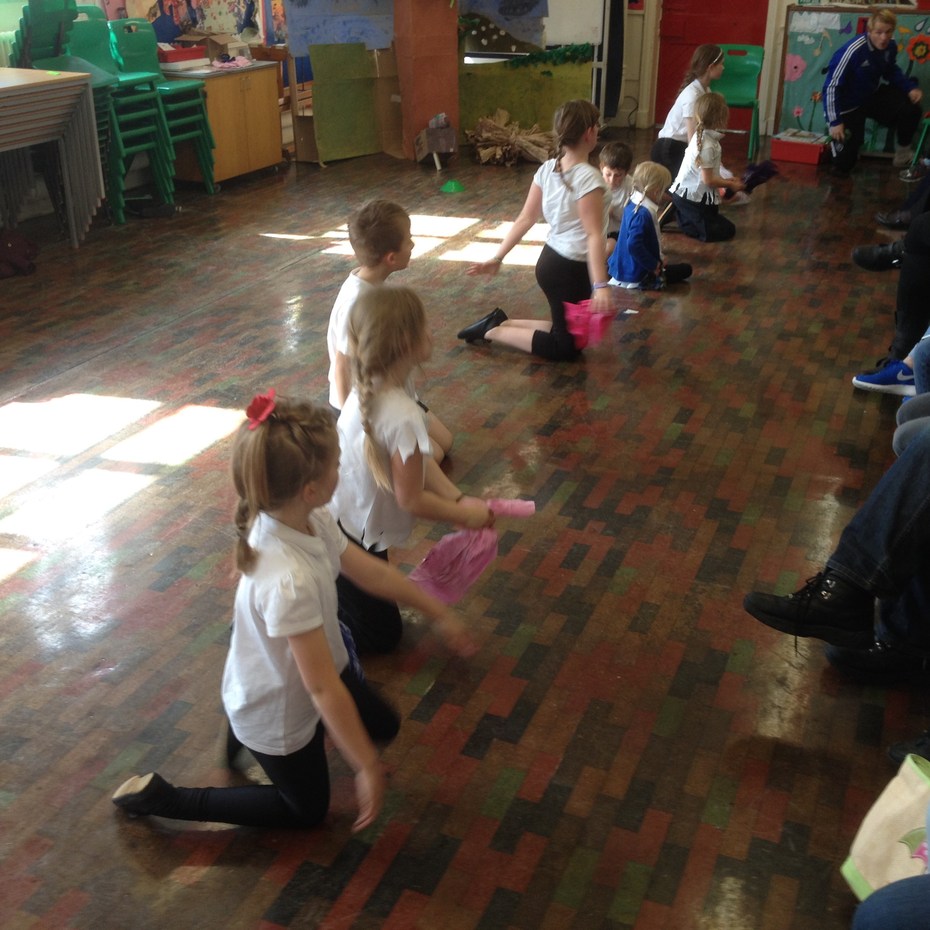 Mersey children all got to pose as Mr and Mrs Andrews during Arts Week.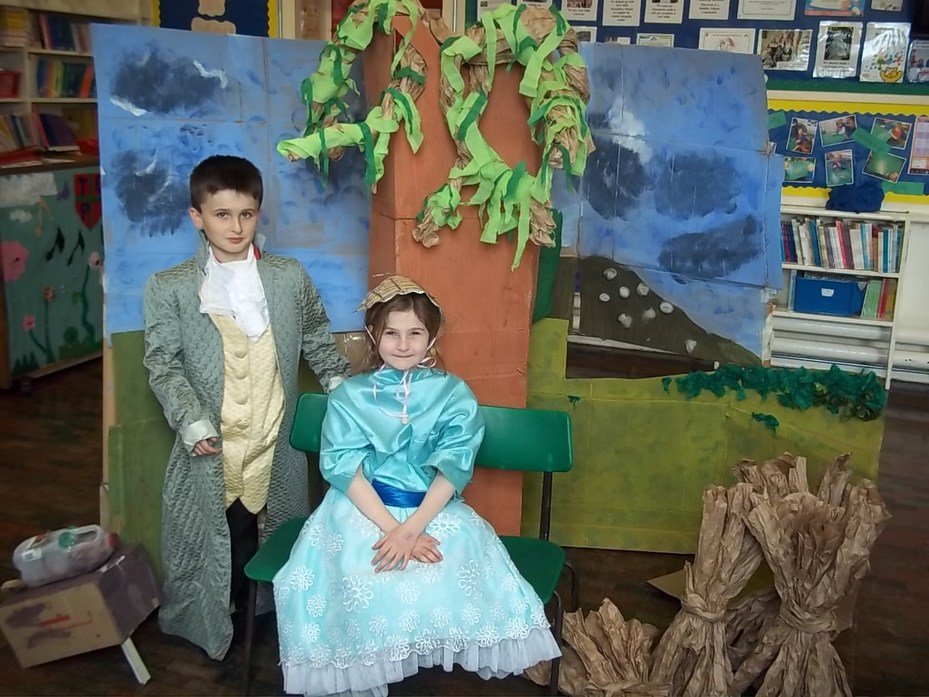 The children explain how they made their Tudor House.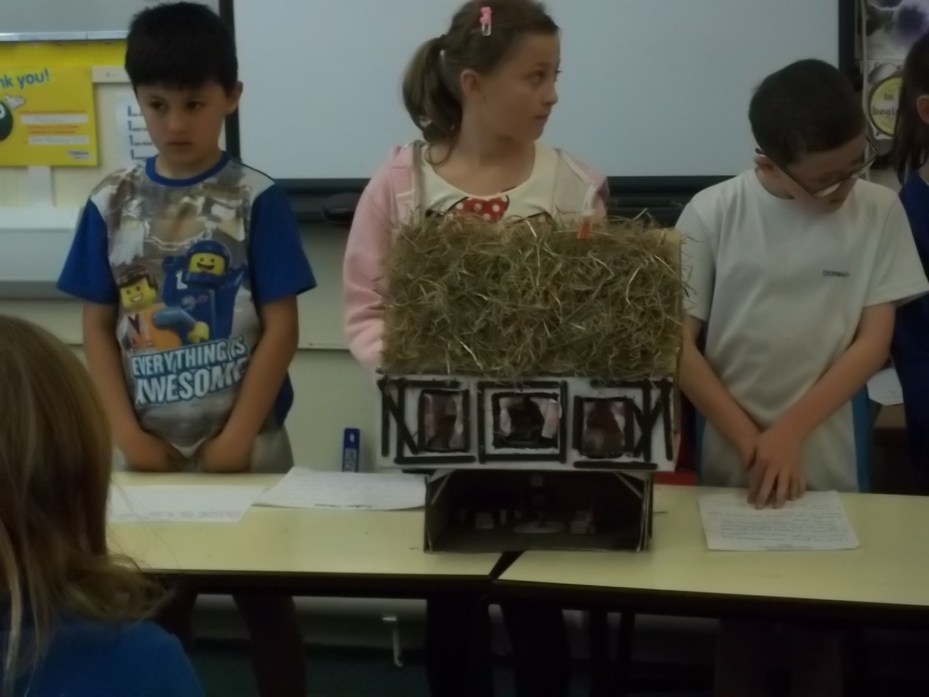 The girls enjoy their ice creams at the end of their special lunch today.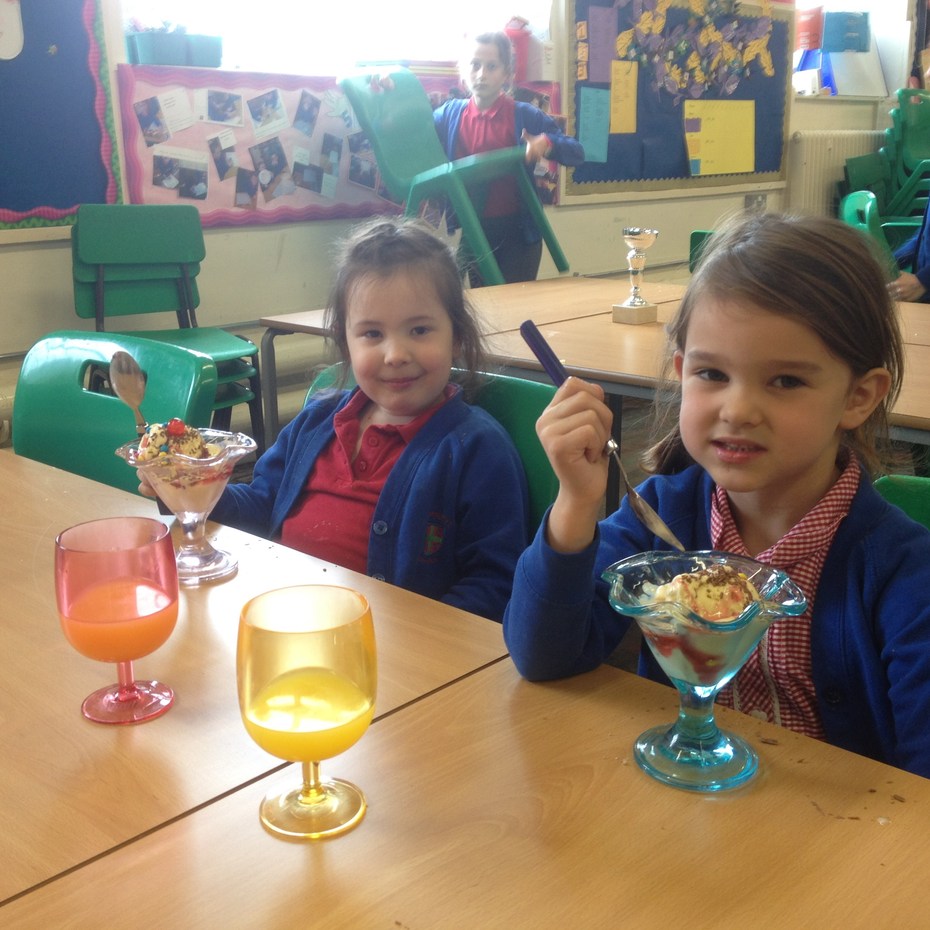 Thanks to 'Derbyshire Fire and Rescue Service' for teaching Goyt and Mersey Classes all about Fire Safety.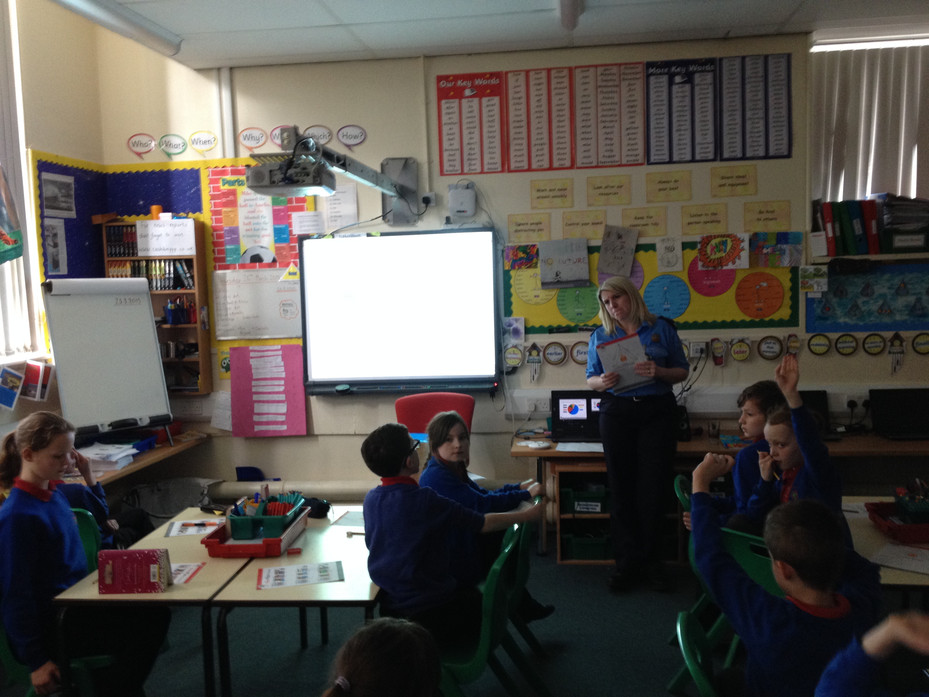 "We've found an orange egg!"
Sett Class enjoying their Easter Egg hunt on the last day of term.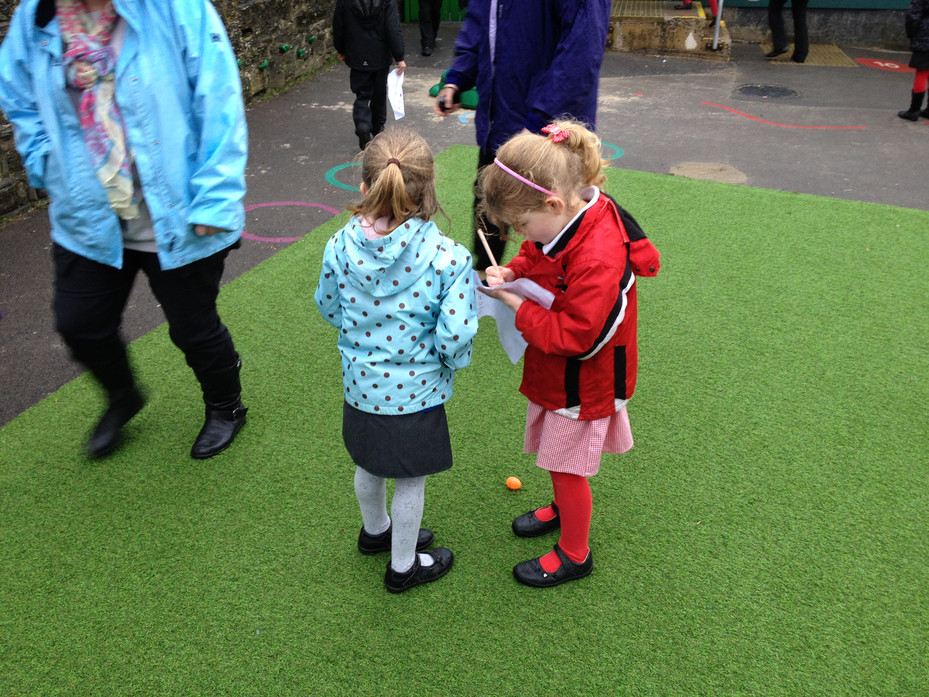 Well done to the Y5/6 girls - 1st and joint 2nd in the New Mills gymnastics competition.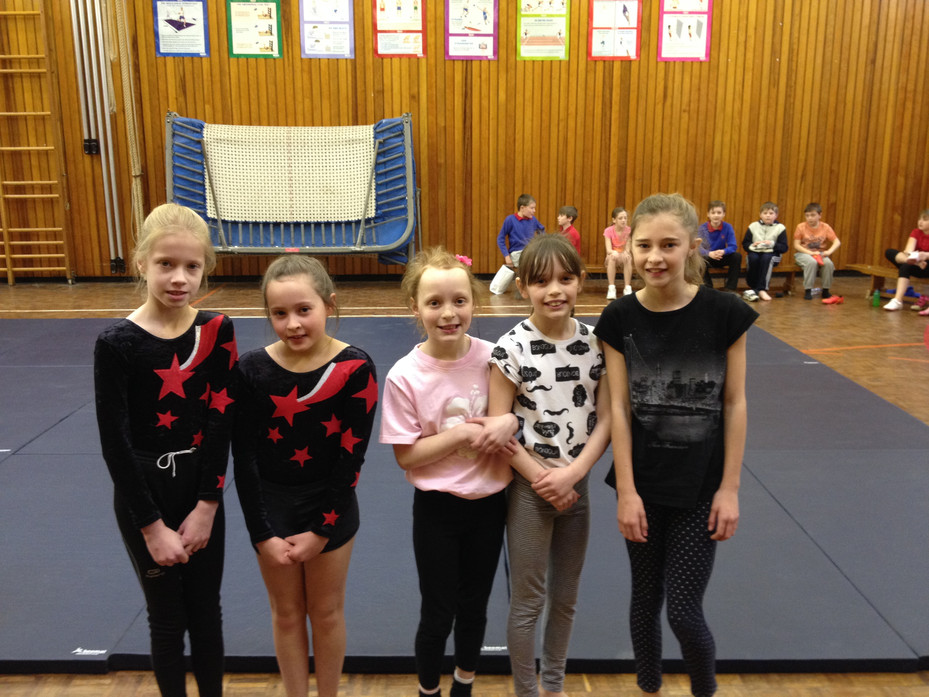 All of Mersey Class performed a Shakespeare scene for an audience including parents - here is Macbeth in full swing.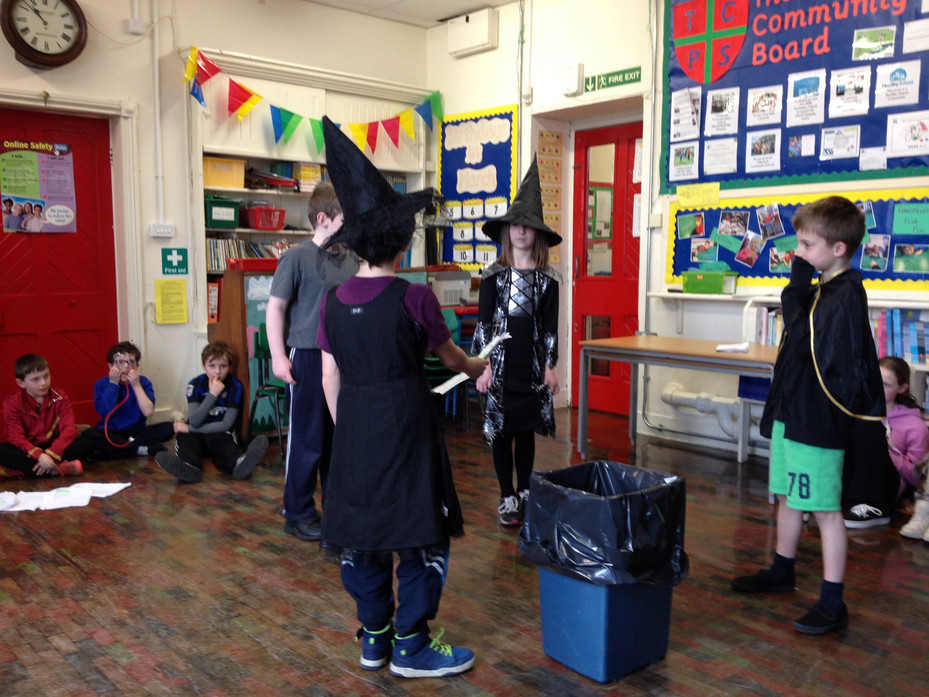 The clouds rolled away so everyone could witness the eclipse! We even captured it on the back of our hands!!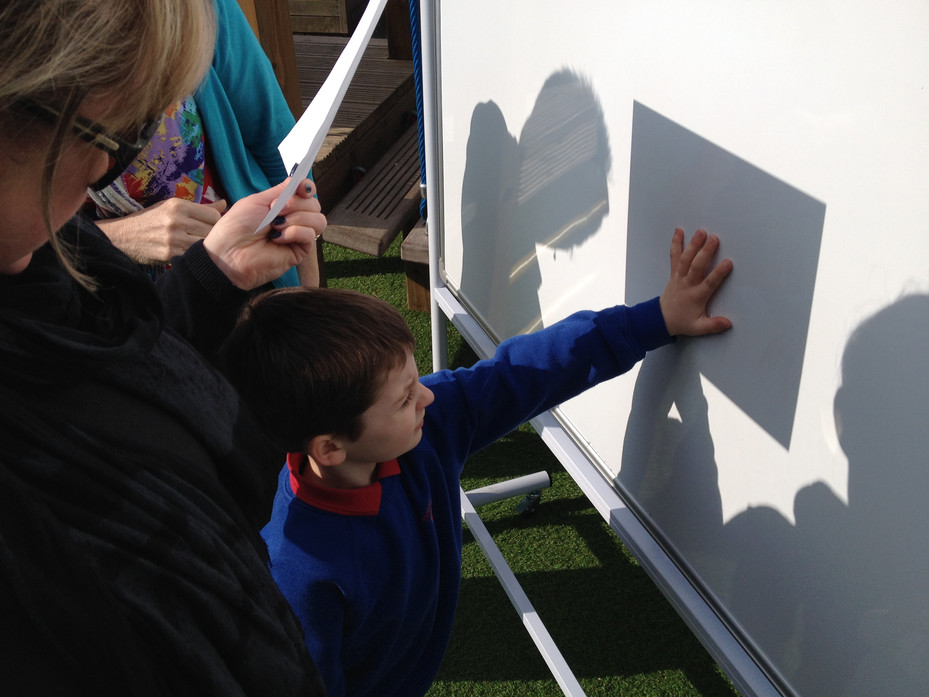 The children really enjoyed the visting theatre production of Alice in Wonderland.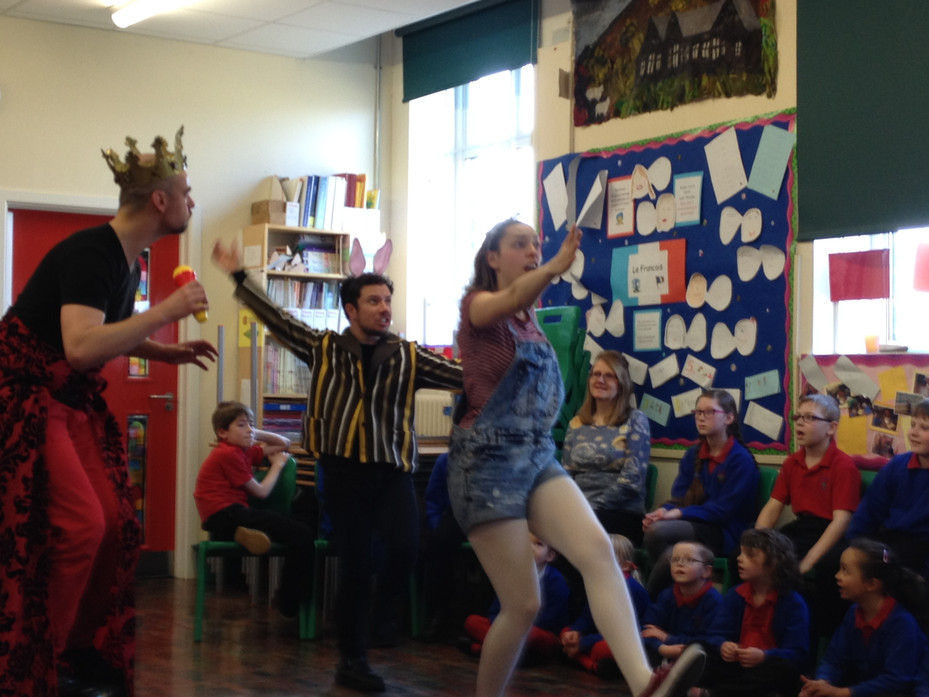 A big well done to all those children in Years Five and Six who passed their Level Two Bikeability training this week.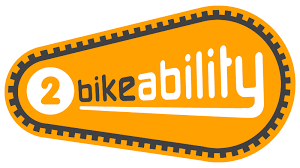 Mersey Class teach Sett Class all about Road Safety - with the help of toy cars and puppets!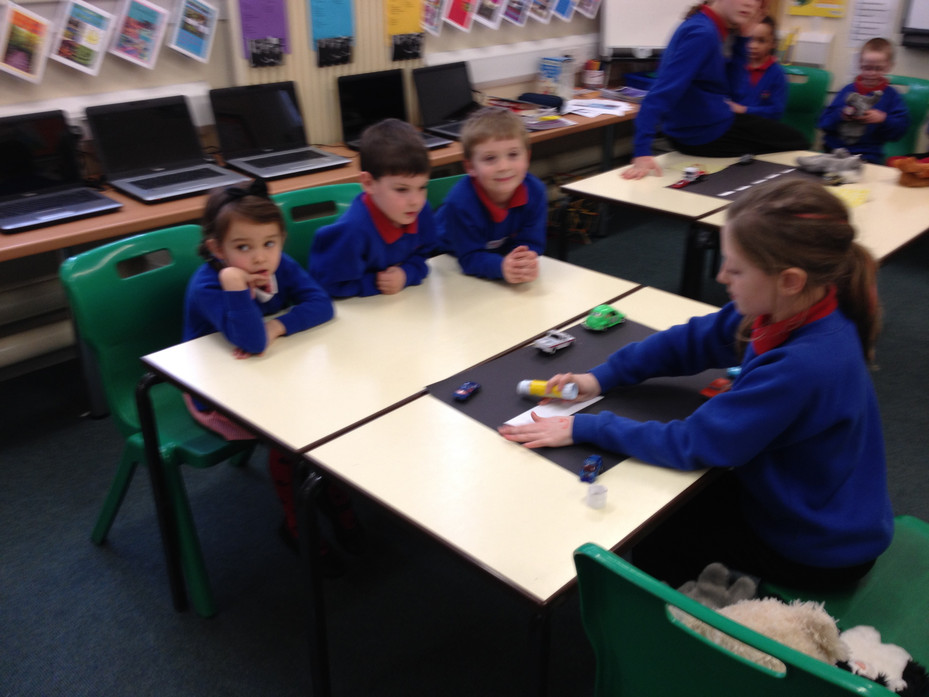 Year Two boys lead an Assembly about Skylanders.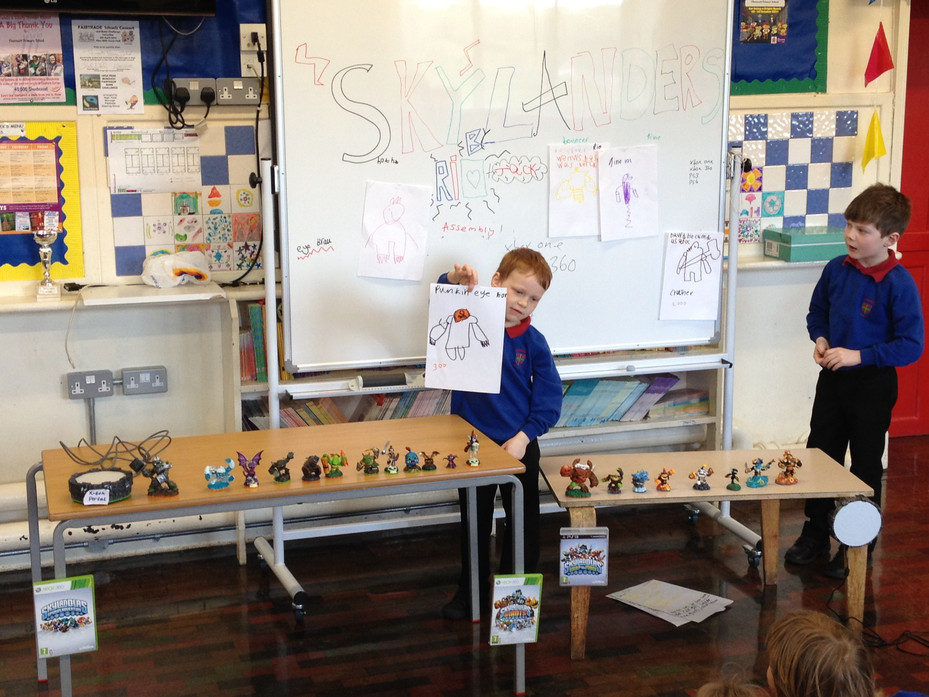 Biodiversity Day in Mersey Class was great - the children demonstrated a super understanding and found out even more about their local environment.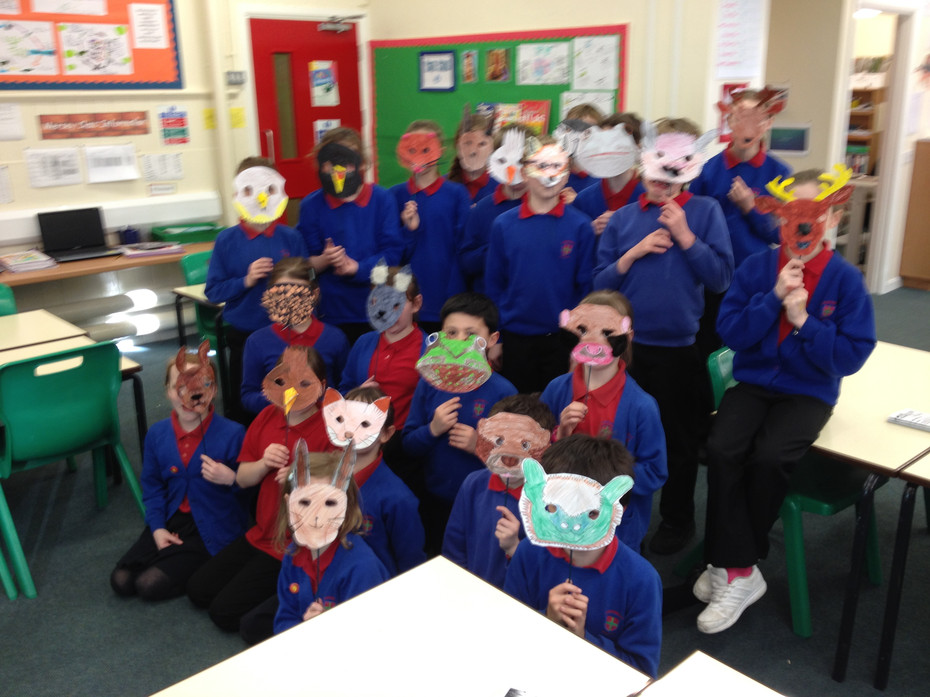 The Sportshall Athletics team celebrate the school's 3rd place.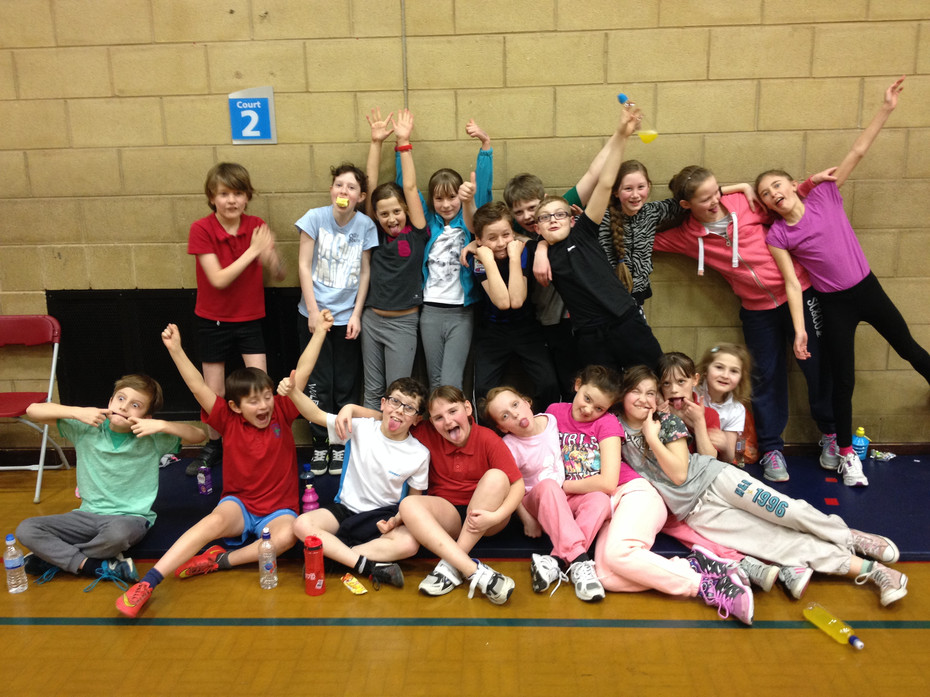 Year 5 and 6 take part in their second session of NSPCC Childline training.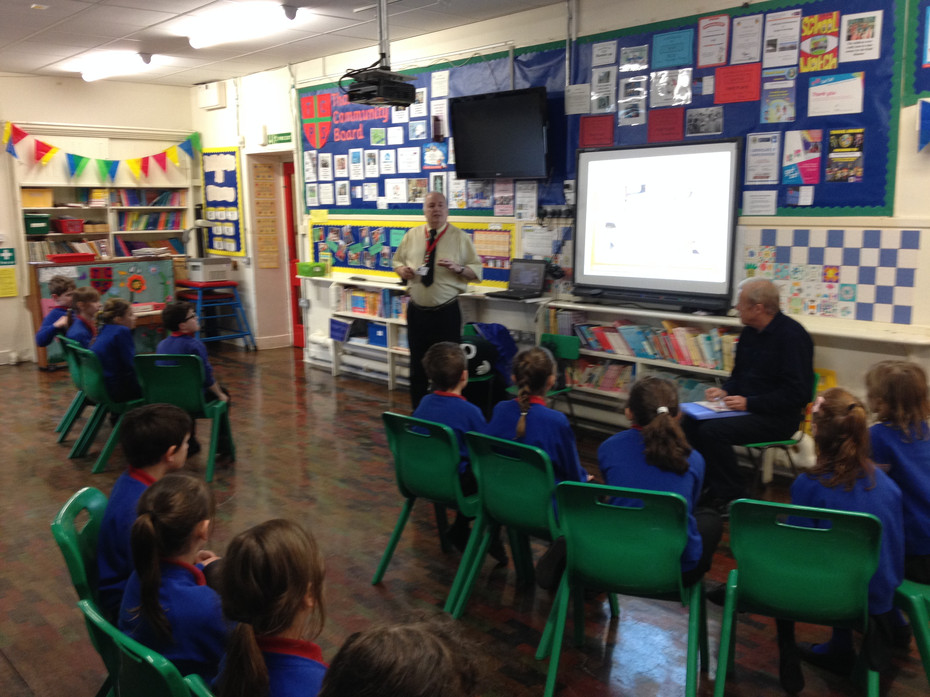 Thank you PTA for a marvellous 'Monster Bash' school disco on Friday - we all had a great time.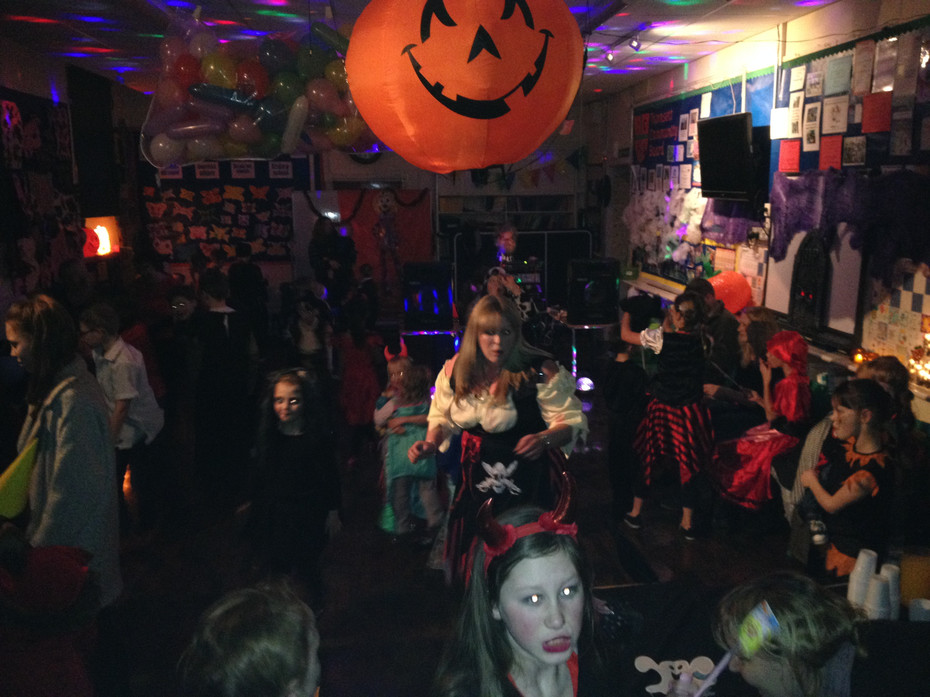 Mersey Class performing in their 'Clarinet Concert' for the rest of school and parents. They were brilliant!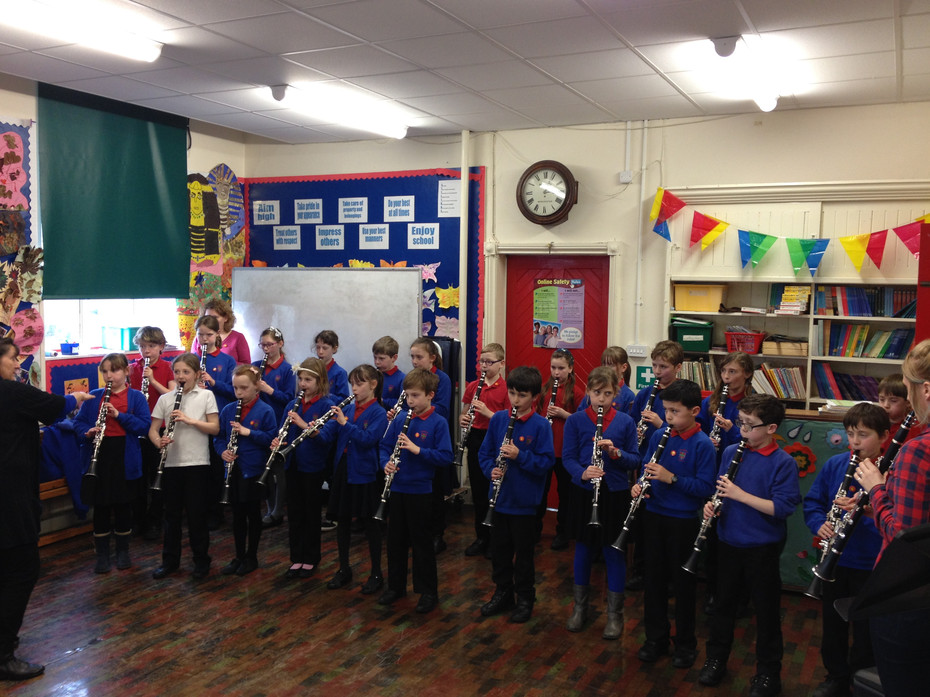 Gavin Gabbitas, one of our school governors, talks to the children about St. John's.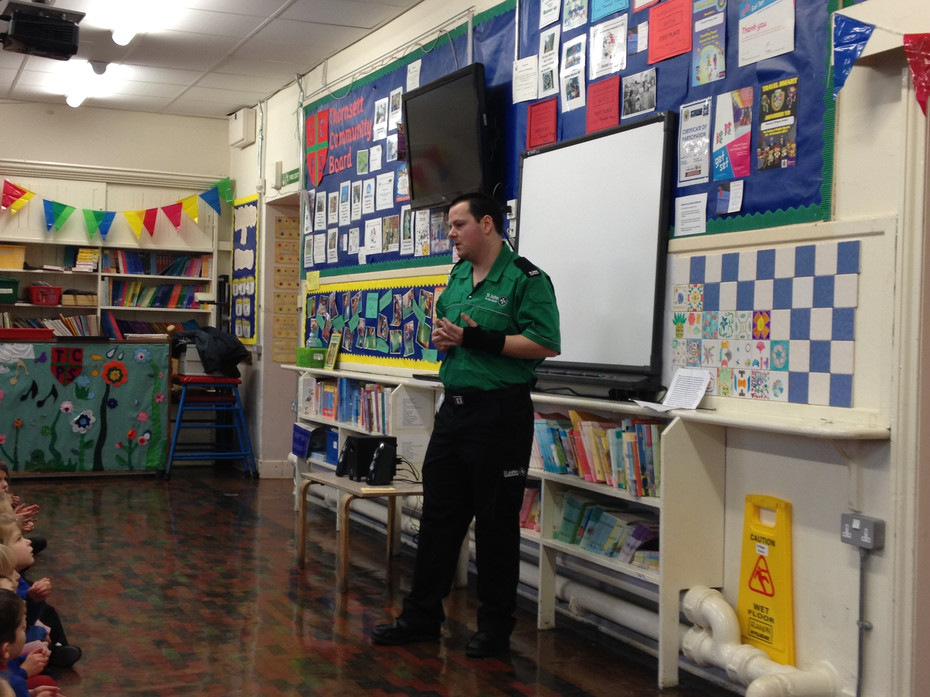 A head teacher finds a blue tit who doesn't want to leave. After much flapping about the small-brained creature finally departs; about five minutes after the blue tit!!

In the stalls at The Bridgewater Hall with the amazing Halle Orchestra - WOW!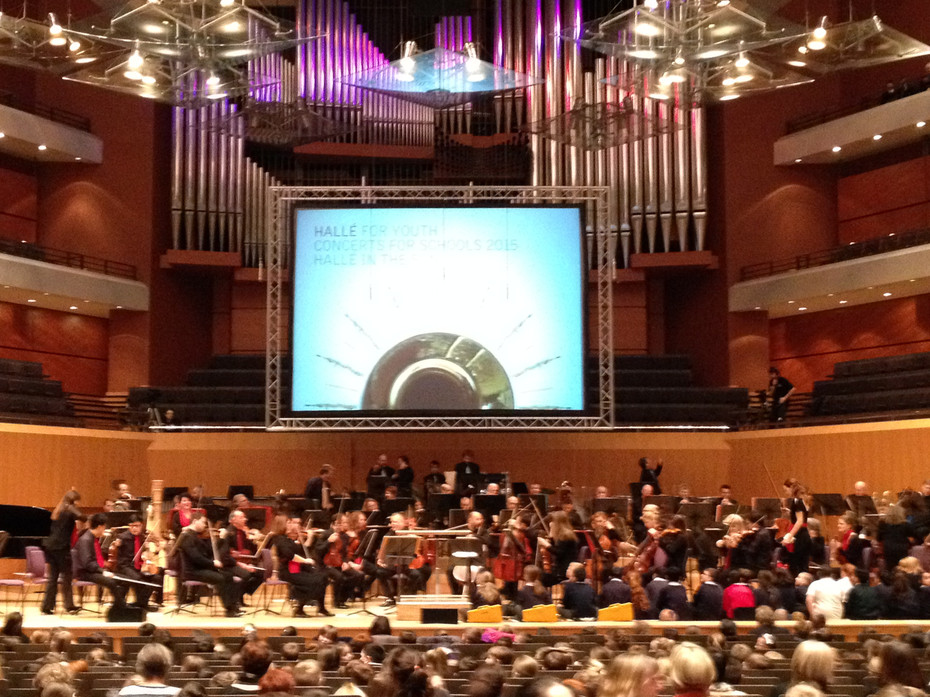 We raised over £400 for Barnardo's - well done everyone.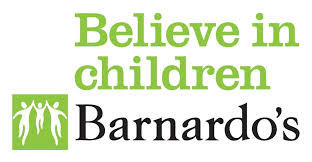 This week Mr. Parry's office is a recording studio - the boys recording their song 'Happiness'.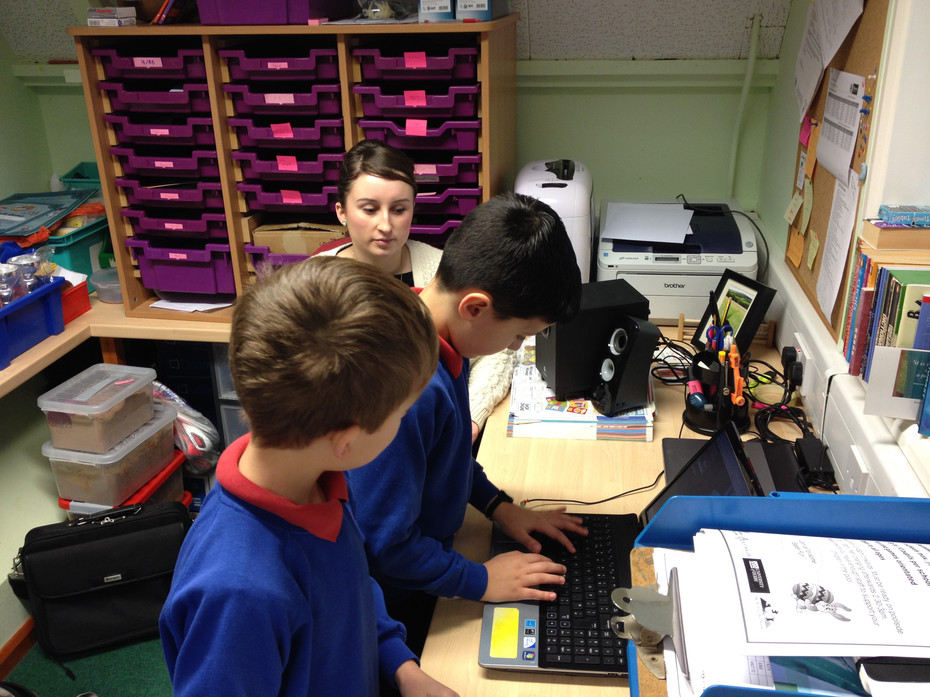 Girls from Year 2 and 3 lead Wednesday's assembly.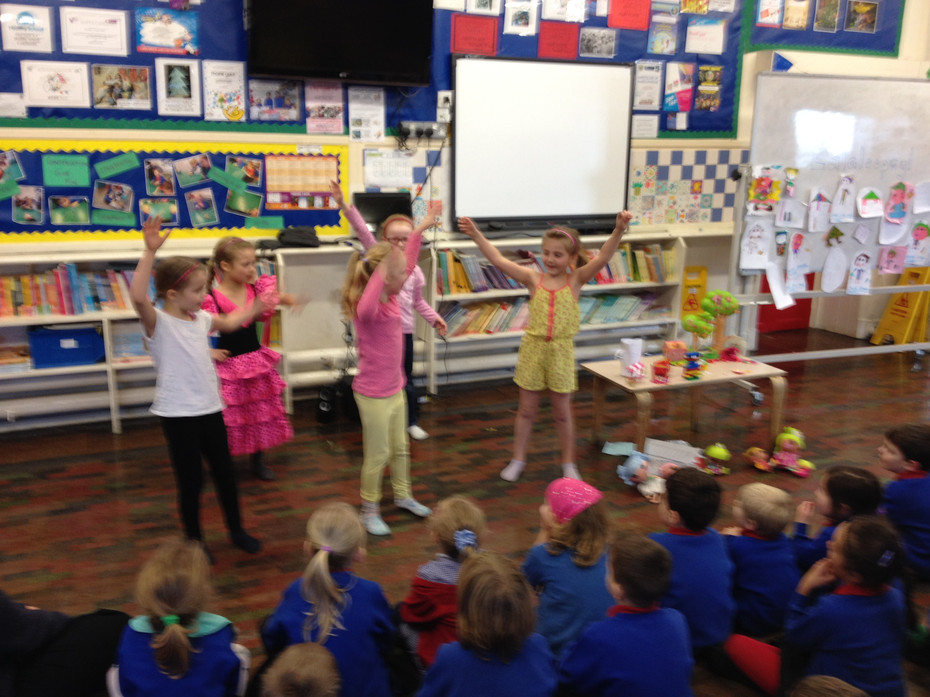 Still sledging a week after the heavy snowfall!!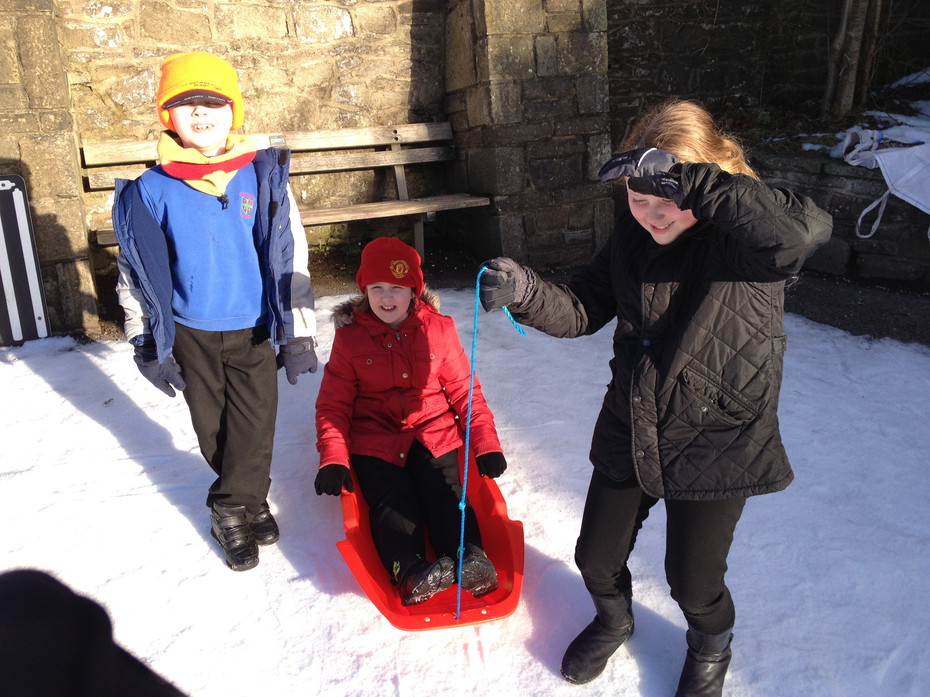 The snowmen have survived another day. Although it could be - 'here today, puddle tomorrow' I think.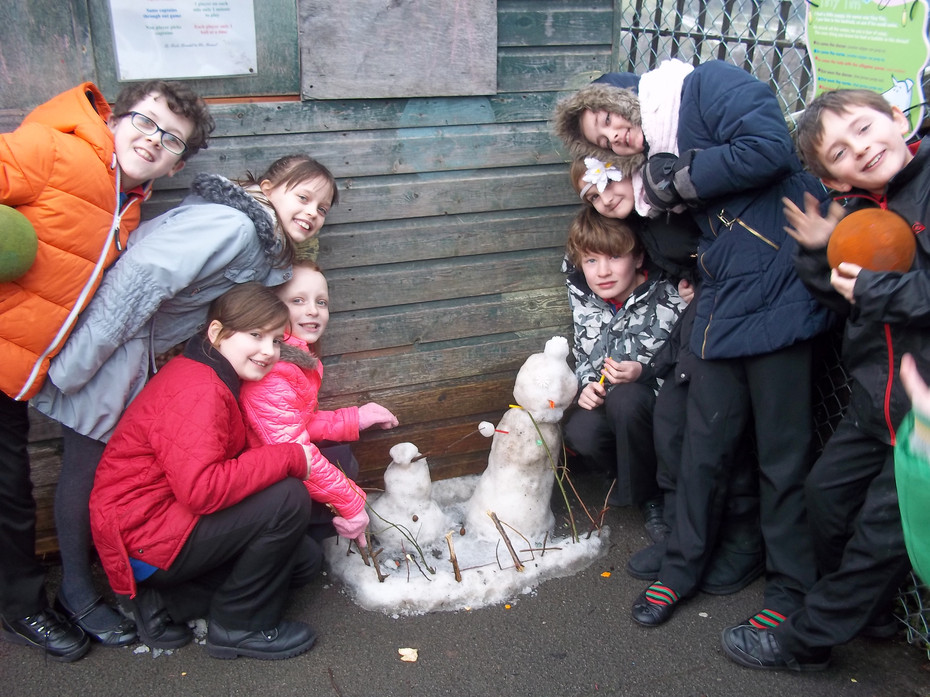 Roll a six, put on your hat, scarf and gloves, pick up the knife and fork and then tuck into the chocolate - the Y3-6 party was lots of fun.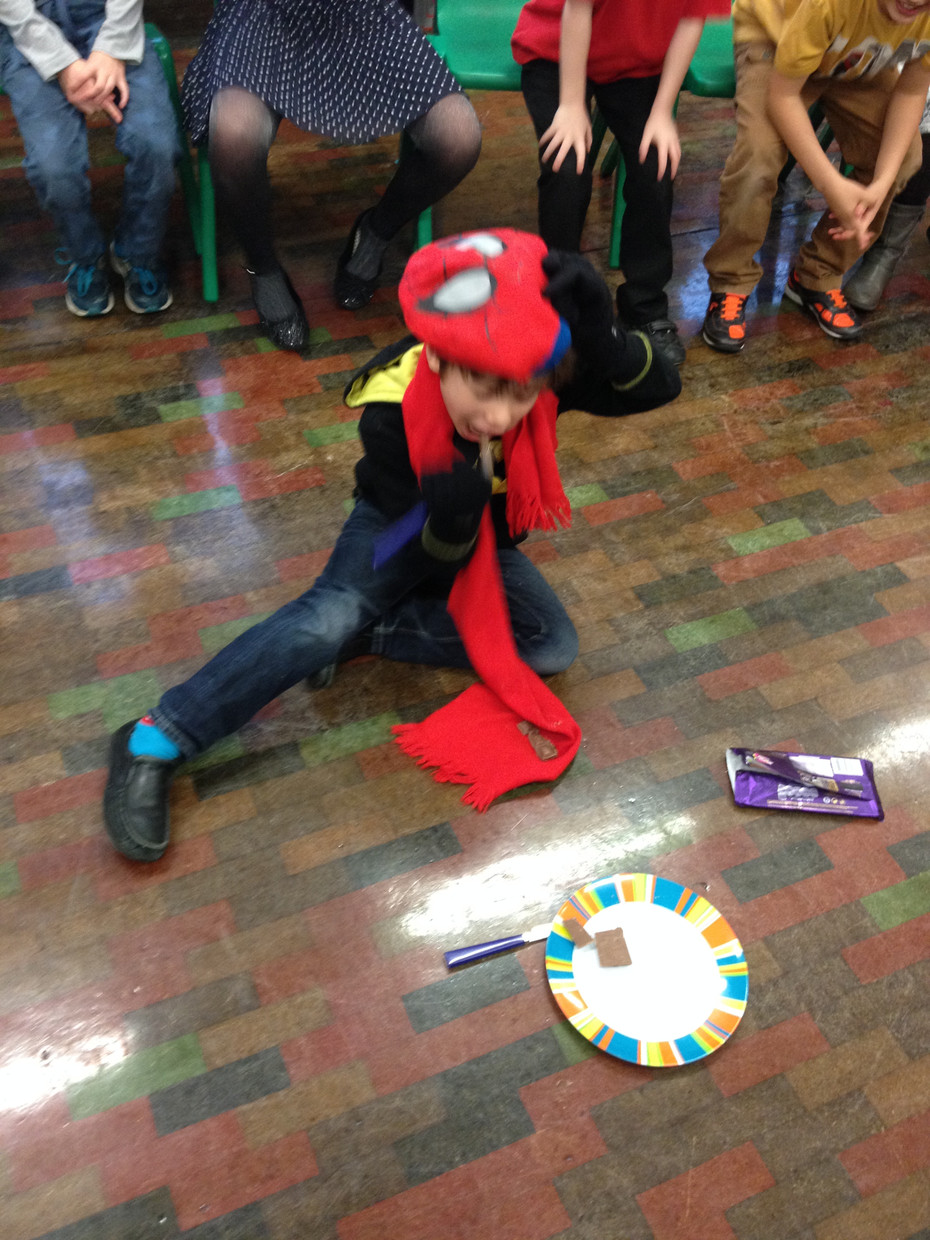 Even Father Christmas joined us for the Rec, Y1 and Y2 party.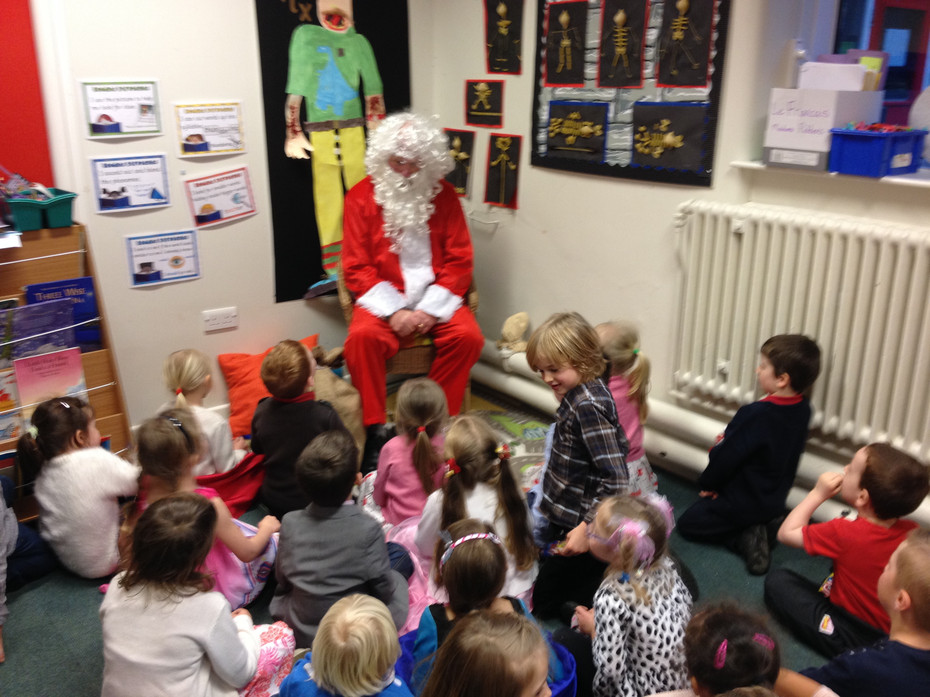 The choir performed brilliantly at Goyt Valley House.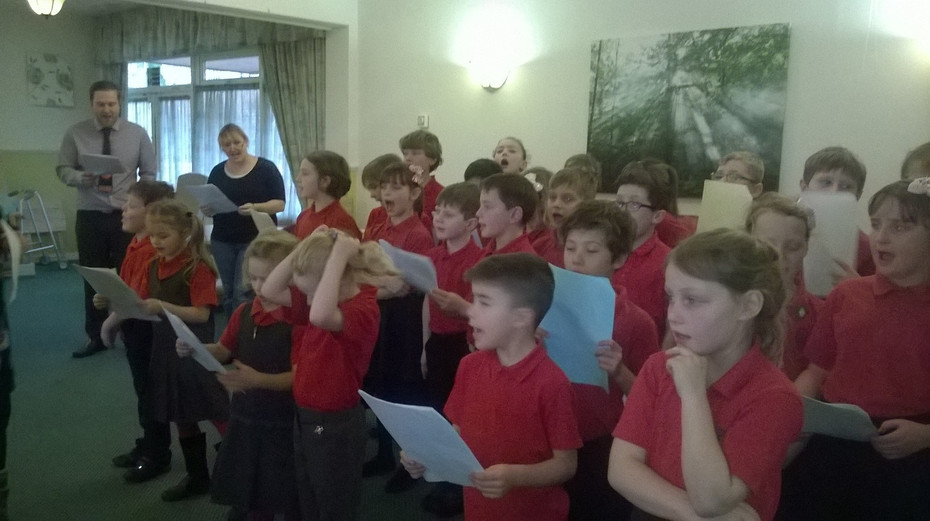 Everyone was invited to Christmas Dinner - crackers, music and compulsory party hats !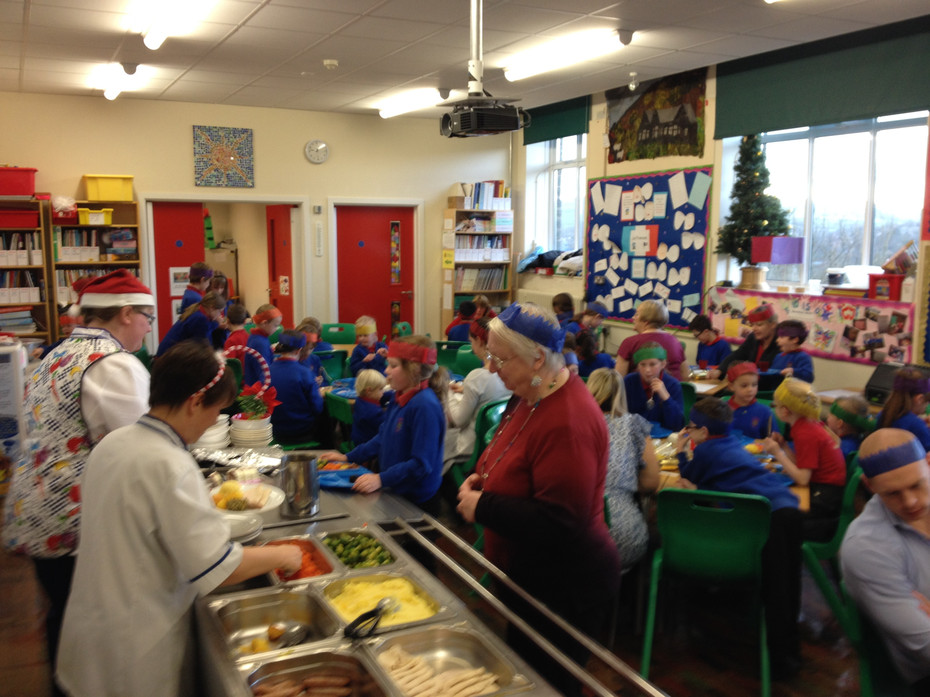 The choir singing at Sainsbury's New Mills.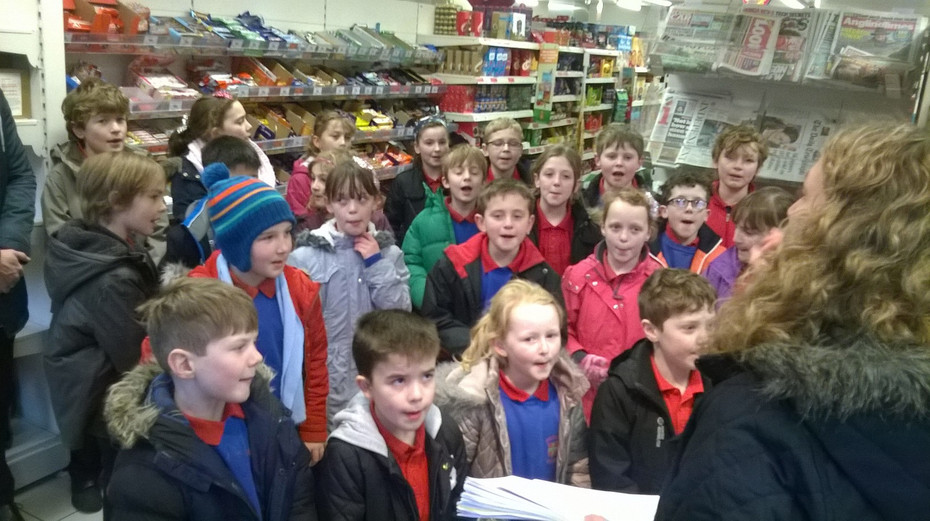 The Snowman Show
On the 8th December the whole school went to a magical screening of The Snowman film at New Mills Art Theatre. The extra special thing was that there was a live orchestra! The musicians were PHENOMENAL! Before they played music with the movie, they played several pieces of too which were truly wonderful. Our 'fave' was the last one. Our favourite parts of the film were when the snowman kept changing the fruit for his nose and when he dressed up in James's mum and dad's clothes.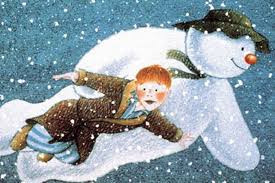 by LH and RD
The children performed brilliantly at New Mills School to an audience of 200!! Well done everyone.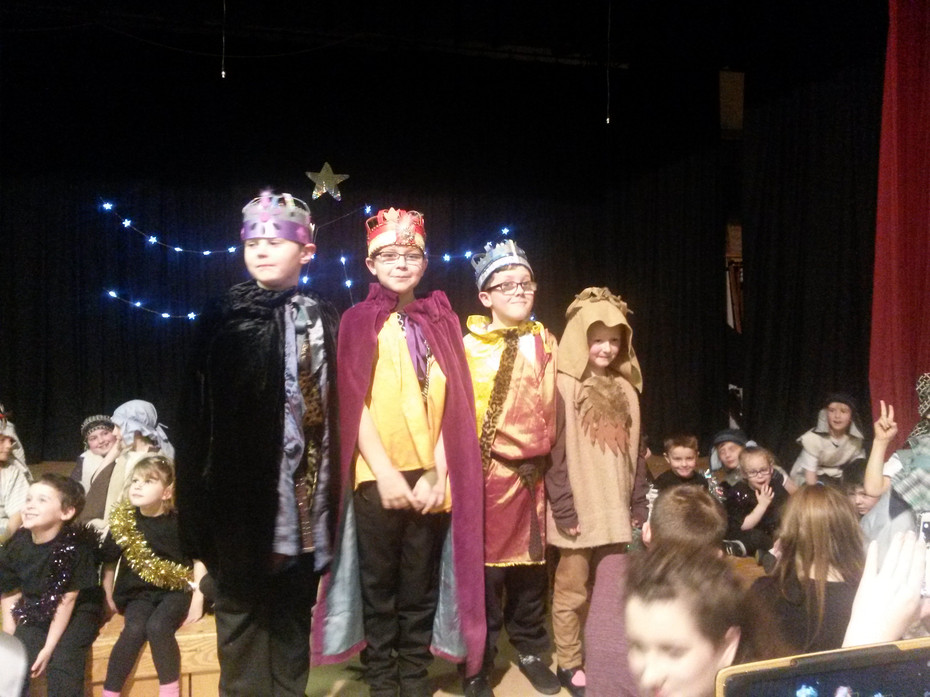 Quotes from the children about the Christmas Show -
I enjoyed listening to the songs.
I liked pretending to be a sheep.
I loved the 'star dance' from sparkly Sett Class.
The sheep were baaaarilliant.
I thought the tap dancing camel was both funny and phenomenal.
Peak Active Sports
At Peak Active Sports (PAS) we have Luke to come and teach all the classes. We do loads of different sports activities like hockey, basketball, cricket, football, netball, archery and many many more. Luke loves coming to do P.E. with us and we enjoy doing P.E. with him too. Each week we have different 'Players of the Day'. We also have an after school club where we can win certificates, goody bags, medals and even footballs!

by PN
Look at the grey clouds we had rolling in last week - who says Crossing Patrol isn't a vital service?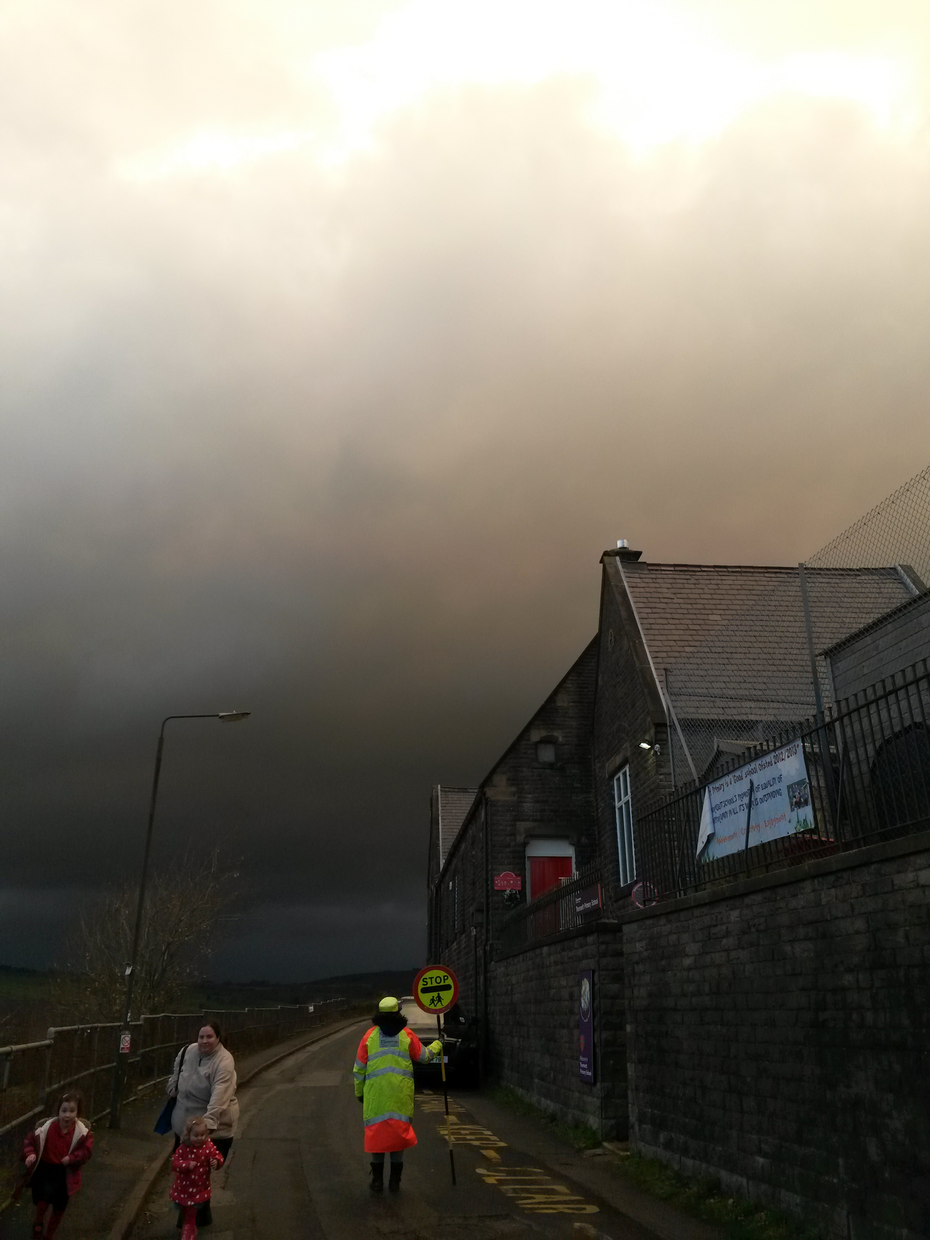 Swimming Lessons
Everybody in Mersey Class, aswell as Year Three went for our last swimming lesson before Christmas on Monday. We had a challenge to do - you had to use a large float, a piece of rope and a smaller float to get people across the pool. We kept people on each side to hold the rope whilst the person on the float had to pull him / herself over to the other side. It went on and on until all the team were over to the other side of the pool. It was a great lesson and everyone enjoyed it!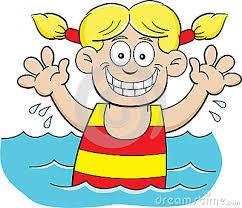 by PN
Well done everyone - we raised over £1,000 and the atmosphere was brilliant.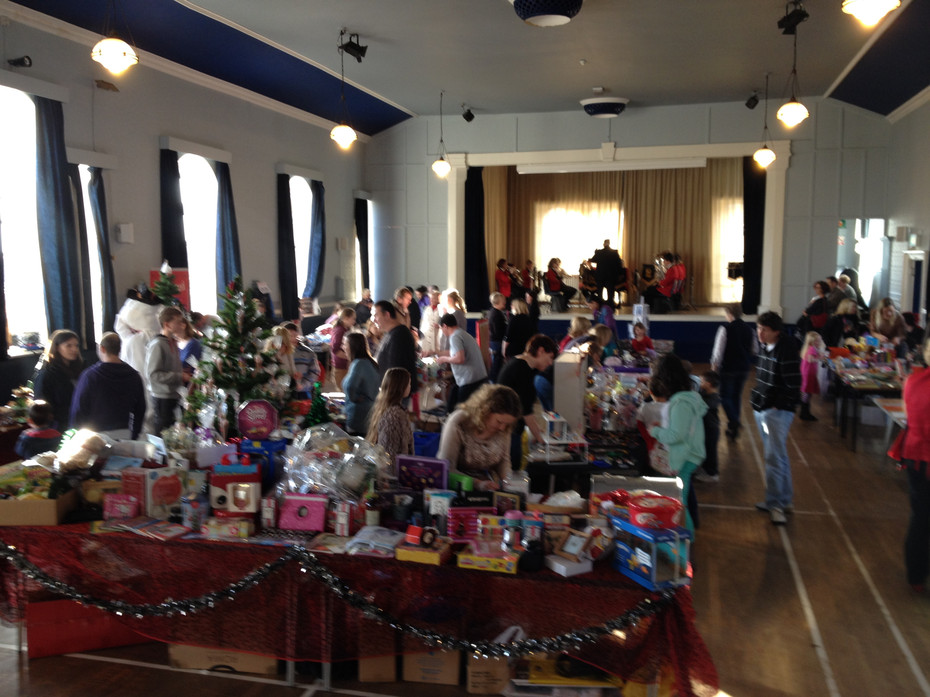 Scalextric racing gets underway.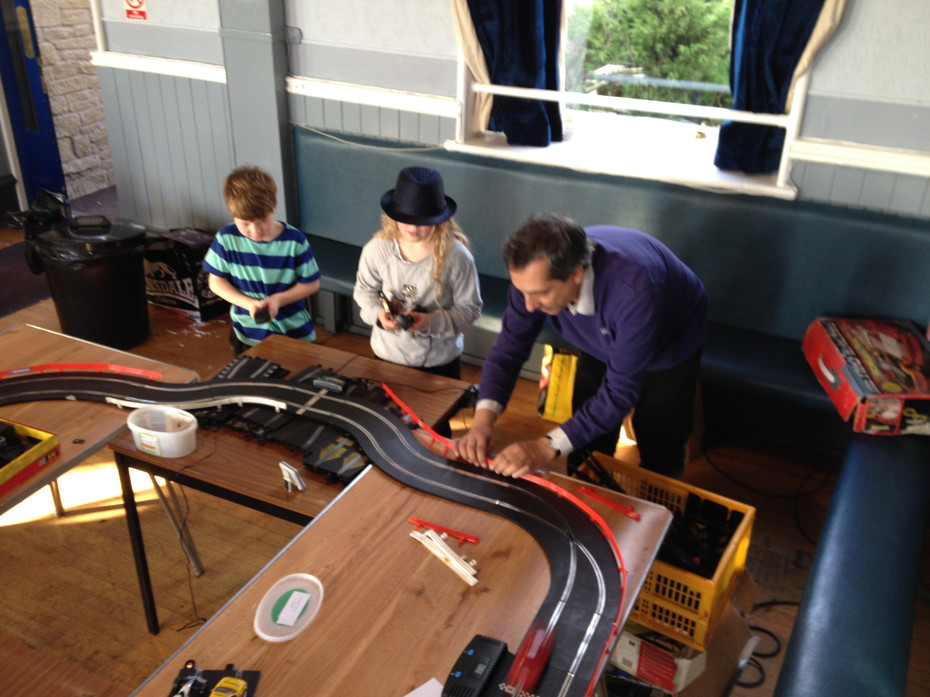 The children getting busy at the craft stall.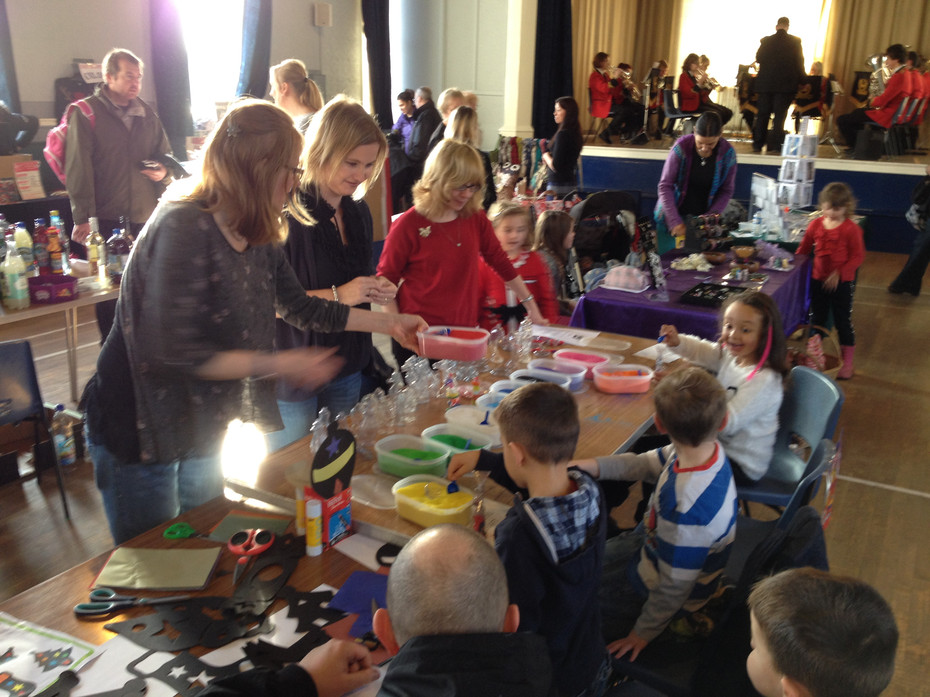 Is it a scene from Frozen? No, it's the Thornsett Christmas Fair!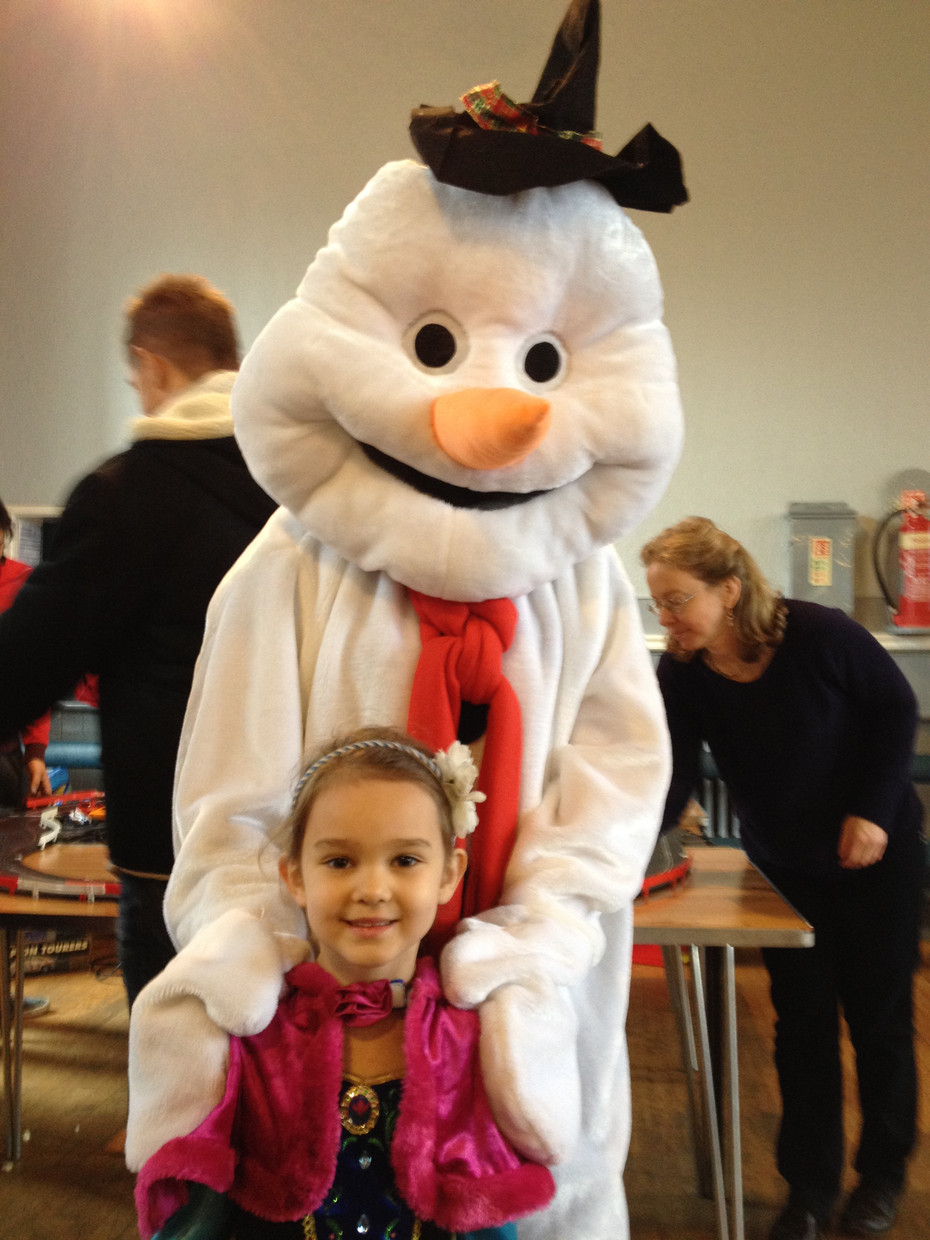 Thornsett at Basketball Competition

On the 26th November two teams went to New Mills Leisure Centre for the afternoon. The 'A' team finished 4th and 'B' team finished 6th: we had so much fun. The picture below is of us playing against one another!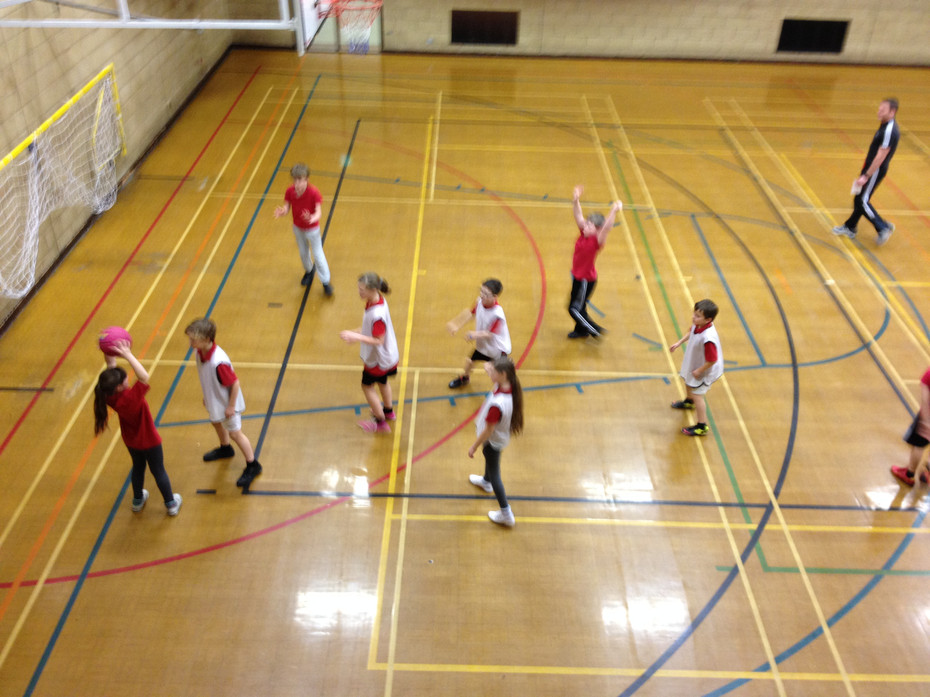 by PN
Fridays are time for 'Children led Assemblies'.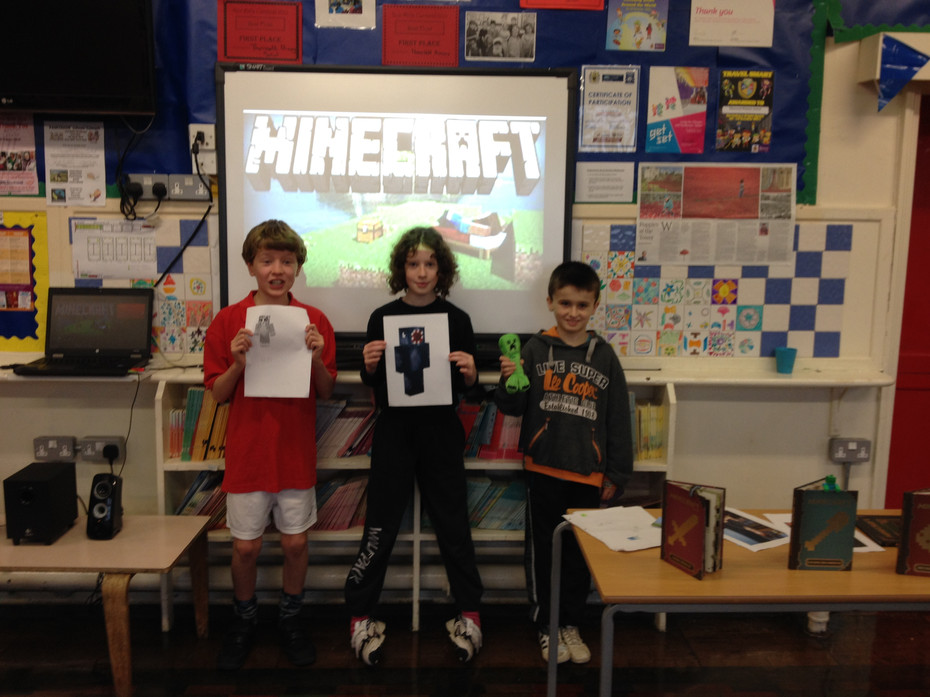 The winners of our Sainsbury's art competition.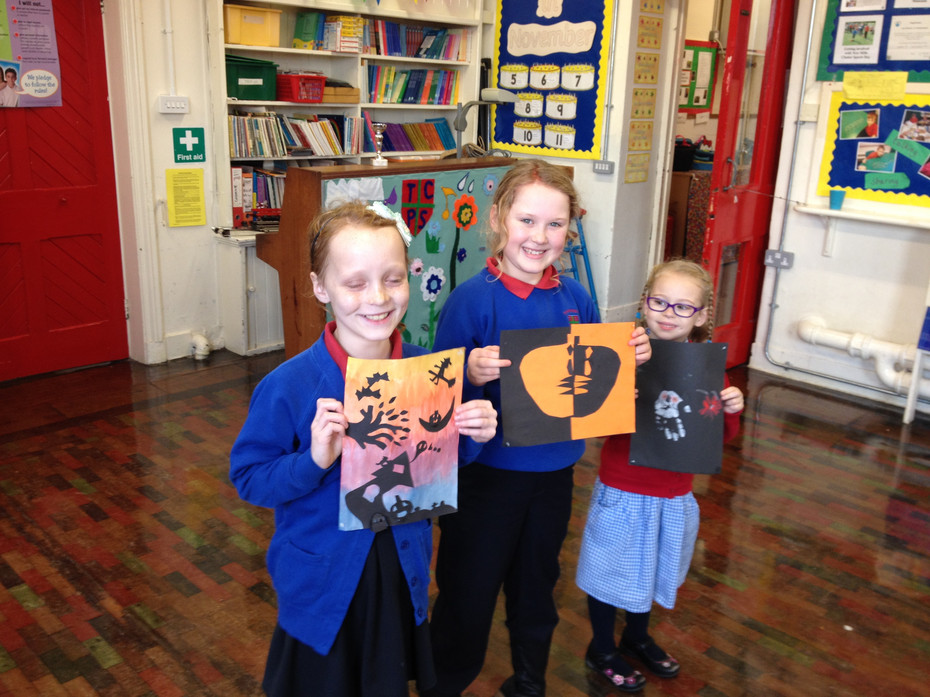 FAST club gets underway.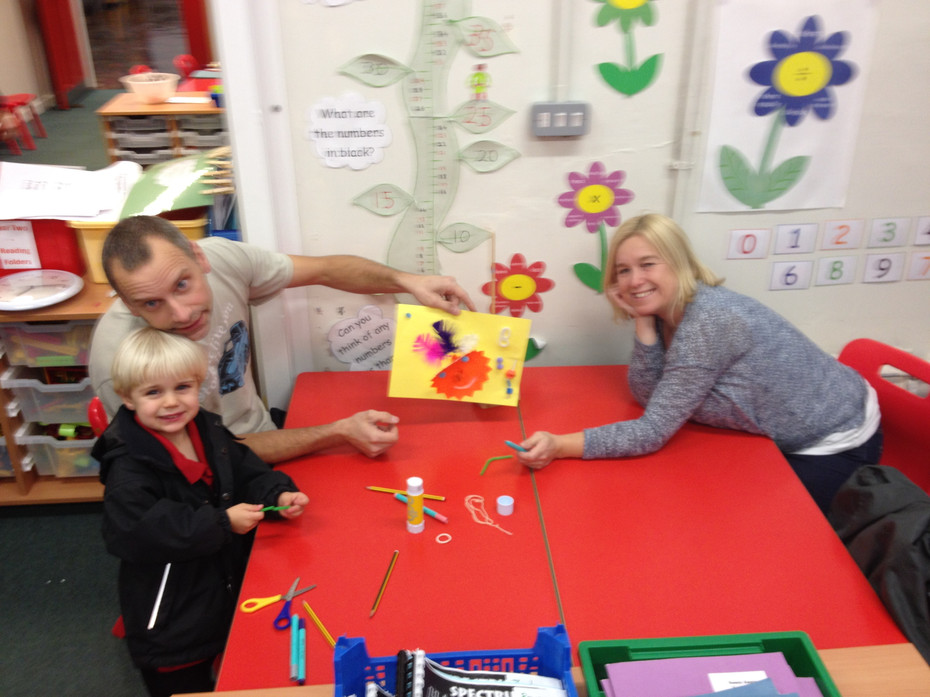 Our fantastic new Sensory Garden - a huge thank you to all those who worked so hard to make it happen!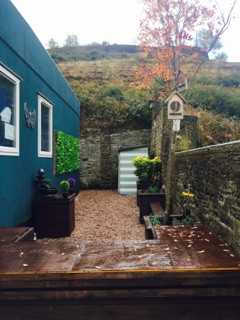 Dam Building in Mersey Class - how do we keep out a litre of water?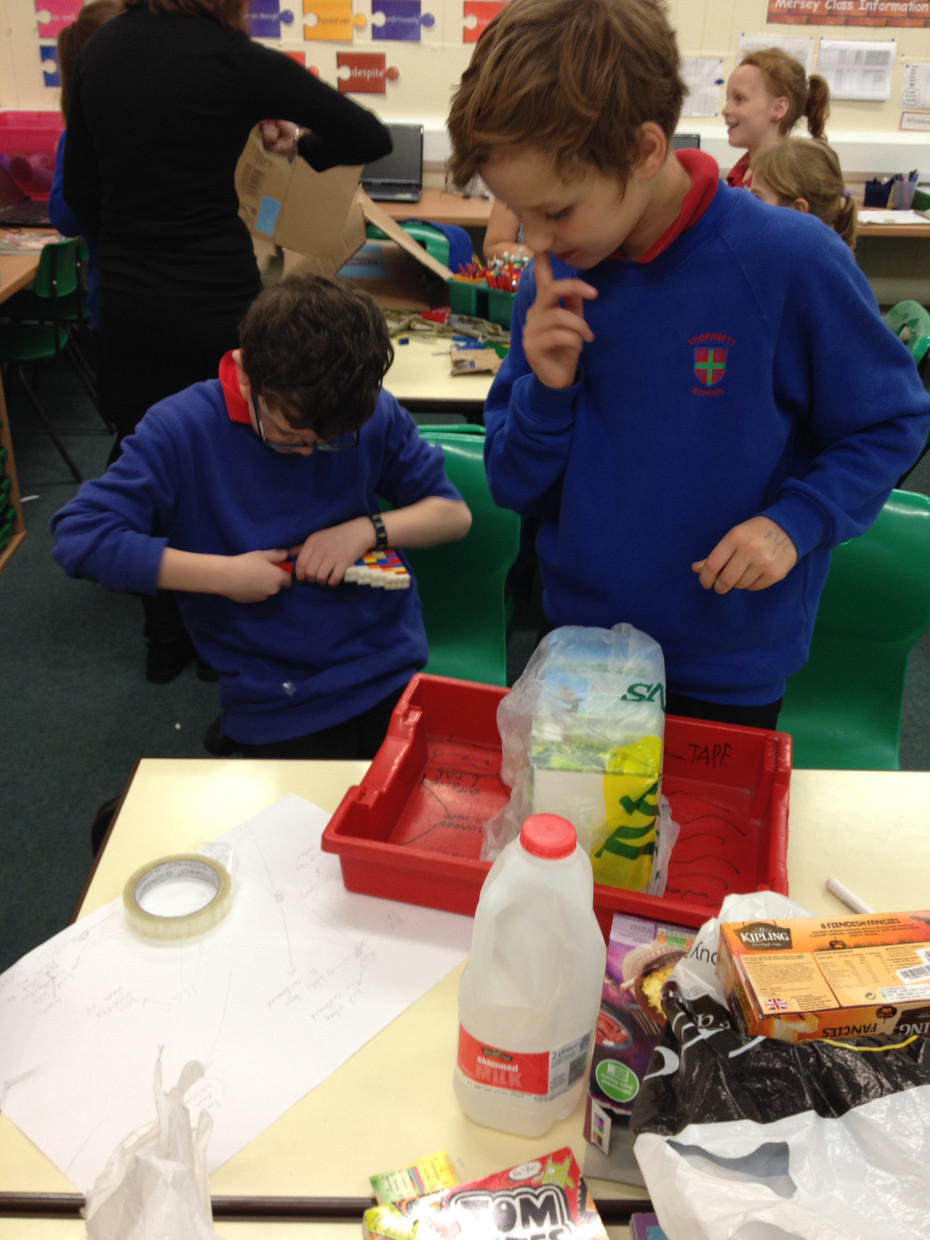 Raising money for the Nyastagmus Charity by throwing jelly at a parent (it was his idea!!).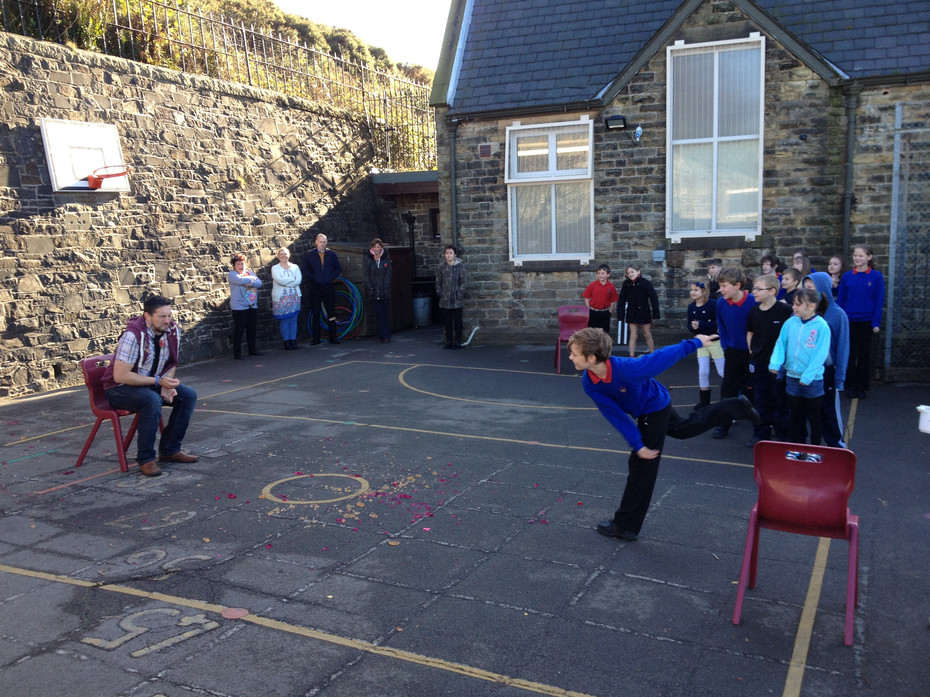 Year One get busy with Phonics.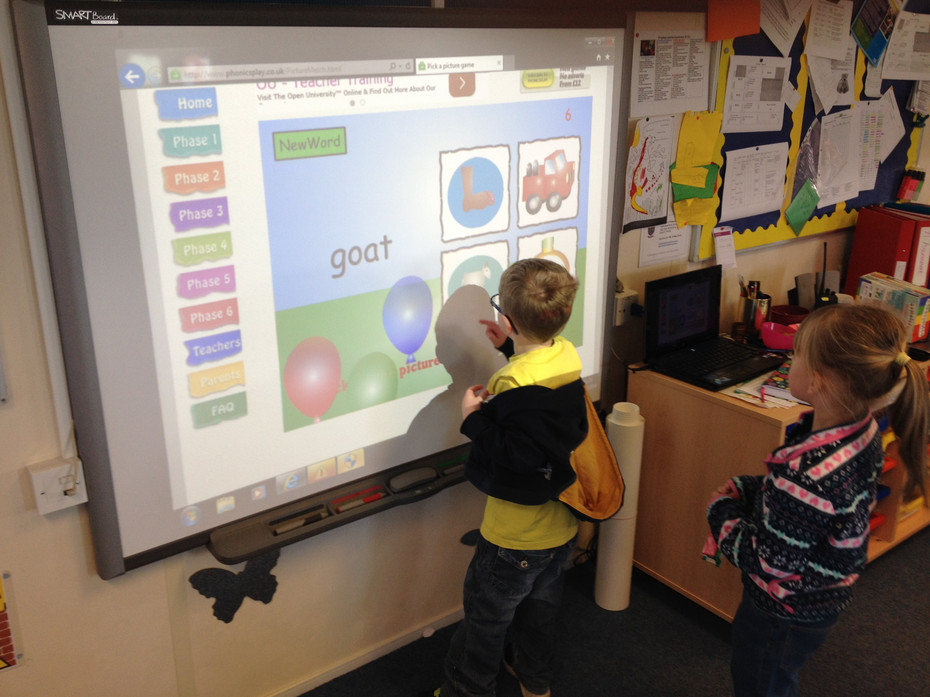 Our Spooky pictures on display in Sainsbury's New Mills.
Brass lessons for the boys.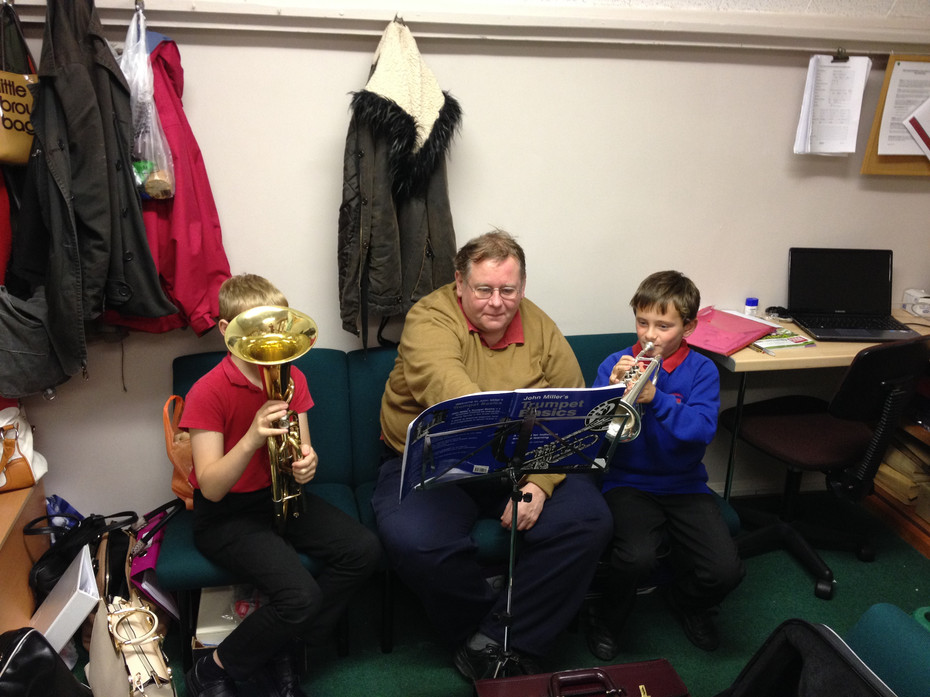 House Challenges
The whole school did House Challenges in November. My favourite challenges were:
Make a boat which will float
Make a tree with all the names of people in your house team
Make a four wheel transport to hold an egg safely
by CC
Sycamore House look very proud of their tree.